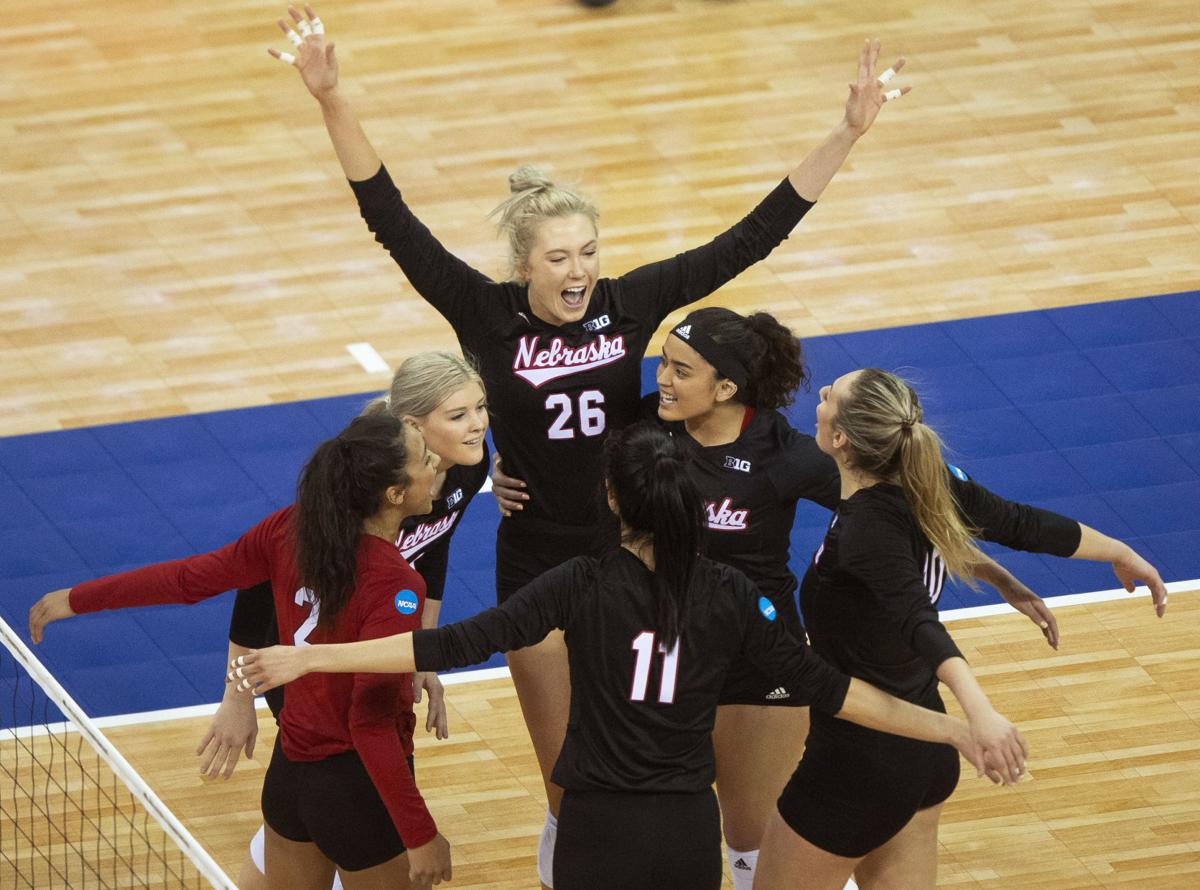 For now, Lauren Stivrins is a practice-only player for the Nebraska volleyball team.
The senior All-American middle blocker hasn't played during the first five weeks of the season as she tries to work back from offseason back surgery.
Husker coach John Cook doesn't know yet when Stivrins will play her first match.
The thought could be that when Stivrins comes back she may not be as dominating of a player as she has been in the past. Her .468 hitting percentage last season was the second-best in program history, which is even more amazing when you consider Nebraska didn't play nonconference matches and Stivrins was playing with an injury that limited her in practice.
But Cook says if Stivrins comes back he doesn't expect her to be just 70% or 80% of what she was as a player.
"She'll be 105%," said Cook on Tuesday during the Nebraska volleyball radio show.
Now, Stivrins' timing with setter Nicklin Hames, conditioning and confidence may take time to return to normal.
But after surgery, and several weeks with no activity, Stivrins was able to rebuild her body under the direction of athletic trainer Jolene Emricson and strength coach Brian Kmitta.
"She just looks more explosive, more dynamic, (is) moving better," Cook said.
Playing volleyball is hard on players' bodies, Cook said, because it's so many repetitions of the same motion — such as Stivrins' right-handed attacks.
"She's working out hours and hours a day making sure her body doesn't go in that pattern to put stress on her back," Cook said.
Sun not option as right-side hitter: Before the season Cook said one option in replacing Jazz Sweet as right-side hitter would be moving Lexi Sun from outside hitter to right-side hitter.
But Cook said it's no longer an option.
"We tried it," Cook said. "She's just not comfortable over there."
In the family business: Taylor Els, a 2016 graduate of Lincoln Southwest, is in her first season as a full-time assistant coach for the Montana State volleyball team.
Last season, Els, who played in college at Northern Colorado, was a volunteer assistant volleyball coach at Michigan State. That year, Els, her dad and brother each were coaches at Michigan State. Ross Els is the special teams coach and linebacker coach for the Spartans. Bo Els is a graduate assistant football coach.
Taylor Els' grandpa, Bob, was a high school football coach at Lincoln Northeast.
Upsets in the air: Among the upsets last week were unranked Maryland beating No. 2 Wisconsin, unranked Mississippi State beating No. 17 Florida and unranked Washington State beating No. 6 Washington.
But Cook isn't surprised that more teams are capable of beating the top teams because each year he sees more good volleyball players.
"I've noticed this in recruiting, there used to be just a few good players everybody was recruiting," Cook said. "Now there are a lot of good players that everybody is recruiting. The depth and the quality of volleyball, I think it's the most popular girls sport in America now. There is just a lot of really good volleyball players"
* Freshman middle blocker Rylee Gray hasn't played this season and will likely use a redshirt season. Gray playing a lot likely wasn't going to happen because middle blocker is one of the Huskers' deepest positions with Kayla Caffey, Callie Schwarzenbach and Kalynn Meyer. Also, Gray has had been slowed by an injury.
* Nebraska's three best servers statistically are Keonilei Akana, Hames and Sun.