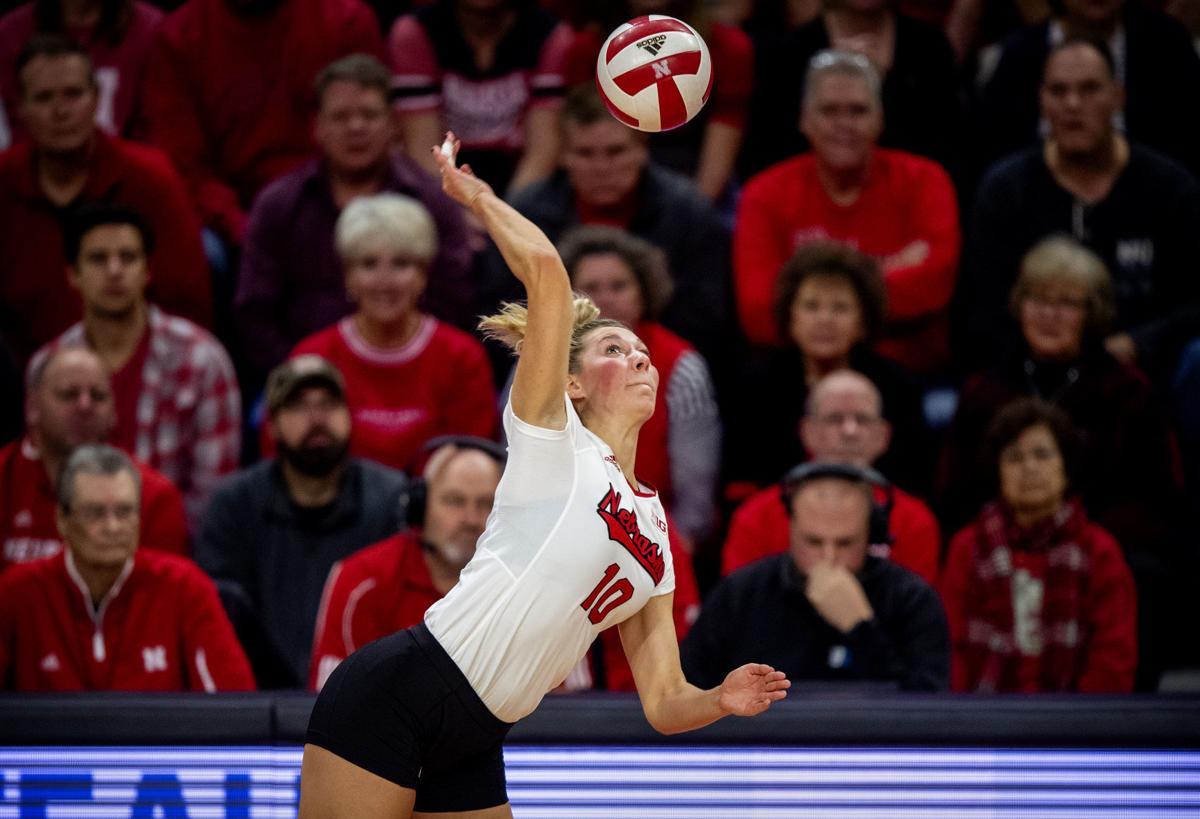 When you're a college volleyball program like Nebraska that can recruit nationally, you're recruiting the best players in the country.
When you do that, not all of the recruits are going to pick Nebraska, and that means on occasion you'll have to play against the players who got away. Nebraska will be doing that on Friday when the Huskers play one of the biggest matches of the year against No. 7 Minnesota.
Minnesota All-American outside hitter Alexis Hart is from Kansas City, Missouri, and reportedly had Nebraska as one of her final schools in recruiting.
Another player that Nebraska coach John Cook recruited but ended up elsewhere is Stanford's 6-foot-7 All-American Audriana Fitzmorris. She's also from the Kansas City area, and Cook was recruiting her when she was in middle school. Fitzmorris made several visits to Lincoln.
Of course, Cook is happy with the team he has right now that includes five top-10 national recruits.
"It always works out," said Cook on Tuesday during the Nebraska volleyball radio show on the Husker Sports Network. The numerous calls included fans calling from Gering and Oshkosh in western Nebraska.
One recruit that didn't get away, and is having a great season to help the Huskers to a 22-3 record, is freshman outside hitter Madi Kubik.
And, as Cook remembers the story, Kubik was recruiting Nebraska before they were recruiting her. Cook first met Kubik during one of the many times when the United States women's national volleyball team played matches in Nebraska in the last decade.
You have free articles remaining.
"So I went (to the USA match) and this girl came running up to me and said, 'Hey, can I get your picture and an autograph? I'm going to play for you someday,'" Cook said. "Now I can tell you I've heard that over 1,000 times, but it was Madi. She was like in eighth grade.
"Anyway, I started watching her and she came to (volleyball) camp, and she was just OK. And then the next summer I went and watched her, so she might have been going into 10th grade. I went and watched her at (club tournament) down in Orlando and I thought, 'OK, this kid is going to be good.' Good family and all that, West Des Moines, so we offered her."
Kubik committed when she was a sophomore in high school, and ended up being the No. 4 recruit in the country, according to PrepVolleyball.com.
She's started for the Huskers all season, and ranks third on the team in kills with 248.
In recruiting Nebraska has also benefited from players who have chosen the Huskers during their second time through the recruiting process, after making the decision to transfer.
Nebraska All-Americans Kelsey Robinson and Lauren Cook each began their college careers elsewhere. Outside hitter Lexi Sun may be the next player on that list.
"A lot of these guys make decisions really early, and then they go somewhere and it's not what they thought, or it's not a good fit," John Cook said. "And then the ones that are serious about having big careers, playing in the Olympics, playing professionally, they realize what a great program this is for that."
Serving goals: Cook shared what the objective is for the players when they're serving during a match.
"One is we're trying to get an ace," he said. "That's the first thing. The second thing is we're trying to slow down (the opponents') offense. The third thing is we might be trying to get a hitter out of the equation, so we don't have to deal with them. The fourth thing is we just go with our best serve. So all of our players have their best serve. I know what their best serve is."
Nebraska's serving hasn't been as good as last season, but that's to be expected when two seniors were replaced by two freshmen in the serving lineup.