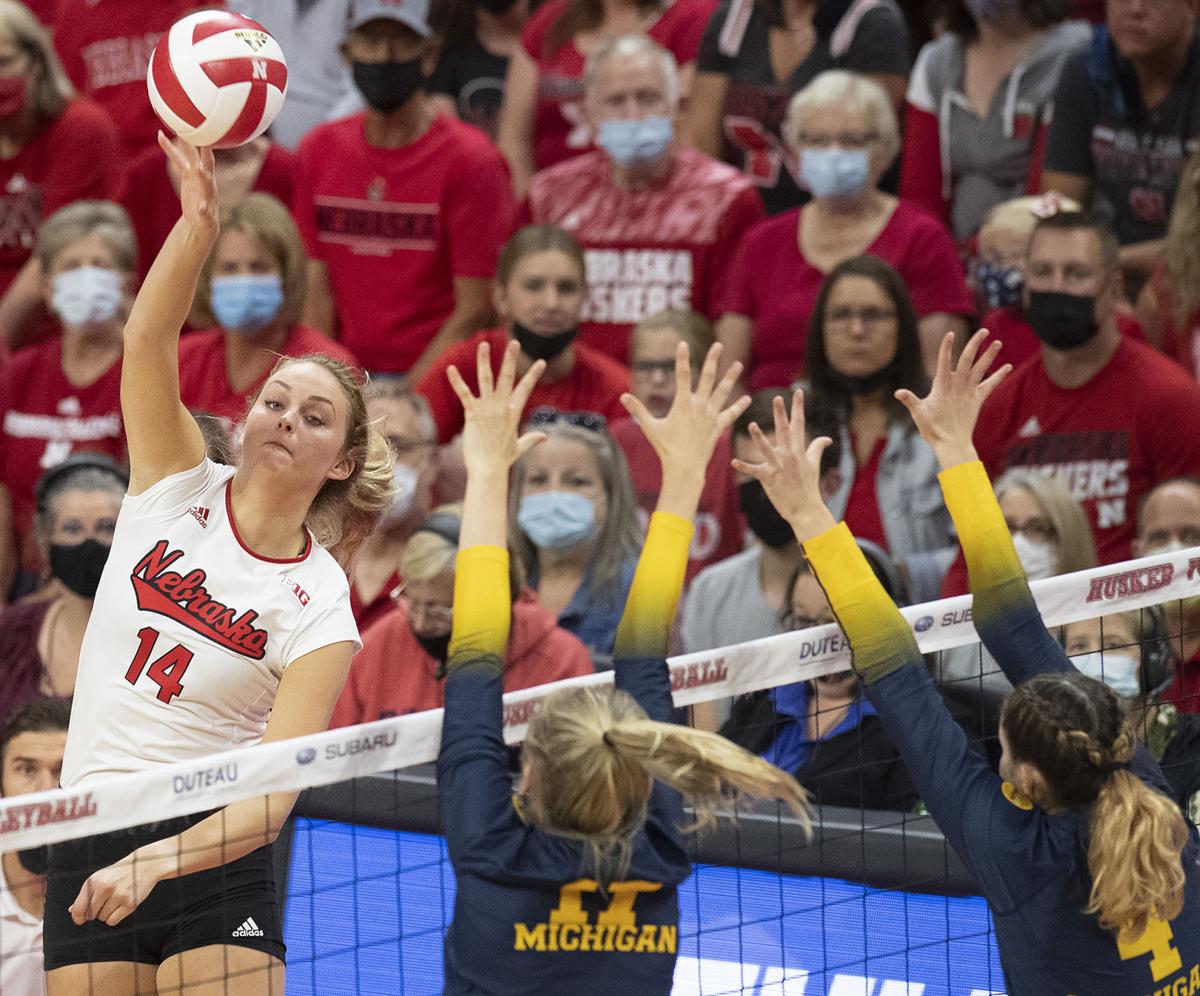 The Nebraska volleyball team is about to enter the danger zone of the Big Ten schedule.
Four of the No. 9 Huskers' next five matches will be against teams ranked in the top 15, beginning with Saturday's match against No. 7 Purdue.
After that, Nebraska plays No. 3 Wisconsin, No. 12 Minnesota, unranked Illinois and No. 6 Ohio State.
And in the Big Ten, even the unranked teams can pull off an upset. Three times already during the Big Ten season an unranked team has beaten a top 10 team -- Maryland defeated Wisconsin, Michigan State beat Purdue, and Illinois defeated Purdue.
Nebraska coach John Cook is adamant that it's more difficult to win a Big Ten championship (20 matches over 10 weeks) than the NCAA championship (six matches in three weeks).
"This (the Big Ten season) is a grind for 10 weeks," said Cook on Thursday during the Nebraska volleyball radio show.
Nebraska leads the Big Ten at 9-0, one match ahead of Wisconsin.
Nebraska hasn't lost since Cook settled on a regular starting lineup of setter Nicklin Hames, outside hitters Madi Kubik and Ally Batenhorst, right-side hitter Lindsay Krause, middle blockers Kayla Caffey and Lauren Stivrins and libero Lexi Rodriguez.
It would help Nebraska if the second outside hitter position, where Batenhorst starts and Lexi Sun has also played as a substitute, could chip in a few more kills, but Cook likes how the current lineup has worked.
"We're always open to everything, but right now we got a lineup we like," Cook said. "They're playing hard. We've played at a really high level at times and been pretty consistent. That group has done a pretty nice job. But there are some big tests coming up here, and this will be really good experience for us."
Cook continues to be questioned about why Sun, a two-time All-American, isn't playing very much.
When Sun wasn't chosen for one of the starting outside hitter spots, she was hitting just .166, after coming into the season with a career average of .250.
In the matches she has played during the Big Ten season, Sun hasn't always been put in situations that lead to high hitting percentages, but she's only hitting .122 in the Big Ten season. Batenhorst is averaging 2.4 kills per set and hitting .212.
During matches Sun does some exercises to keep her body loose to go into the match, but Cook said Sun doesn't have an injury that's preventing her from playing more.
"It's hard coming off the bench," Cook said. "And (Sun) hasn't really found her rhythm yet. Those guys competed for a long time and Ally was better. But Lexi rotates in her and we're keeping her in there because at some point we're probably going to need her."
To the farm: Late in the fall when Cook does the radio show, he thinks about how some farmers may be in the fields harvesting and listening to Cook talk about volleyball, and he thinks that's one of the things that makes Nebraska special.
Early during Thursday's show, Cook asked the listeners if there were any farmers listening. Sure enough, within a few minutes Mark from Western (near Wilber) called the show, much to the delight of Cook.
"Are you driving a red or green tractor?" Cook asked. Mark was driving green (John Deere).
Later in the show, Dave (location unknown) called in to say he was driving a red combine (Case).
"I love talking to farmers," Cook said. "They're just the greatest people."