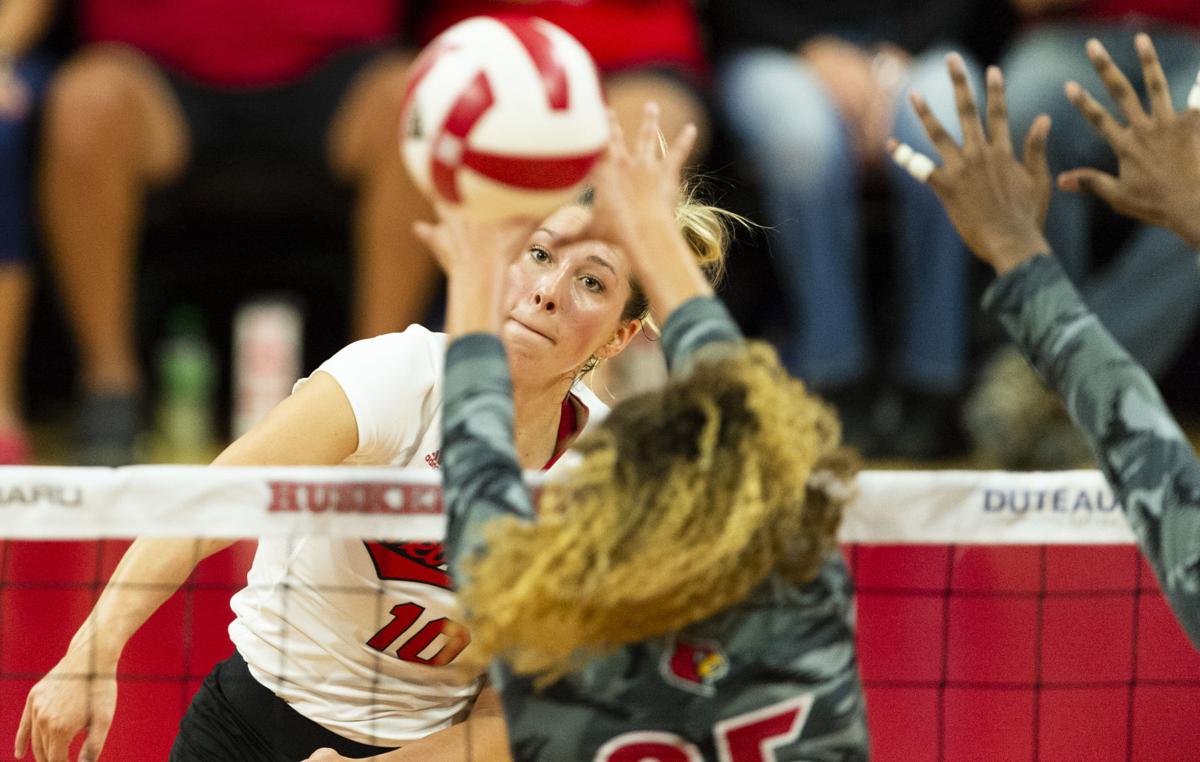 In the first match the Nebraska volleyball team played after coach John Cook chose a group of hitters that he says he'll keep in the starting lineup for a while, outside hitter Madi Kubik had a solid match.
The junior outside hitter from West Des Moines, Iowa, finished with a match-high 19 kills with a .289 hitting percentage. That was Kubik's season-high for kills, and her second-best hitting percentage of the season.
The other hitters were outside hitter Ally Batenhorst and right-side hitter Lindsay Krause. Nebraska beat Northwestern in four sets to start the Big Ten season.
Kubik did a good job of mixing up her attacks. That included getting kills by tooling the block — hitting a shot that touches the fingers of the blockers and deflects out of bounds. Since it was last touched by the defense, Nebraska wins the point.
Tooling the block can be very effective, but is also a very difficult skill to perfect, Cook said. Nebraska works on it nearly every day in practice.
"Madi Kubik, who is now here in her third year, she used the block quite a bit (Wednesday)," said Cook during the Nebraska volleyball radio show on Thursday. "And our freshmen are still trying to figure it out.
"It's a difficult skill. Jordan Larson makes it look really easy because she's just so experienced and sees the block so well. It's very difficult because you have to track a moving ball, you've got to get your body to that moving ball and then you got to try and hit around that block or use the block. It's an acquired skill. Some players never get it, because they just don't have the vision. But the ones that have vision get really good at it."
During international volleyball tournaments, the Japanese players are really good at tooling the block, because they're smaller players and need that shot to be successful.
"As we say, the block is our friend and we want to try and use it," Cook said. "But we're still hitting into the block too much, which gets us blocked down. There is a fine line between tooling it, not hitting into it and then making sure you do it (hit hands) and not miss completely, which we've done a lot of that this year where we swing for the hands and complete miss and it goes out of bounds."
Some of Nebraska's past players that were good at hitting shots off the blockers were Annika Albrecht and Mikaela Foecke.
"Kelsey Robinson was the master. She was the master of it," Cook said.
Caring gesture for former Husker: Following Nebraska's match against Northwestern on Wednesday, several of the Husker players and staff went over to the Northwestern bench and gave flowers to and hugged Northwestern libero Megan Miller.
Miller, from Alexandria, Indiana, was a defensive specialist for Nebraska for two seasons (2018-19) before transferring to Northwestern. Her mother, Deanna, passed away in June at the age of 54 following a sudden illness.
Nebraska co-captain Lauren Stivrins went to the Nebraska coaches with the idea of giving Miller flowers before the match. Nebraska's staff contacted the Northwestern staff, who suggested that after the match would be better.
Miller was in the same recruiting class as Nebraska's Nicklin Hames and Callie Schwarzenbach.
"It was very thoughtful by our players to come up with that," Cook said.
Cook said some of Nebraska's players and their families attended the memorial service last summer.
"I texted (Miller), and it really meant a lot to her," Cook said. "They have a great bond with our players and they're still really tight. I think they still do stuff in the summers together. It was a tragic deal with her mom. Her mom was her high school coach."