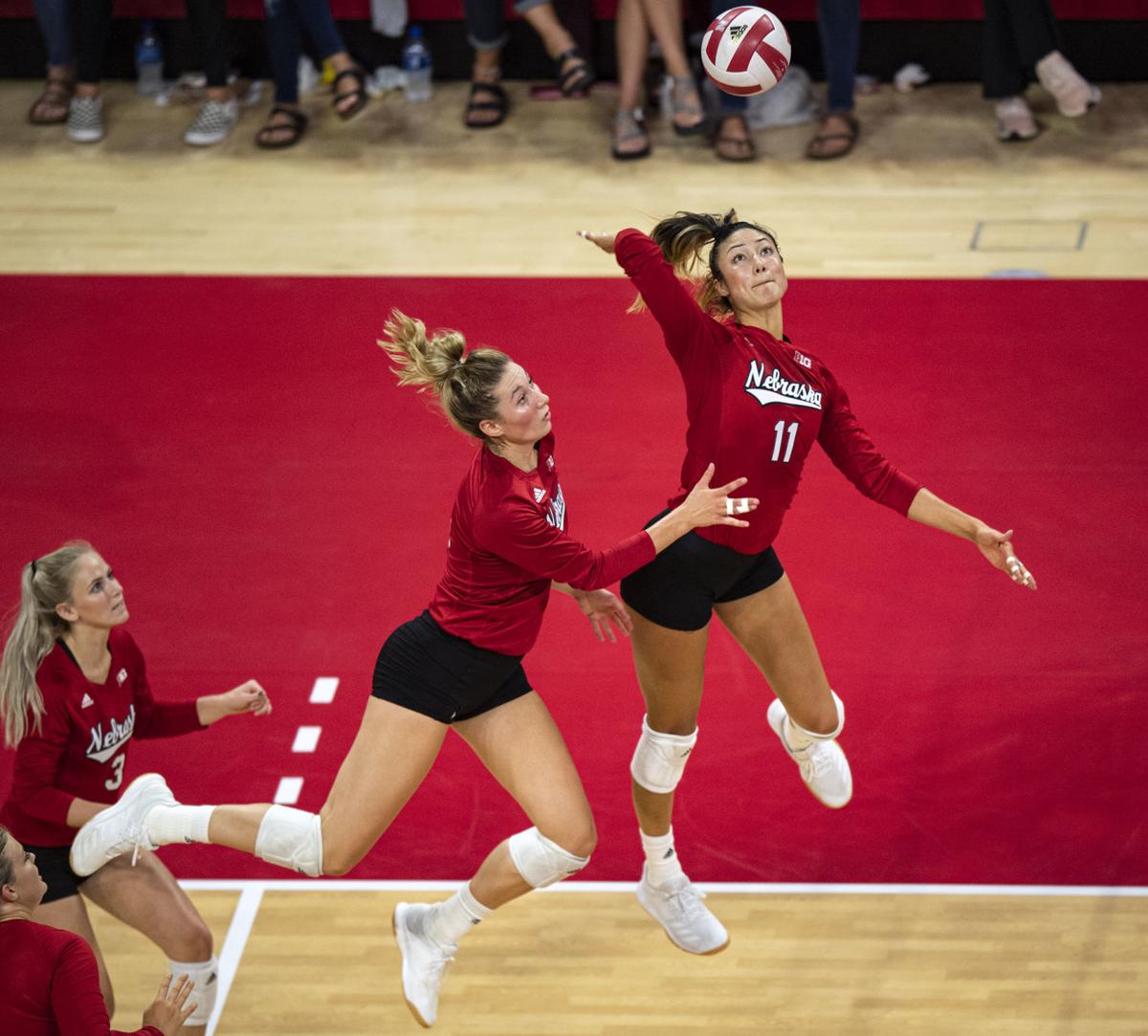 During a college volleyball season that Nebraska hopes lasts for 17 weeks and ends at the NCAA Final Four, after two weeks of matches it is too early to say something is a positive trend.
But through the first four matches of the season, the play of junior outside hitter Lexi Sun has been very positive, and much-needed, as the second-ranked Huskers learn to play with some inexperienced players at the other outside hitter position.
Sun leads the Huskers in kills by a wide margin with 61, averaging 3.81 per set. And she has a .275 hitting percentage.
Those numbers will become harder to maintain during the conference season, but for now they are up from Sun's averages of 3.11 kills per set and a .195 hitting percentage last season. Sun also ranks second on the team in ace serves with five.
Nebraska coach John Cook challenged Sun going into the season to be more disciplined and play within the system.
Cook has been pleased with Sun.
"She's hitting for a really high number out of the back row, which is great," said Cook on Tuesday during the Nebraska volleyball radio show on the Husker Sports Network.
Last season, when Sun was in her first season at Nebraska after transferring from Texas, Sun only hit a few types of shots. Now she's varying her attacks with cross-court shots, hitting down the line and tips.
"We've worked hard on that," Cook said.
Sun has spent time studying film with assistant coach Kayla Banwarth, including film of some professional players.
Sun also benefited when Nebraska played against pros during the trip to China and Japan.
"One thing we learned in Asia is those Chinese players, you never know what shot they're going to hit," Cook said. "You're going to get a tip, you're going to get a roll shot, you're going to get a cut shot off the edge of your block. … So you never know as a blocker or digger what the heck is coming, and that's what we're trying to instill in our hitters."
Big Ten outlook: Also in the way-too-early to say there is a trend category is that some Big Ten Conference teams haven't started the season great, although there are still four Big Ten teams ranked in the top 10.
Illinois went 0-2 last week with losses against Washington and Colorado and dropped from fifth to 14th in the rankings. Wisconsin also went 0-2 last week.
While Nebraska lost two great seniors from last season in Mikaela Foecke and Kenzie Maloney, this offseason set up well for the Huskers when freshmen Madi Kubik and Kenzie Knuckles enrolled in January, and when the Huskers got extra practice for the summer trip.
And the Big Ten may have also set up well for the Huskers this year to again be a contender in the league because several other top teams also had significant losses to graduation.
Illinois graduated setter Jordyn Poulter, the player Cook thinks was the best in the league the past two years. Minnesota graduated setter Samantha Seliger-Swenson, who was the Big Ten player of the year, although the Gophers are still an extremely talented team.
"I just think early on teams are trying to figure things out, especially teams who had to replace players," Cook said. "We're not playing great, but we're trying to replace probably two of the greatest players ever to play at Nebraska."
There are still seven Big Ten teams in the top 25.
Injury update: Outside hitter Capri Davis practiced on Tuesday but still isn't hitting due to an abdominal injury and is questionable for this week's matches.
Worth quoting: "Nicklin (Hames) is an exceptional defensive player. Maybe the best right-back defensive player Nebraska has ever had." – Cook.
Be the first to know
Get local news delivered to your inbox!