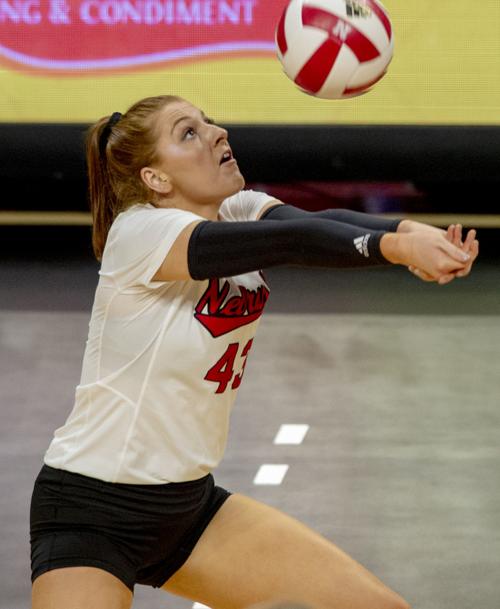 The defensive statistics for the Nebraska volleyball team took a hit last week after Stanford roughed up the Huskers with 58 kills on a .294 hitting percentage in the Cardinal's four-set win against the Huskers.
But Nebraska is once again one of the best defensive teams in the country. Nebraska's .140 average opponent hitting percentage ranks sixth nationally. In Nebraska's other match last week, the Huskers held Wichita State to a .000 hitting percentage.
It's serving and defense that have helped fuel the Huskers' recent run of success. On the Nebraska volleyball radio show on the Husker Sports Network on Tuesday, NU coach John Cook explained the steps the Huskers take to try and slow down an opponent's great hitter.
Cook used the analogy of a baseball team that shifts its defense to one side of the field and dares the hitter to attempt to hit the other direction.
"So what we try to do is take away their tendency," Cook said. "So the first way we can do it is by serve. Can we serve it so it makes it hard for them to get the ball? The second thing is we block their best shot. So we try to get four hands in front of their best shot. The third thing is we got to put our diggers where they hit the ball the most."
Through practice and scouting reports, the players should have a good idea of what the opponents' hitters want to do.
"We do make adjustments during the match if somebody is changing it up, but we go in with a lot of data and knowing where they hit most of their balls," Cook said. "We have all of these stat programs that we can look at, and that's what my assistant coaches do is study that. So we try to get our diggers where the ball is hit the most."
You have free articles remaining.
Nebraska's defense has had to be good this season, because Nebraska's passing hasn't always been good enough to help the Huskers run a great offense. But with two freshmen doing a lot in serve receive, Cook knows that will take time to develop.
Nebraska's main offensive stats of kills per set (12.97) and hitting percentage (.243) don't rank in the top 100 nationally.
Value in defensive specialists: College volleyball teams are limited to 12 full scholarships, and some teams don't always use many, or any, scholarships on a libero or defensive specialists. Instead, they give the scholarships to the big hitters, and then try to get walk-ons to play defense.
But Cook sees value in making sure Nebraska recruits great defensive specialists. Nebraska has two defensive specialists on scholarship currently with freshman libero Kenzie Knuckles and sophomore defensive specialist Megan Miller.
"We're looking for elite players," Cook said. "If you look at the years we did well we had two great (defensive specialists) like (Justine Wong-Orantes, Kenzie Maloney, Annika Albrecht and Miller). That's what you want."
But when Nebraska allocates two scholarships for defensive specialists, that means there is less margin for error in recruiting the other positions.
"Now what that does is it's going to make you thin somewhere else," Cook said. "You're either going to be thin at outside hitter or you're going to be thin at middle blocker. So you may only have three middle blockers, or you may only have three or four outside hitters. That's the choice you make, but those liberos are really important."
Unofficially, Nebraska's scholarship breakdown is four outside hitters, two right-side hitters, two setters, two middle blockers and two defensive specialists.
Knuckles didn't play in Nebraska's last match due to an injury, but should be able to return for Friday's match at Illinois.