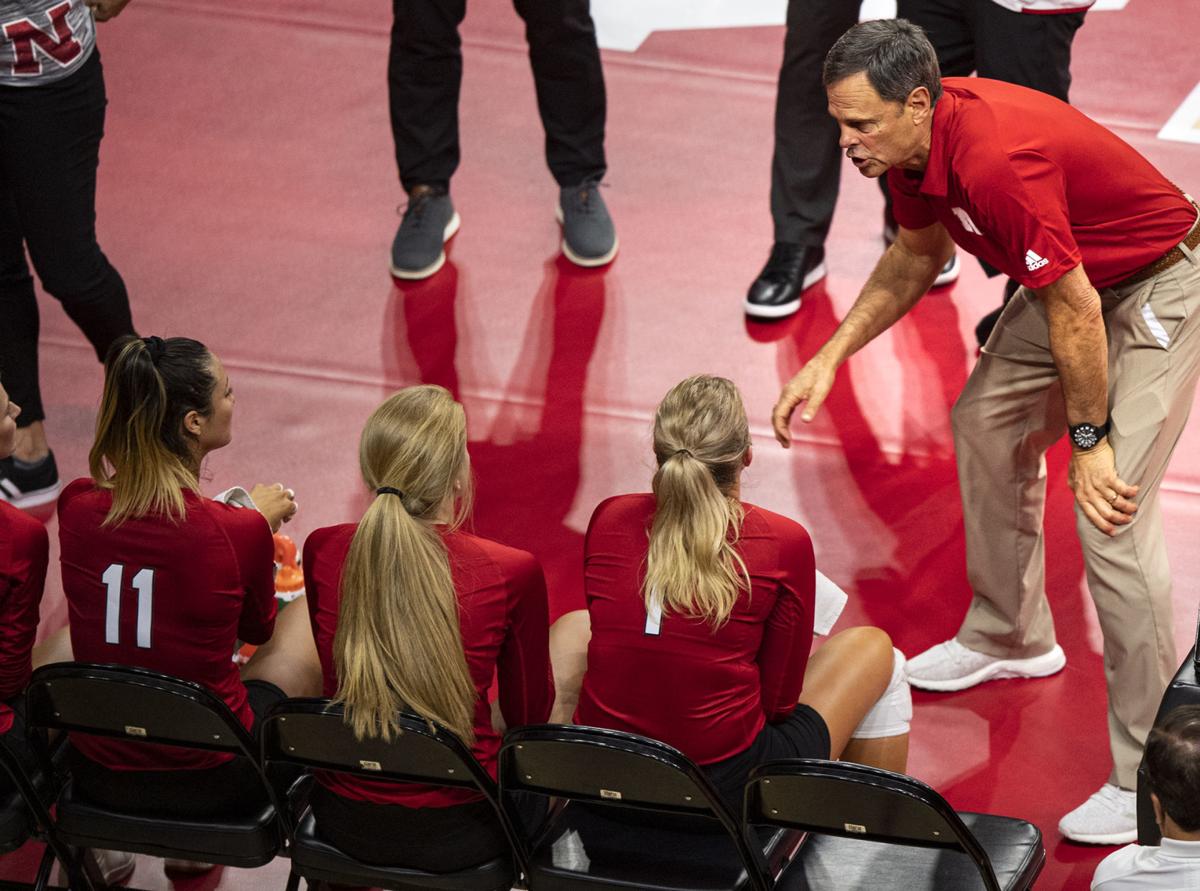 The Nebraska volleyball team is in maybe the best stretch of seasons in the 44-year history of the program.
In the four seasons before this one, Nebraska had a combined record of 124-18, reached the NCAA Final Four each year and had two Big Ten titles and two NCAA championships, in 2015 and '17.
This season Nebraska has started with a 2-0 record, and is ranked No. 2 in the nation.
Coach John Cook deserves a lot of credit for that success, but in a sport where one small factor can be the difference between winning and losing — the Huskers were three points away from winning another championship last year — Cook is quick to credit the team of people helping him.
That includes current assistant coaches Jaylen Reyes, the defensive coordinator, and Kayla Banwarth, who trains the defensive specialists and organizes recruiting. Also Lindsay Peterson, the director of operations.
But Cook is also quick to credit what he calls the Nebraska volleyball performance team. That includes sports psychologist Brett Haskell, strength and conditioning coach Brian Kmitta and athletic trainer Jolene Emricson.
"I look at reinventing each season, and what do I have to do to be my best, and what does this team need," said Cook on Tuesday while answering a question about the program's consistent success during the Nebraska volleyball radio show on the Husker Sports Network. "So we look at that, and I surround myself with as many talented people as I can to help me with that.
You have free articles remaining.
"We call it our performance team, so we have our nutritionist, sports psychologist, our biomechanical consultant, trainer, strength coach. So we all work together and we're trying to find how we can find a point here, or a point there. What edge can we get, and what can we do different? How can we make it better? We're in a constant growth mindset. So how are we growing to get better?"
Cook also asks a group of mentors and friends that include Peterson, Haskell and Cook's wife, Wendy, to observe Cook and the program and give him feedback on what they see and hear.
"I want them to give me the feedback, and you got to be open to it," Cook said. "I have a saying that the longer I coach the less I know. So what I remind myself is, 'Listen, buddy, you don't have anything figured out.' You got to figure it out each day how you're going to get better."
Nebraska's success in the past five years also comes at a time when Nebraska has recruited better players — NU currently has five top-10 national recruits on the roster — and once those players got to Lincoln, they committed to improving themselves as players and people.
"Our strength coach told me he's reading a book and basically the theme of the book was if you can get people to fall in love with something, then they'll really do everything they can to be the best they can in that," Cook said. "So if we can get them to fall in love with Nebraska volleyball, then all the decisions they make and everything they do will go towards having the best volleyball experience they can, and being the best Nebraska volleyball player they can."
International players: Nebraska has one international player on the team this season with Chen Abramovich, a sophomore defensive specialist from Israel who is currently injured.
But Nebraska has had only seven international players in the history of the program. They are Debbie Brand from Australia, Sarah Pavan from Canada, Mari Kurkova from the Czech Republic, Melanie Keil from Germany, Cecilia Hall and Maria Hedbeck from Sweden, and Abramovich. Also, Greichaly Cepero came from Puerto Rico.
"I was just talking to our men's basketball coaches and they were asking me how many international players we recruit, because they're constantly looking and they can get really good international players that can come in and they're great basketball players," Cook said. "What I told them was internationally for us the really good players sign (professional) contracts and end up not coming over."
Some college volleyball teams on the East Coast, including American University and Florida State, have had several international players. But the Nebraska coaches are also able to stay close to home and recruit really good players in Nebraska and nearby states.