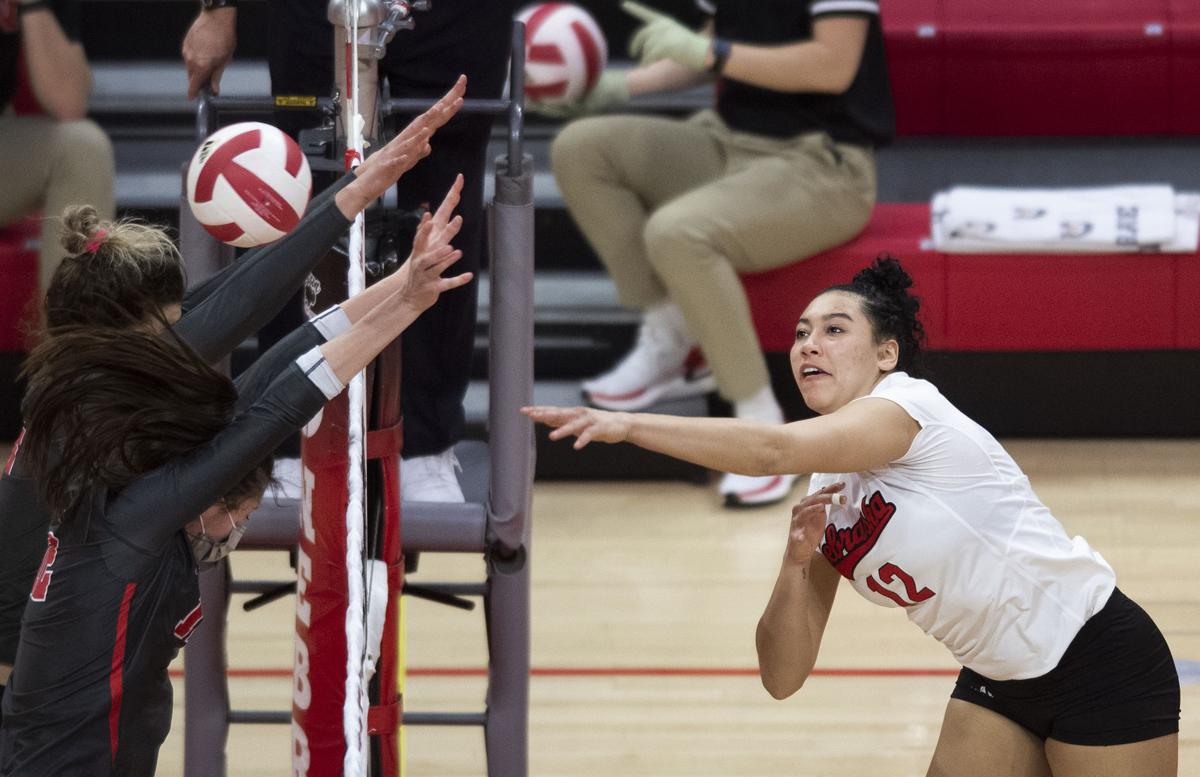 Now things probably aren't nearly as bad as they may seem to some people. The Huskers (10-2) are still ranked fifth in the coaches poll.
But a key factor in how far Nebraska goes this season may be how much improvement the Huskers can make at the right-side hitter position in the final three weeks before the NCAA Tournament begins.
Nebraska's play at the right-side hitter spot has been a roller coaster, with some impressive matches, kills and blocks, but also struggles. Sophomore Riley Zuhn and senior Jazz Sweet have each played the position, but neither has been able to consistently produce enough to take total control of the spot, and there aren't really any other options on the roster right now without moving a player from a different position.
Zuhn started in Saturday's loss but was replaced by Sweet after she accumulated a negative hitting percentage. Zuhn and Sweet combined for just six kills and a .090 hitting percentage.
"We had six kills from both of our right-side players (combined), so we're going to have a hard time beating good teams with that," Cook said. "We can't rely on (Lexi Sun, Lauren Stivrins and Madi Kubik) to carry us."
It was the other way around in the previous match. Sweet started for the second time this season but was replaced by Zuhn after recording one kill and three errors on eight swings. Zuhn played well in relief (six kills on .357 hitting).
Zuhn has started for the majority of the season, and is averaging 1.4 kills per set with a .129 hitting percentage. Zuhn had a strong start to the season, and through four matches was hitting .290. The 6-foot-5 Zuhn has still had some good moments blocking, and ranks fourth for the Huskers with 27 blocks.
Sweet has 13 total kills and is hitting .103.
One of the ways Nebraska can compete with the top teams in the country is if its right-side hitter is hitting closer to .250.
As a freshman, Sweet had averages of 2.22 kills per set and .273 hitting as a starter on Nebraska's national championship team. Last season was Sweet's best year statistically with 2.7 kills per set on .278 hitting.
When Nebraska's right-side hitters aren't getting kills, it's a wasted opportunity during the rotations when Nebraska had three hitters in the front row with an outside hitter, middle blocker and right side.
Cook says there aren't any reasons why Nebraska's right-side hitters shouldn't be more productive, such as the sets they're getting or due to having to take a lot of out-of-system sets that can lead to a lower hitting percentage.
"Nope. There is really no rhyme or reason," Cook said. "Like I've said before, it's like you're fine-tuning a race car, and right now we're not running on all cylinders out there. We got to overhaul the engine, we got to retune it, we got to keep working at it. We got to get somebody with confidence going over there. That's the only way I know how to do it.
"(Monday) in practice we had a major competition between Jazz and Riley and let them go at it trying to force somebody to step up and get in the compete mindset as opposed to being worried about, 'If I make a mistake or I'm not playing very well or whatever.' That's kind of how we're approaching it."
In three consecutive matches, Zuhn's hitting percentage was .000, and in three of the past four matches, she's had a negative hitting percentage.
Cook can't pinpoint why Zuhn's production as a hitter has dropped.
"It's just always a process, you know," Cook said. "I don't have any explanations for that. All I know is those guys come in and work really hard. They're working to get better and are spending extra time and we got to get it going."
Iowa week: Nebraska will play Iowa (3-11) twice this week beginning on Wednesday at 7 p.m. in Iowa City. The series shifts to Lincoln for Saturday's match.
Stivrins reaches milestone: During last Friday's win against Ohio State, Stivrins reached the 1,000 career kill milestone, becoming the 22nd player in program history to do so. The middle blocker from Scottsdale, Arizona, had 259 kills as a redshirt freshman, 314 as a sophomore, 304 as a junior and 147 this season.
Ex-Huskers doing well in pro league: After three of six weeks of the new professional volleyball league in Dallas, two former Huskers are in the top four of the leaderboard in the unique league where new teams are chosen each week and players earn points for both team wins and individuals stats. Jordan Larson is No. 2 on the leaderboard, and Kelly Hunter is fourth, so they'll get to choose their teams during a draft before this week's matches. Former Husker Briana Holman also joined the league after it began and has played in three matches.