The Nebraska volleyball team will have more depth and competition for playing time at the middle blocker position for this season with the addition of a graduate transfer who was a former top-80 national recruit and had some big matches while playing for Missouri.
Kayla Caffey, a 6-foot middle blocker from Chicago, committed Friday to join the Huskers, she told the Journal Star.
And she may be able to play two seasons with the Huskers. She'll join Nebraska as a graduate transfer and be able to play this season as a junior. She redshirted as a freshman at Missouri, then missed the 2018 season with a leg injury and was awarded a medical redshirt by the NCAA.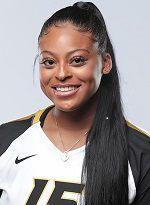 Caffey played most of the 2019 season for the Tigers and had an impressive .408 hitting percentage that ranked No. 2 in the Southeastern Conference. But she wasn't in the lineup when Nebraska beat Missouri in the second round of the NCAA Tournament. Caffey said an injury didn't keep her out of that match.
As a redshirt freshman in 2017, Caffey played in every match and made the SEC all-freshman team. She ranked fifth in the league in blocking that season.
At the middle blocker position Nebraska returns All-American Lauren Stivrins, along with junior Callie Schwarzenbach. Now Caffey and freshman Kalynn Meyer will join the competition for playing time at the position.
Stivrins and Schwarzenbach played almost all of the 2019 season, without much competition behind them.
Caffey will graduate on May 16, and will probably be able to join the Huskers when they're able to return to campus and begin workouts. She made the decision to transfer after last season, and was contacted by Nebraska coach John Cook after she put her name in the NCAA transfer portal.
Caffey was impressed by Cook and the Husker program.
"Coach Cook is a really experienced coach," Caffey said. "He's one of the best coaches in the country. And at the University of Nebraska I think they pay really close attention to their players' health, and have state-of-the-art recovery. I'm really into that, since I was injured."
She was also impressed by the academics at UNL. In her master's program she plans to study education and early literacy.
"Being a graduate transfer, education has become a larger priority for me," Caffey said. "And when I was shopping around I knew exactly what I was looking for, and knew what was going on."
Due to the NCAA recruiting restrictions, Caffey wasn't able to make a recruiting trip to Lincoln.
"I wasn't able to visit, but it felt like I did," she said. "I got to do a virtual visit with the two assistant coaches, (Jaylen Reyes and Kelly Hunter), and they literally went on campus and walked around and showed me all around, so that was really cool and unique."
Caffey was also able to be on a Zoom video conference call with four of the Nebraska players.
Nebraska returns all of its starters from the 2019 season, and has high expectations.
"I'm excited to be with this group of girls," Caffey said. "I got to Zoom with them since I didn't get to visit, and I can tell they're a really close-knit group. I'm excited to be a part of that culture. And also just all of the talent that this group has is really exciting. I think we can have a great season, and potentially win the championship together."