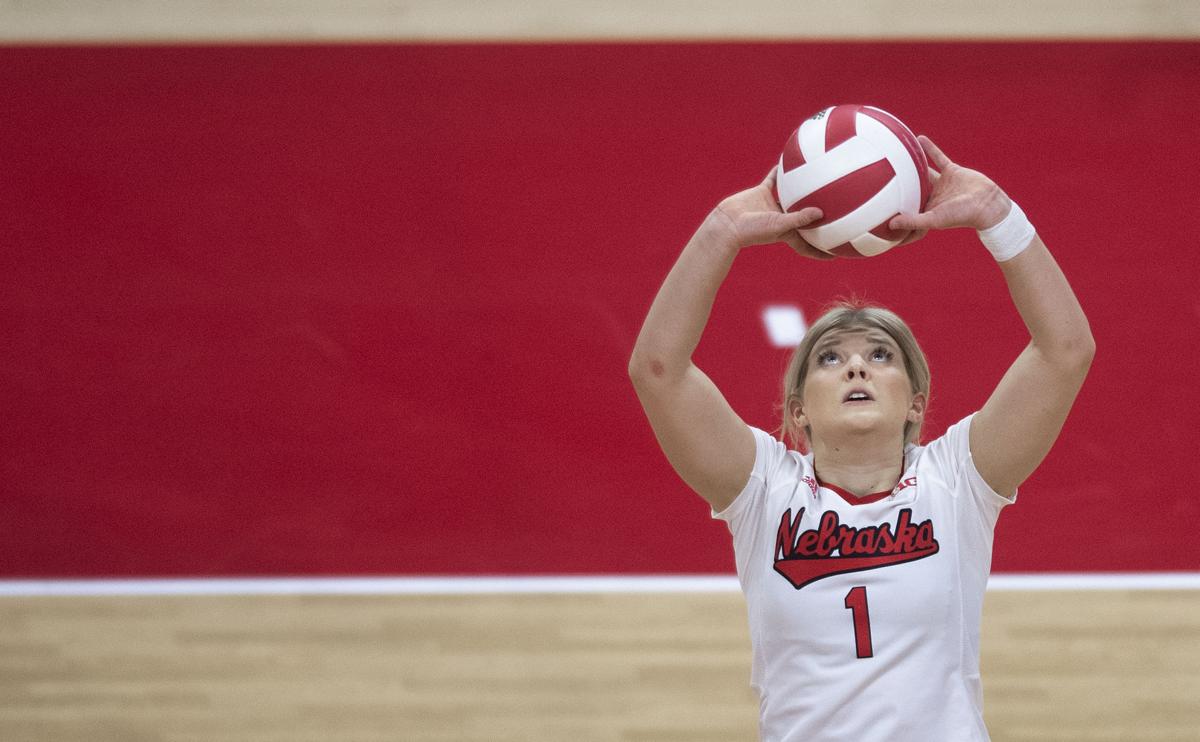 Last week there was another code red moment, Nebraska volleyball style.
In the past, that's included practice or in-person weight training getting called off due to COVID-19.
And that's how the players learned Nebraska's two highly anticipated matches against No. 1 Wisconsin last weekend were postponed mere hours before the team was set to fly to Madison.
"We were going to leave that afternoon and we got a text in the morning that, as Coach (John Cook) says, 'Huskers, code red,' is when we know something bad is about to happen," Husker setter Nicklin Hames said. 
And just like that, for the second time in six weeks, the No. 4 Huskers had a weekend series postponed when Wisconsin wasn't able to play due to COVID-19 cases with its program.
The series was postponed one day before it was set to begin.
"What happened was Michigan State had an outbreak and they had played Wisconsin, so Wisconsin was under the alert and PCR testing every day, so sure enough on Day 5, Wisconsin had a couple of positives, and that was it," Cook said.
So Nebraska practiced last weekend instead.
"Obviously we were very disappointed," Hames said. "It's hard when you train the whole week and you're super-excited about a match and then it gets (postponed)."
Last week in the Big Ten there were more volleyball teams sidelined than playing, with four of the seven series postponed for COVID reasons. The series postponed were Nebraska-Wisconsin, Minnesota-Michigan, Michigan State-Illinois and Penn State-Maryland.
Cook said there were discussions about the Huskers playing a different Big Ten team instead, but nothing could be worked out.
"It was pretty late notice for a change," Cook said. "We were trying to look at getting (an airplane). There was a lot going on, but it's such late notice, it's really hard."
While college volleyball teams do extensive scouting and preparation for opponents, Cook said he'd be comfortable playing a different opponent than planned on short notice.
It's just more difficult for teams like Nebraska that have to fly to most road matches.
"If they said, 'Hey, you can play Creighton tomorrow,' yeah, no problem," Cook said. "We can buzz up there and play Creighton."
Cook also doesn't think getting officials to work the match would hold schools back from getting a series put together on short notice.
"Our head of the officials group has said she'll do everything last-minute to get officials there," Cook said. "So don't let that be a deterrent to trying to reschedule or switch matches around."
If Nebraska and Wisconsin are still able to play each other this regular season, it would be because both teams knew early in the week their scheduled opponent wouldn't be able to play. Or it's possible they could play at least one match during the middle of the week.
Ohio State and Penn State have made up a postponed series by playing midweek matches on two separate weeks.
Cook said he wouldn't be opposed to scheduling a midweek match to try and play the Badgers at least once. But there are a lot of factors that go into making that happen, including travel and the availability of the arena. At some schools, multiple sports are currently using the same venue for events.
And the Badgers may not come back from its COVID pause until the final few weeks of the Big Ten season.
"I'm not going to take our team and be on the road for an entire week, I can tell you that," Cook said. "That's something that can be tough on our team."
The Badgers beat Nebraska three times last season, and Nebraska was eager to try to end a five-match losing streak overall against Wisconsin.
"I think we really want to play them, especially after last year how it went," Hames said. "I think we were all super-excited for (last) weekend, so I think everyone would be super-excited to play them, even if we got them rescheduled in the middle of the week."