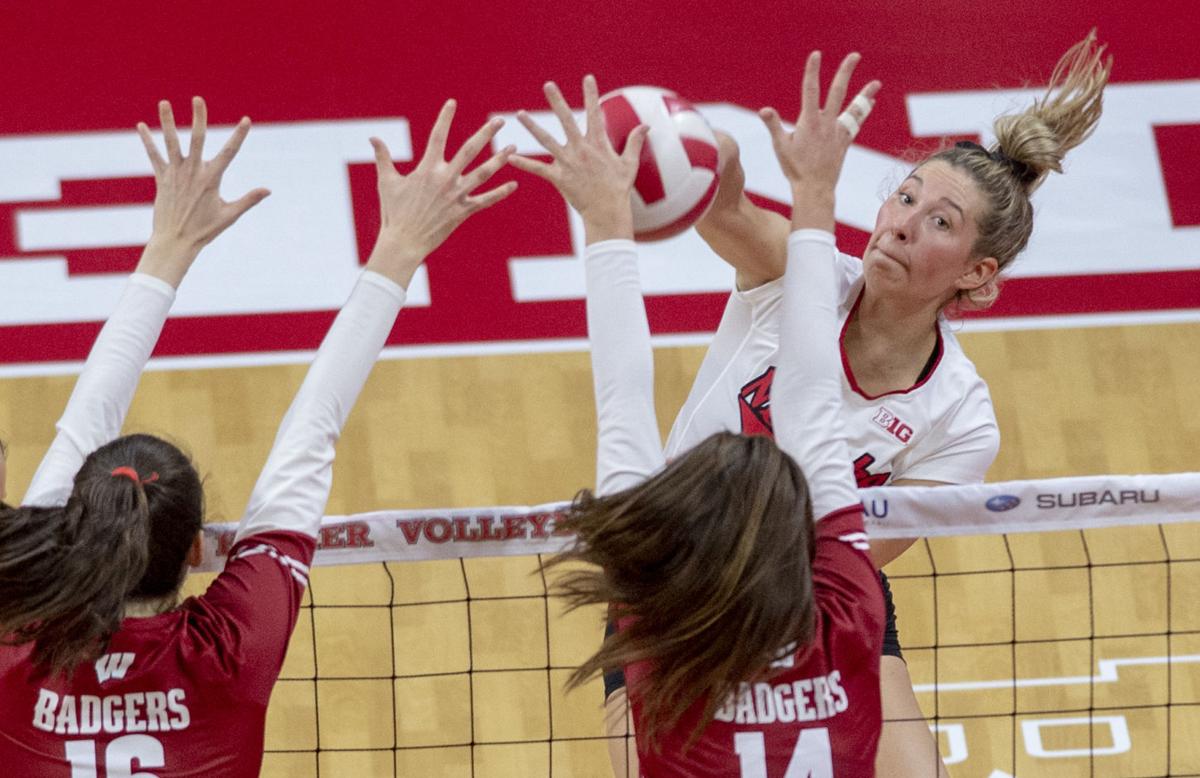 Dana Rettke, Sydney Hilley and the Wisconsin volleyball team have what only three college programs in 46 years have — a five-match winning streak in a series against Nebraska.
Only four times has an opponent won five consecutive matches against Nebraska, a program with remarkably consistent excellence. Under three coaches in four decades, Nebraska has won 84% of its matches and five national championships.
In the 1970s, when Nebraska's program was just starting, Missouri State won nine straight against the Huskers. Texas has two different five-match winning streaks against the Huskers, including from 2010-15.
On Wednesday at the Devaney Sports Center, Nebraska will try to end its losing streak against the Badgers in another top-10 showdown between the programs — No. 3 Wisconsin vs. No. 6 Nebraska — in an 8 p.m. contest on Big Ten Network.
Nebraska's two matches against Wisconsin in the next five weeks will be key in determining the Big Ten champion. The Badgers and Huskers also will play during the final weekend of the regular season.
Nebraska leads the Big Ten standings at 10-0 and is one match ahead of the Badgers. And it's already looking like a two-team race for the conference title, with every other team having at least three league losses.
Nebraska's Big Ten title hopes got some help when unranked Maryland gave the Badgers a surprising first league loss with a five-set win. The Badgers have a 33-2 overall record combined over the past two seasons.
Wisconsin's winning streak against Nebraska began in 2017 when the Badgers beat Nebraska in four sets. Nebraska never lost again after that match, winning 19 straight and the national championship.
The Badgers beat Nebraska once in 2018, and three times in 2019, including ending the Huskers' season in the NCAA regional final.
And while both teams have changed some since the team's last played in 2019, it's the mainstays of the recent series who will likely play the starring roles.
For Nebraska that includes Lauren Stivrins, the three-time All-America middle blocker who changed Nebraska's season when she returned from a back injury four weeks ago.
Stivrins won a match against Wisconsin in her first year as a starter in 2017. She doesn't expect to be nervous before Wednesday's match.
"I have a lot of faith in what we're capable of and I don't think that there is many teams that can rattle me. Especially not them," Stivrins said. "We've played them so many times, we know what they're like. I think we're just excited."
Not since Penn State's 2017 team — which included Simone Lee, Haleigh Washington, Alli Frantti and Kendall White — have Nebraska fans been as familiar with an opposing team as they are the Badgers.
Hilley is the smooth two-time All-America setter who on occasion wows the crowd with a one-handed set to Rettke.
Rettke is a 6-foot-8 middle blocker who pounds down shots from an angle that make her uniquely hard to defend. But what makes her different from the other really tall players in college volleyball is how well she moves, and how much the Badgers set her.
This season Rettke has 228 kills, which is 54 more than any other player. During Big Ten matches she has a .457 hitting percentage.
"I just think for her size, she moves," Cook said. "She's got a great arm. They're really good at getting her the ball in transition and off passes. Her and Hilley have a great connection."
Rettke is just the sixth player in NCAA history to earn first-team All-America honors four times.
Outside hitter Grace Loberg is a four-year starter. Middle blocker Devyn Robinson also is "off the charts" as a hitter, Cook said.
The Badgers' new outside hitter is freshman Julia Orzola. She's from Olsztyn, Poland, and the Badgers found her when the team traveled to Europe for a summer trip in 2019.
She's only 6-foot but has been very effective, reaching double-digit kills eight times in 10 Big Ten matches.
"(Orzol has) a big arm," Cook said. "She jumps well. She's got a lot of international experience, too."
The Badgers also have a 6-9 player (tallest in program history), Canadian Anna Smrek, who has played both right-side hitter and middle blocker.
The Badgers' offense is impressive. But Nebraska's strengths this season — serving and defense — should help the Huskers.
"It gives us a good start," Cook said. "The last several years (Wisconsin has) been at the top in hitting efficiency. They've had a lot of great hitters. So that gives us a chance if we can serve, block and play defense."