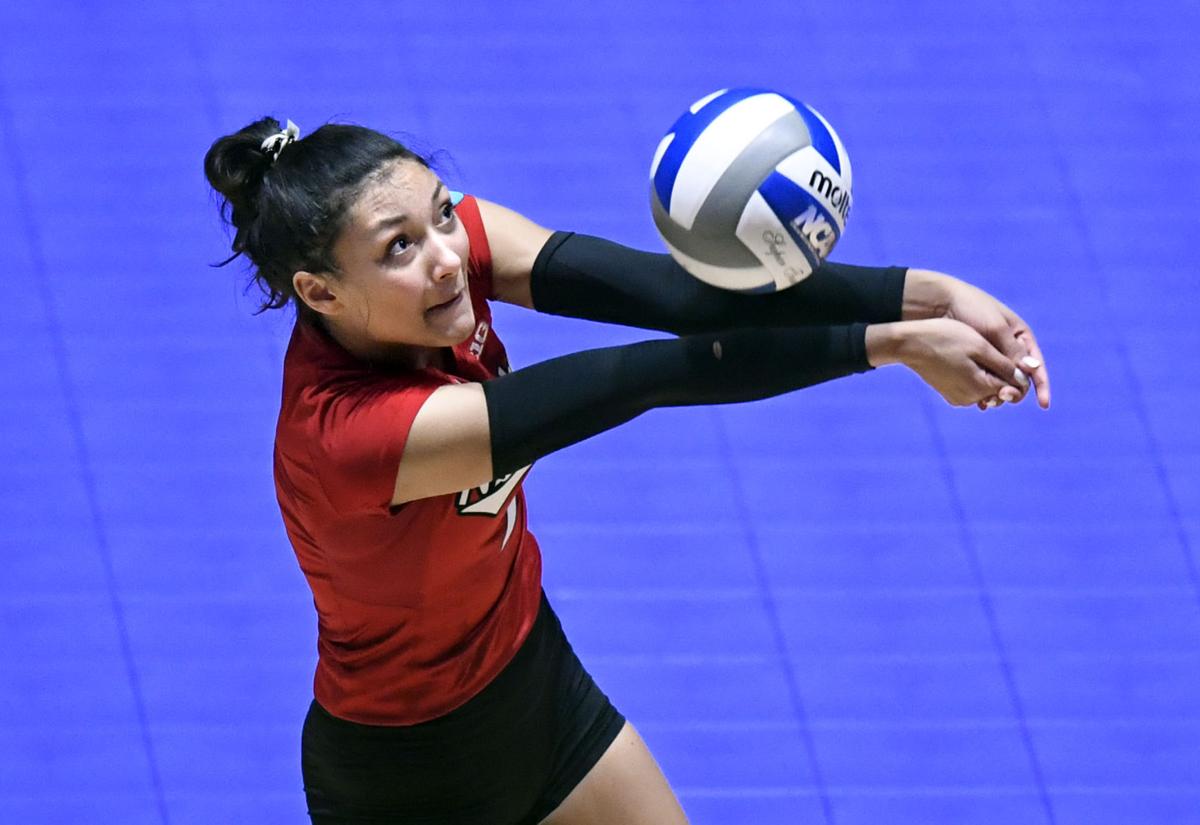 Last season Nebraska volleyball coach John Cook said the Huskers were pretty good running their out-of-system offense, which occurs when a play doesn't begin with a good serve-receive and set.
Of course, Cook said the Huskers had a lot of practice at it, and that's not something you'll be too proud about. Being good out-of-system can mean at times your serve-receive isn't very good, forcing your offense to scramble too much when the setter can't set up the Huskers for an easy kill.
Serve-receive held the Huskers back in some matches during the 2019 season, and it probably needs to take a step up for the Huskers this season as the stakes get higher this week with two matches against fifth-ranked Minnesota beginning Friday.
While Nebraska has had a good start to the season with a 6-0 record, Cook says Nebraska's passing has been "average."
It's shaping up to be another season when passing may determine how much success Nebraska has.
"I think serving and passing, if you don't do a good job on that, you're going to have a hard time beating great teams," Cook said. "It's no different than football. Who can run the football, and who can control the line of scrimmage? To me, that's serving and passing."
Nebraska's players who handle most of the passing are libero Kenzie Knuckles, defensive specialist Keonilei Akana and outside hitters Madi Kubik and Lexi Sun.
Nebraska assistant coach Jaylen Reyes helps coach Nebraska's passers. He wants the players to attack when they're passing.
"So when we say attack, we mean going forward and making sure we're not falling backwards," Reyes said. "If you go forward, the ball will go forward, and that's obviously the direction we want the pass to go. We talk about angles, and we talk about platform.
"I think the biggest thing we want is an attacking mentality. You go play the ball, don't let the ball play you. We want our passers to be attacking the whole game, and not feel like they're getting served at."
Scouting the Gophers: Minnesota (8-0) is led by second-team All-America right-side hitter Stephanie Samedy. She's had at least 20 kills during three of the past four matches.
"Samedy right now is probably best-player-in-the-country level," Cook said. "We're going to have our hands full."
And in the offseason, the Gophers added Taylor Landfair, the No. 1 national recruit in the 2020 class. The 6-foot-5 freshman outside hitter from Plainfield, Illinois, made a few recruiting visits to Nebraska. Landfair ranks second on the team in kills.
Hunter Atherton, who was a serving specialist and backup setter on Nebraska's 2017 national championship team, is a backup setter for the Gophers.
Start your engines: One of Cook's recent news conferences apparently got the attention of someone in the racing industry, after he used an analogy about a race car when discussing some changes to Nebraska's offense.
"I used the Indy race car analogy a few weeks ago and the president of the Indianapolis Motor Speedway emailed me and said anytime I want to come there I'm welcome, and he'll take care of me," Cook said. "So whoever printed that, awesome. I want to go to the Indy 500."
Hunter leaves for pro league: Nebraska volunteer assistant coach Kelly Hunter has temporarily left the team to play as a setter in a unique 44-player pro league about to begin a six-week season in Dallas. Instead of teams, captains will draft new squads for each week's matches, and the players earn points based on both team results and individual performance.
The league includes United States national team players Jordan Larson, Karsta Lowe and Tori Dixon, along with several other alums of Big Ten programs.