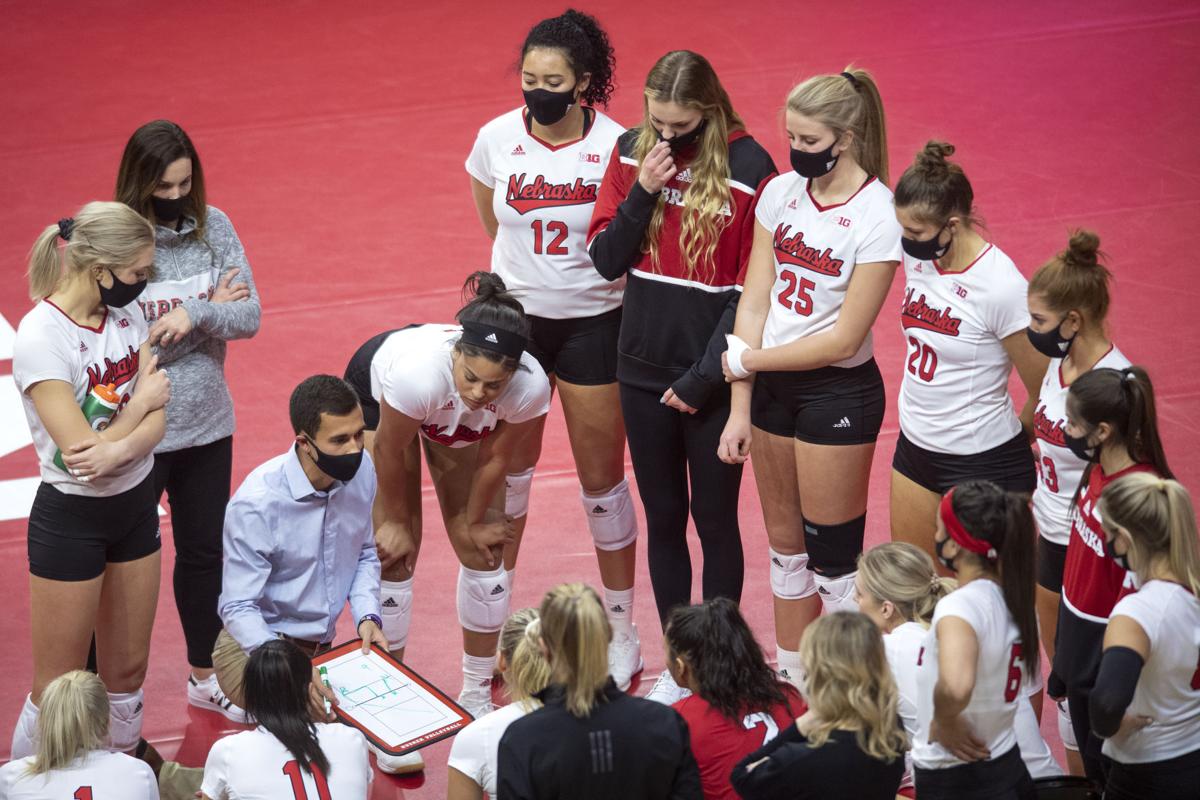 The starts and stops of the long college volleyball offseason haven't gone completely away after the season started.
While Nebraska got a few extra months to train last fall when the season was postponed, it wasn't as beneficial as it may sound because the team would train for a few weeks and then have to take a break for a holiday, or have players missing practice for COVID-19 reasons.
The season began on Jan. 22, and Nebraska has already had two of its six scheduled series postponed, due to positive COVID tests for players at Northwestern and Wisconsin.
Nebraska's matches against Wisconsin were postponed last week.
It may not be known until the end of the season how much postponements hurt the Huskers. While Nebraska was able to practice last weekend, it's not the same experience you'd get from playing the No. 1 team in the nation.
The Big Ten title will be determined based on team winning percentage. Nebraska (7-1) is in fourth place in the standings, but missed out on a chance to give Wisconsin (10-0) its first loss.
Cook thinks the mental speed bump may be the biggest challenge for a team when matches are postponed.
"I think when you get in the season, you're in a grind and you're ramped up and grinding and you're in a great routine," Cook said. "We just had to deal with taking basically three days off mentally. It's more the mental part than the physical part, because we're always trying to keep our athletes fresh and all of that. But it's the mental letdown. You're on edge, you're going, you're grinding, you're in the zone and then all of a sudden they're bored out of their minds. I was bored this weekend. The mental part is the hard part, I think."
Nebraska is scheduled to play Illinois (2-6) on Friday and Saturday. The Illini were also off last week due to COVID cases for Michigan State.
Kentucky puts three in poll: Three teams from the state of Kentucky are ranked in the coaches' association poll, which is tied with California for the most teams from one state. Kentucky is No. 3, Louisville is 13th and Western Kentucky is 21st. Kentucky is coached by Craig Skinner, who was an assistant on Nebraska's 2000 national championship team. Louisville is coached by Dani Busboom Kelly, who was an assistant on Nebraska's 2015 national title team.
Nebraska has two teams in the poll, with the Huskers at No. 4 and Creighton at 23.
Another sister act: Nebraska middle blocker Lauren Stivrins isn't the only Nebraska player with a sister playing college volleyball (her sister, Amber, leads Georgia in kills). Kayleigh Hames, the sister of Nebraska's Nicklin Hames, is an outside hitter for Pepperdine, which moved into the rankings this week at No. 25 after an upset win against BYU. Kaylei Akana's sister, Braelyn, is on the volleyball team at Hawaii, but their season was canceled.
Three from Nebraska in U.S. pro tournament: Lincoln Pius X graduate Kristy Wieser makes three Nebraska natives currently playing in the professional women's volleyball league in Dallas. The unique league includes 43 players who are drafted to new teams for each week's matches. Wieser played college volleyball at Chattanooga. Hooper native Jordan Larson and Papillion's Kelly Hunter also play in the league.
Larson leads the league standings after the first week. Players earn points based on team results, individual stats and for being chosen as a match MVP.
* Kayla Banwarth, the head coach at Mississippi and a former Nebraska player and assistant coach, got her first win as a college head coach last weekend. Mississippi beat LSU in five sets on Sunday after getting swept by the same team one day earlier. Mississippi started the season 0-13.
* Stivrins ranks fourth nationally in hitting percentage (.475), and Hames ranks 18th nationally in assists per set (11.26).