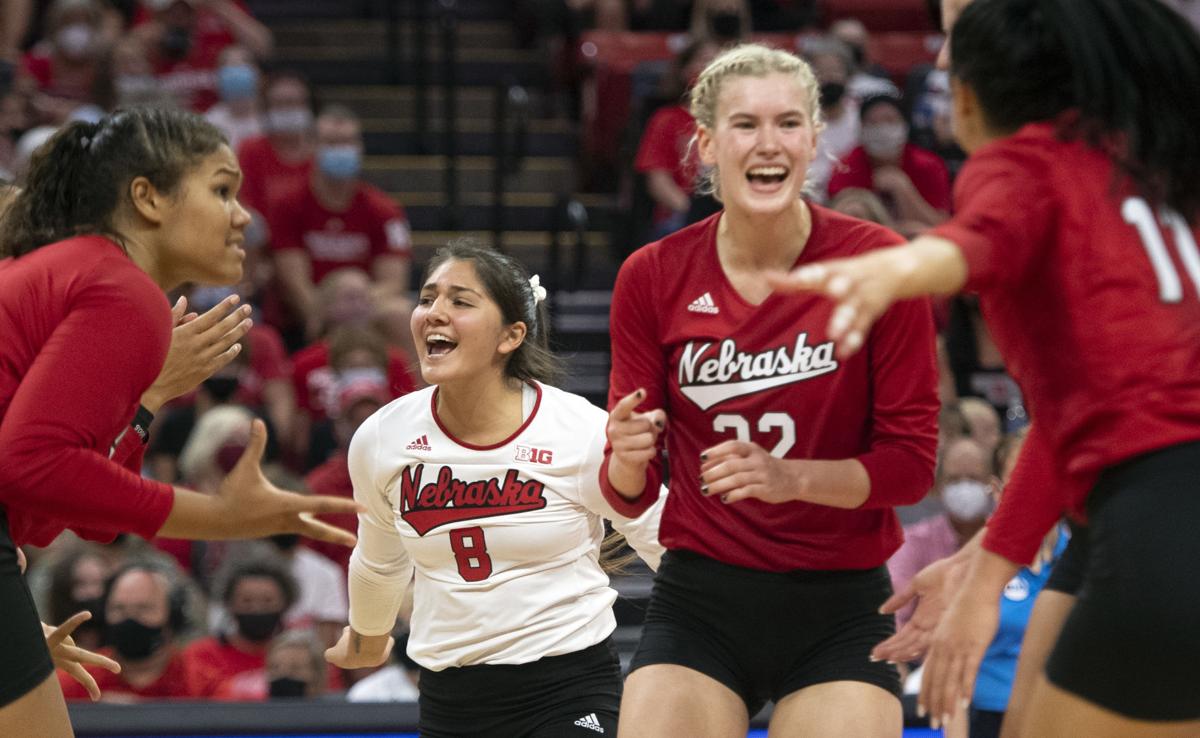 Two matches of the college volleyball season aren't enough to say a team is good at something, but coach John Cook is hopeful that Nebraska will be an improved team in the area of serve receive.
That's something that hurt the Huskers last season, especially in some of the big matches, such as the season-ending 3-1 loss against Texas in the NCAA Elite Eight.
"We didn't pass very well, and (setter Nicklin Hames) was running all over the place," Cook said of last season.
During the first week of this season, when Nebraska went 2-0 with wins against Colgate and Kansas State, Cook said the Huskers' passing was "really good."
"We're an improved passing team, which I told them they had to be," Cook said. "When you got eight people that can pass, and your four best are going to play, it helps them focus on passing. So like (Lexi Sun) was struggling a little bit so I got somebody that I can put in for her. She knows she's got to pass the ball to be in the back row. All of them know that."
Nebraska's passing was especially strong during the first set of the K-State match, when Nebraska won 25-17 and had its highest hitting percentage of any of the seven sets on the weekend (.462).
In that set, Husker freshman setter Kennedi Orr got the ball passed right where she wanted it.
"If you watch our video, play after play Kennedi is just literally standing at the net and every ball is coming right to her," Cook said. "So that's a good sign, as opposed to running all over the gym bump setting, which we did a lot of that last year."
Nebraska's passing should be helped by the addition of Lexi Rodriguez, the freshman who quickly won the starting libero job.
Why was Rodriguez able to beat out two-year starter Kenzie Knuckles right at the beginning of the season?
"(Rodriguez is) the best passer in our gym by far every day," Cook said "I told them the best passer is going to play. And it's not even close."
Rodriguez was named the Big Ten co-freshman of the week after averaging 5.14 digs per set in her first college matches.
Huskers rise in poll: After the first week of matches, Nebraska moved up one spot in the AVCA rankings to No. 4.
The Huskers jumped ahead of Washington after the Huskies lost to then-No. 11 Ohio State.
Texas remains No. 1 in the poll, followed by Wisconsin, Kentucky and Nebraska.
There's a big nonconference match on Wednesday, with No. 1 Texas traveling to No. 10 Minnesota. The match will be televised by BTN at 7 p.m.
Hames update: Hames, Nebraska's returning starter at setter, may be able to play this week after missing the first two matches with an ankle injury.
"We're going a full practice (Monday), if she can make it through," Cook said. "We got to start pushing her today to see if she can play this weekend. I think she's chomping at the bit."
Stivrins times two: Nebraska hosts another tournament this week with matches against Omaha, Georgia and Arizona State.
Playing for Georgia will be Amber Stivrins, the younger sister of Nebraska All-American middle blocker Lauren Stivrins.
Amber Stivrins ranks third in kills for the Bulldogs with 25 in three matches.
Georgia and Nebraska were scheduled to play last season in what would have been Lauren Stivrins' senior season. But after the Big Ten canceled nonconference matches last season Georgia agreed to play this season.
Lauren Stivrins won't be able to play against her sister, though, after having offseason back surgery. Cook said he's yet to see Stivrins take a hitting attempt in practice to begin to see how her back feels, but that may happen this week.
"Hopefully this week," Cook said. "Hopefully."
The match against Arizona State will pit former Omaha Skutt classmates Lindsay Krause and Allie Gray against each other. Gray is a setter but didn't play during the first week of the season.
An ace at serving: Sophomore defensive specialist Keonilei Akana leads the Huskers with four ace serves, despite only playing in five of seven sets.
She served a 4-0 run, including an ace, during Nebraska's big fourth set comeback against Kansas State.
"She got the ace, that thing dropped out," Cook said. "Nobody is going to pass that ball. She just has great hand contact and was thumping it, and that's what happens when you do that you get a lot of movement and you get the knuckleball. She got one that dropped, one that rose and really put K-State on their heels."