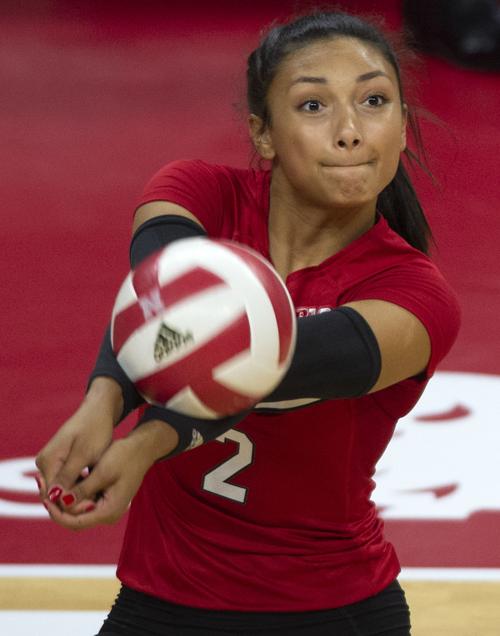 One of the big unknowns for the Nebraska volleyball team to begin the season was at the libero position, with true freshman Kenzie Knuckles replacing All-American Kenzie Maloney.
The Huskers have just played two matches, but Knuckles got good reviews for the first week of the season where Nebraska went 2-0.
But Nebraska coach John Cook isn't surprised at how Knuckles started her career.
"She came here to be a four-year starter at libero," Cook said.
Knuckles had 22 digs against Creighton and 19 against UCLA, averaging 5.8 digs per set for the weekend, which impressed Cook.
She has a lot to handle as the leader of the defense, in addition to passing serves, serving and setting on plays when setter Nicklin Hames can't, and Knuckles handled it all pretty well, Cook said.
"She's got to pass at a high level, which she did Friday night," Cook said. "Saturday night was a little rough. She's got to set out-of-system balls and continue to be a better server. And I think she took a big step in running the court; managing everything and running the court. She was on top of things, and for a freshman the first weekend out we've been talking to her about owning the court, and it's her court, and I thought she did a really good job of that."
Huskers stay No. 2: With top-ranked Stanford also winning both matches in its first week, Nebraska stayed No. 2 in the new American Volleyball Coaches Association poll released on Monday.
Five of the top-10 teams are from the Big Ten Conference, but Minnesota dropped from third to eighth after getting swept by unranked Florida State.
You have free articles remaining.
Fifth-ranked Illinois played both of its matches against the same opponent, beating Tennessee in five sets on both Friday and Sunday. Wahoo native Kyla Swanson played in both matches for the Illini.
Nebraska did something similar during the nonconference season in 2017 when the Huskers played UCLA twice in the same weekend.
Arizona, the team Nebraska plays on Friday in San Diego was ranked No. 24 in the preseason poll but dropped out after losing to Samford in five sets. The win marked the first time Samford has ever defeated a ranked opponent.
Nebraska will also play No. 25 San Diego this weekend.
Creighton (0-2) dropped to 23rd.
Former, future Huskers in Team USA gym: The Nebraska volleyball program remains well represented at the national level.
That was on display last week when four former Huskers and three Nebraska recruits were each training in the national team gym in Anaheim, California.
Ex-Huskers Jordan Larson, Kelsey Robinson, Mikaela Foecke and Justine Wong-Orantes are training with the national team in preparation for the FIVB World Cup later this month in Japan.
And future Huskers Lexi Rodriguez, Kennedi Orr and Lindsay Krause were each training with the youth national team. That team will play in the U-18 world championship beginning this week in Egypt.
The two teams posed for a photo together during practice.
Former Nebraska volleyball player Jordan Larson, future Husker Lindsay Krause, ex-Husker K. Robinson.

Each training in California with the national team and youth national team.

Larson played her first season at Nebraska in 2005. I think Krause would be a college senior in 2024 https://t.co/XVsZ3X5MGY

— Brent Wagner (@LJSSportsWagner) September 1, 2019
Worth quoting: "I was just talking to our strength coach (Brian Kmitta) and one thing about this team is I think they really, really like each other. You can just see the joy and how they're playing out there, and I think they get really excited when somebody does something spectacular." — Cook.