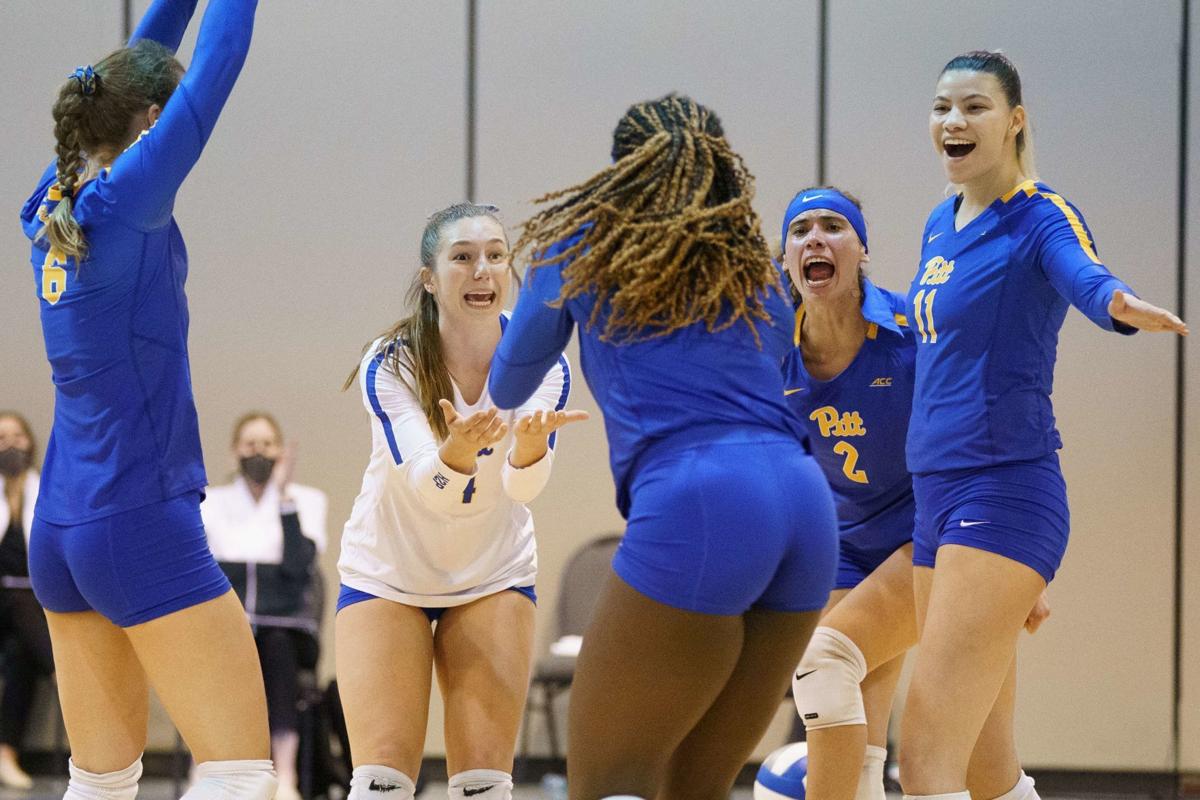 Sabrina Starks was the connection for some people in Nebraska to one of the most exclusive tickets in the state this year.
Starks returned home last week as a starting middle blocker for Pittsburgh, which was one of the 48 volleyball teams to come to Omaha for the NCAA Tournament.
The tournament is being held in a state that really comes out for the sport, but for the first three rounds there were no tickets for the general public. That's because with the matches being played in the convention center at CHI Health Center Omaha, the number of people in the building had to be limited for COVID-19 protocols.
But each team was allowed to put 86 family and friends on a pass list for their first two matches, and that's where Starks came in. The Pittsburgh players got to put six people on the pass list. But when Starks' teammates took stock of how many people would be coming, some spots were left unfilled.
Starks is from Springfield, which is only about 20 miles from the arena. She graduated from Platteview in 2018.
Pittsburgh's first tournament match started at 9:30 p.m., but Starks was able to fill all 60 spots she was offered.
"I worked with my mom and we were just asking around who wants to come, and it turned out to be a pretty good crowd," Starks said.
Most of the people were from the Omaha area. Starks has three older siblings, and her mom, Terese, has seven siblings.
"We started with family, most from my mom's side, and some from my dad's side," Starks said. "And then we expanded out to my friends. And my mom is a teacher where I went to school and I loved all of the teachers at Platteview so we were asking them, 'Hey, do you want to come?' And they gladly took the tickets. And then we reached out to all of my past volleyball coaches in high school and club. It was a big community."
And while some in the group are also Nebraska volleyball fans, they went all in on the team that got them in the building.
"They were trying to start chants, like, 'Let's go Pitt,'" Starks said. "They tried to bring signs in, but they didn't allow that."
Pittsburgh also had a late match on Thursday, but most of the same people came back, and Starks had 57 on her list.
Those people got to witness history. Unseeded Pittsburgh upset No. 14 seed Utah 3-0, sending the Panthers to the Sweet 16 for the first time. Starks played great in that match, with five kills and a .556 hitting percentage, and a match-high six blocks.
That match was played in the same convention center where Starks played in volleyball tournaments a few years ago with Club Legacy of Elkhorn.
Starks has been hearing from the people on her pass list all week.
"I just get so many texts saying they're so excited," she said. "They were just saying how proud they were of me."
Pittsburgh will try to keep this good thing going during Sunday's Sweet 16 match against No. 3 Minnesota at noon. The remaining teams are allowed to have more fans now that the tournament is down to 16 teams, and Starks has 80 people on her list for Sunday.
Starks' mom used to be the volleyball coach at Platteview. But Starks says she was kind of a late bloomer in the sport. There were people contacting college coaches on her behalf, but the schools passed on her. As a senior, she earned honorable mention all-state honors from the Journal Star.
She wanted to play in college, and was fine doing so at the Division I, Division II or NAIA levels.
"I just emailed literally every college," Starks said.
Pittsburgh took a look. Assistant coach Kellen Petrone came to Nebraska to watch her practice, and that was it.
Now the junior is already one of the best blockers in program history and has been part of the best stretch in program history. She earned second-team honors in the Atlantic Coast Conference this season.