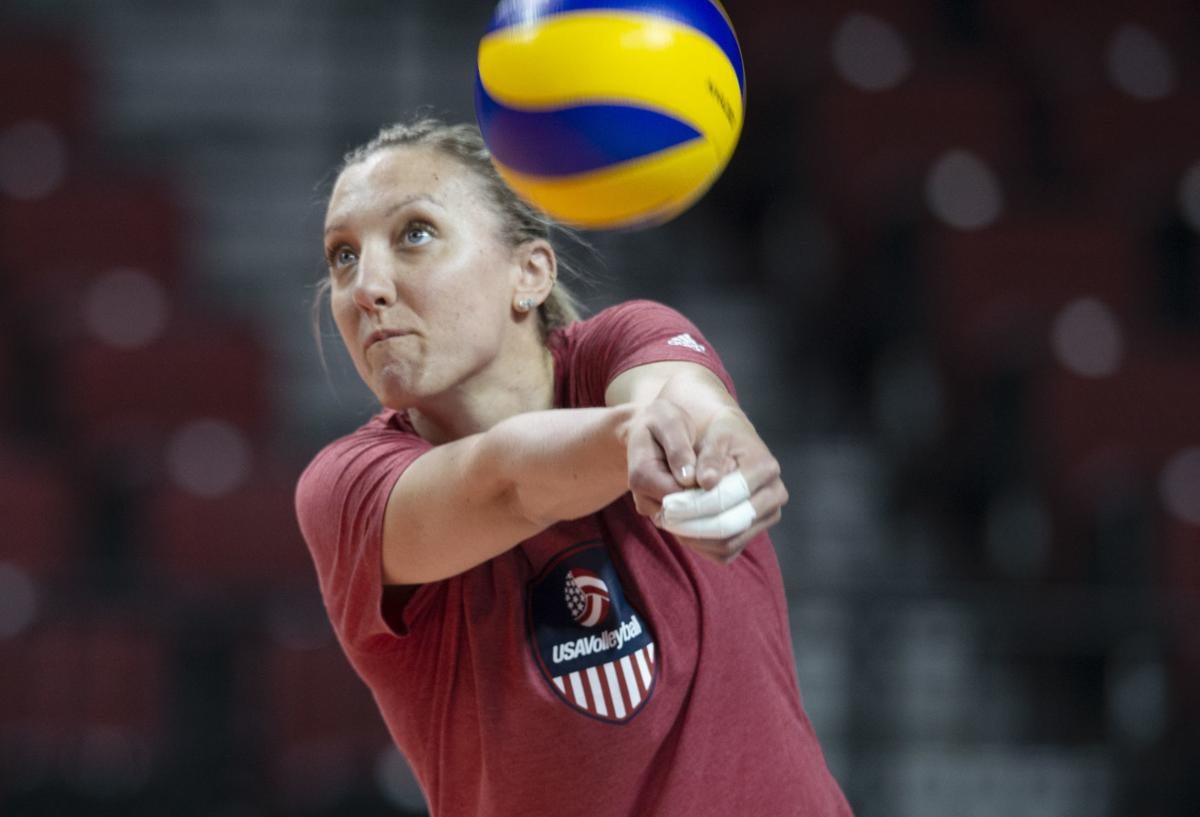 It has been 11 years since Jordan Larson played her final college match for the Nebraska volleyball team, and not only is Larson still playing the sport, she's one of the best in the world at it.
She's a two-time Olympic medalist, a world champion and a player that many of the professional clubs would love to have playing for them.
But playing for most of the year for a professional team, and then during the summer for the United States women's national team, hasn't been easy for the 33-year-old Larson.
Larson had hoped to play in one more Olympics this summer, but the games have been postponed to 2021 due to the COVID-19 worldwide health crisis.
Former Husker Jordan Larson's Olympic hopes are on hold after the postponement of the Tokyo Games.
Larson may be getting close to retirement, but she plans to keep training and playing with hopes of making the U.S. Olympic team for 2021.
Her age is probably the most difficult part about the Olympics being postponed, Larson said.
"I'm not getting any younger," she said. "I wish the years would start (going down), but I'm getting older. But actually these months that I've been home I feel so much better. Sometimes when you're constantly playing volleyball there is no time to decompress mentally and physically. Right now I feel like I'm in pretty good shape. I'm lifting some of the heaviest I've lifted in a long time, and putting on some muscle. So it's giving me more cushion in my joints. At least that's what I keep telling myself."
Larson returned to her home in California in January after playing for a professional team in Shanghai, China. The professional season there didn't last as long as most years because the Chinese put a big emphasis in preparing for the Olympics.
Now Larson will try to see if the longest gap without playing a match in her career since college can be beneficial, and set her up to be successful during the Olympics next summer.
John Cook, who has a long list of accolades, calls being asked to deliver a UNL commencement speech "one of the greatest honors of my life."
"Just a little bit less volleyball for me I think is a huge benefit for me," Larson said.
Larson had been doing regular workouts at the Team USA training center in Anaheim, California, but since the pandemic shutdown has been doing home workouts.
"For me where I'm at in my career, getting in the weight room and doing that stuff is important," Larson said. "I think right now working on agility stuff and stuff that I haven't worked on since college because I haven't had the time because I've gone from one season to the next. I'm kind of excited to dive into that."