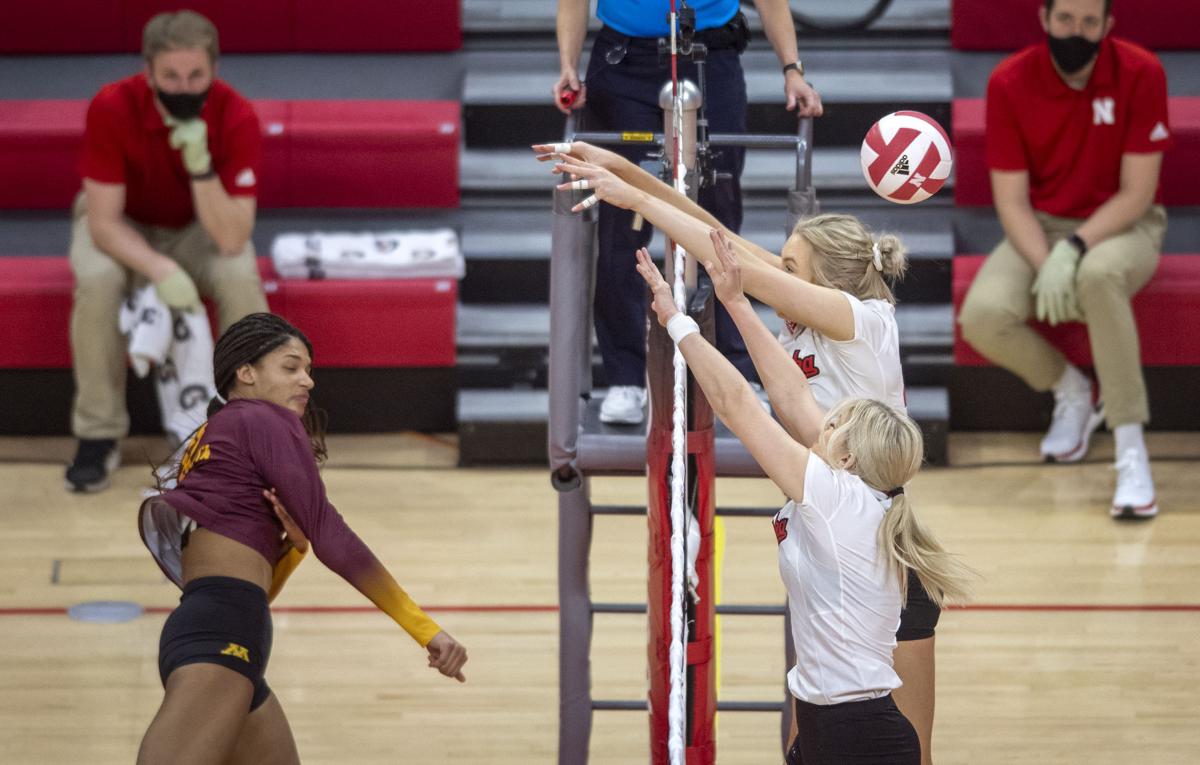 For the first time in a new-look schedule format this season, the Nebraska volleyball team has a chance to see if it can flip a result.
This season, teams are playing the same opponent back to back to reduce travel expenses and potential exposure to COVID-19. The No. 4 Huskers fell to fifth-ranked Minnesota 3-1 Friday.
Nebraska and Minnesota play again on Sunday at 11 a.m.
The Huskers went 2-0 in each of their first three series to open the season.
While Minnesota had some dominating performances — 27 kills from right-side hitter Stephanie Samedy, 14 blocks from Regan Pittman (tying a school record) — Nebraska was on the verge of taking a 2-1 match lead against a team that played in the NCAA Final Four last season before a letdown at the end of the third set.
The Gophers won each of the final two sets by two points.
If Nebraska is going to get a different result Sunday, it will need to improve in serve-receive. The Huskers' inability to pass consistently made their offense predictable in some rotations, which allowed the Gophers to set up their big block.
"We served it well, and then we were able to set our block and defense from there and the team did a heck of a job," said Minnesota coach Hugh McCutcheon in a conference call with reporters from the Twin Cities.
Nebraska will need to avoid getting stuck when Minnesota libero CC McGraw is serving. In Friday's match, she served during Gopher scoring runs of 4-0 (to end the third set), 5-0 (twice) and 6-0.
"We weren't ready to pass," said Nebraska coach John Cook "(McGraw is) a good server, but she shouldn't dominate us like that. So we're going to have to not let her make so many runs."
McGraw served 31 times in the match and had three aces.
Nebraska had 57 kills in the match, and the Gophers 51.
"I thought at certain moments we were playing really great volleyball, and I think going forward if we win the serve-and-pass game, then we can beat them," said Nebraska outside hitter Madi Kubik.
In two of the sets Nebraska lost, it spotted the Gophers leads of 7-2 and 7-1.
Cook says Nebraska's goal each set is to be the first team to reach five points.
"We're going to have to make an adjustment there, and understand how hard we have to play and how well we have to play and how well we have to execute from the very first point," Cook said. "You can't play your way into a game against a good team."
These are some of the biggest matches of the season each year for both teams, and this was the eighth straight match over six seasons when both teams were ranked in the top 10 when they played.
McCutcheon was relieved — and a little excited — after Friday's win. The Gophers have played five straight matches against top-15 teams and won each time.
"Obviously you're relieved," McCutcheon said. "It's just the reality of Big Ten competition. Especially the way our schedule has played out, every weekend we're in the belly of the beast, and here we are again."