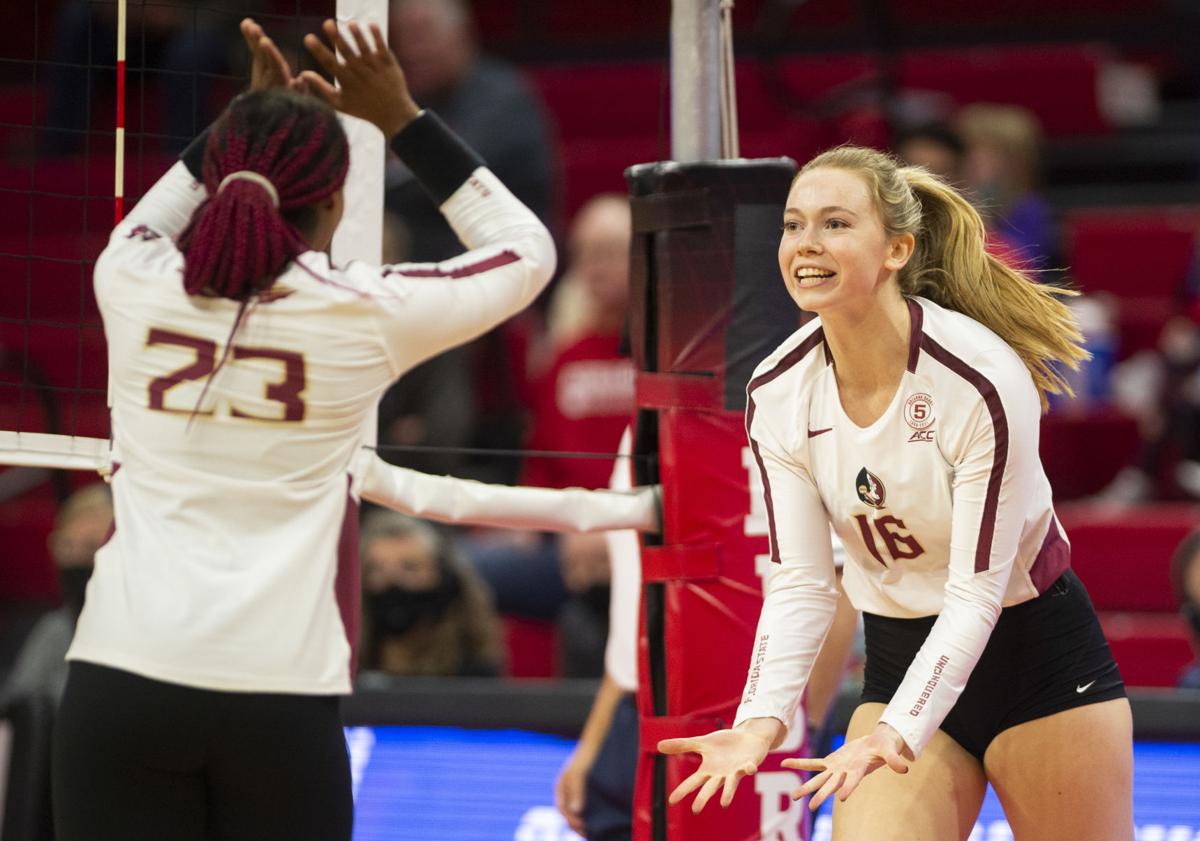 Having super-seniors has been a bonus for college volleyball teams this season. Nebraska, for example, had Lauren Stivrins and Lexi Sun return for an additional season.
Florida State, however, doesn't have that luxury.
The three players who were eligible to return this season to Tallahassee as super-seniors — two All-Americans and another all-region performer — did not, and nearly half of FSU's roster is made up of freshmen.
That didn't stop the Seminoles from reaching the NCAA Tournament for the 12th time in 13 seasons under coach Chris Poole. They extended their season Friday with a 25-20, 25-16, 25-17 victory against Kansas State in the opening round of the Lincoln Regional at the Devaney Sports Center.
"This has really been a miracle season for us," Poole said. "Going into the year there were more question marks than there's been in a long time.
"For us to come back and be successful this season, but also be successful in this match, just says a lot about our character and the work they put in this year."
After reaching the Sweet 16 in 2016, Florida State lost three straight first-round matches before Friday. They snapped the skid playing three freshmen against the Wildcats.
The Seminoles (20-9) only have six hitters on their roster.
"That's the fewest hitters I've had since 1994," said Poole, who coached at Arkansas Tech, Arkansas State and Arkansas before taking over at FSU in 2008. "This is the youngest team I've had since 1994, so there were a lot of challenges coming into the season.
"Our leadership was really good with the upperclassmen that we did have, and the freshmen were willing to follow, and that was really the key to the season."
Florida State looked like a veteran team Friday. The Seminoles hit .340 and had the Wildcats, who had 24 attack errors and hit .077, on their heels all match. Junior middle blocker Emma Clothier had 11 kills on 18 swings.
Clothier credited the team's passing. Junior setter Lily Tessier had 30 set assists.
A bigger test awaits the young Seminoles on Saturday. They'll play the No. 10 team in the country and in front of 8,000 fans rooting for the Big Red.
Because it's so young, Poole said the team spent a lot of time this season only worrying about its side of the net. It was the best way for the younger players to understand tempo and defensive attacks, the coach added.
"Because of that, going into the match (Saturday) night, we still are going to be focusing on us mostly," he said.
Kansas State's season ends at 15-13. Norris graduate Molly Ramsey, a freshman for the Wildcats, got a nice cheer from the crowd when she first entered the match.