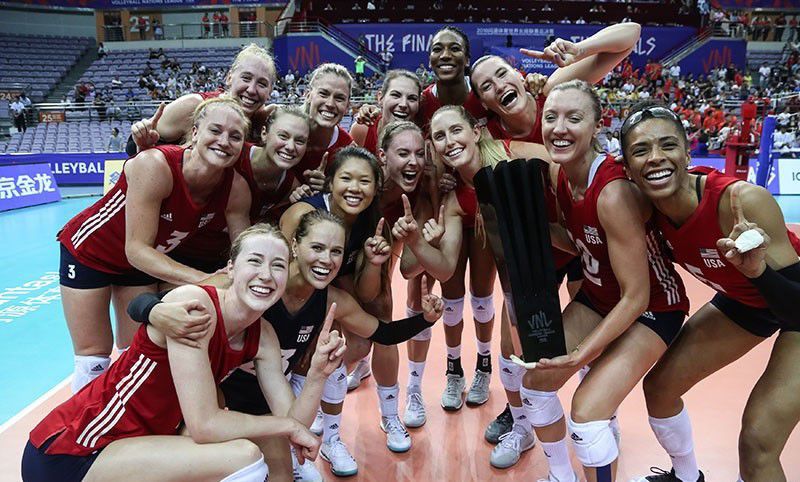 The red, white and blue of USA volleyball added gold and green to its repertoire Sunday.
United States, ranked second in the world, defeated Turkey 17-25, 25-22, 26-28, 25-15, 15-7 in the gold-medal match of the inaugural FIVB Volleyball Nations League tournament Sunday in Nanjing, China.
With the win, the United States also picked up $1 million that will be shared among the players and coaches. Turkey received $500,000 for finishing runner-up.
Ex-Husker and team captain Jordan Larson finished with 12 kills on 30 swings, two aces and a block. Libero Kelsey Robinson, another ex-Husker, handled 35 of the team's service receptions with a 60 positive percent, while Larson turned in a 47 positive reception percent on 19 chances. The team also included former Husker Justine Wong-Orantes.
Those three ex-Huskers, along with their USA teammates, started this tournament journey at the Devaney Sports Center in May.
"I just get chills thinking about it," Larson said. "Really, this has been a long, long tournament. I am so proud of our team. It has been a grind, a lot of travel. It hasn't been easy, but we came away with a win in the end."
Fittingly, USA and Turkey needed five sets to determine a champion. The two nations saw each other twice in tournament play before Sunday.
Turkey upset the Americans in five sets May 16 in Lincoln, and the U.S. opened Final Six Pool B with a five-set win Wednesday against Turkey, which led both matches 2-0.
Turkey, on Sunday, raced to a 16-10 advantage in the first set en route to a 25-17 victory. The U.S. used a key 6-1 run to take an 11-8 advantage after trailing 7-5, then pushed its lead to as much as five points in winning the second set 25-22. The U.S. rallied from a 22-16 deficit in the third set and held three set points, but Turkey answered each call and won 28-26 on its first set-point chance.
Team USA's late momentum in the third set carried on the rest of the match. The Americans, leading 12-10 in the fourth, outscored Turkey 15-5 down the stretch to win 25-15 to push the match to a tiebreaker. While Turkey scored the first two points of the tiebreaker, the Americans rattled off five unanswered points to win 15-7.
"We just kind of made a decision in the third set that we were not going home without the gold medal," Larson said. "We just kind of switched it on, we started serving tougher and our system was running smoothly."
USA's Michelle Bartsch-Hackley was named the tournament's most valuable player and picked up an extra $40,000.
Team USA will play in the upcoming Pan American Cup (July 8-14 in Dominican Republic) and the FIVB World Championships (Oct. 2-20 in Japan).