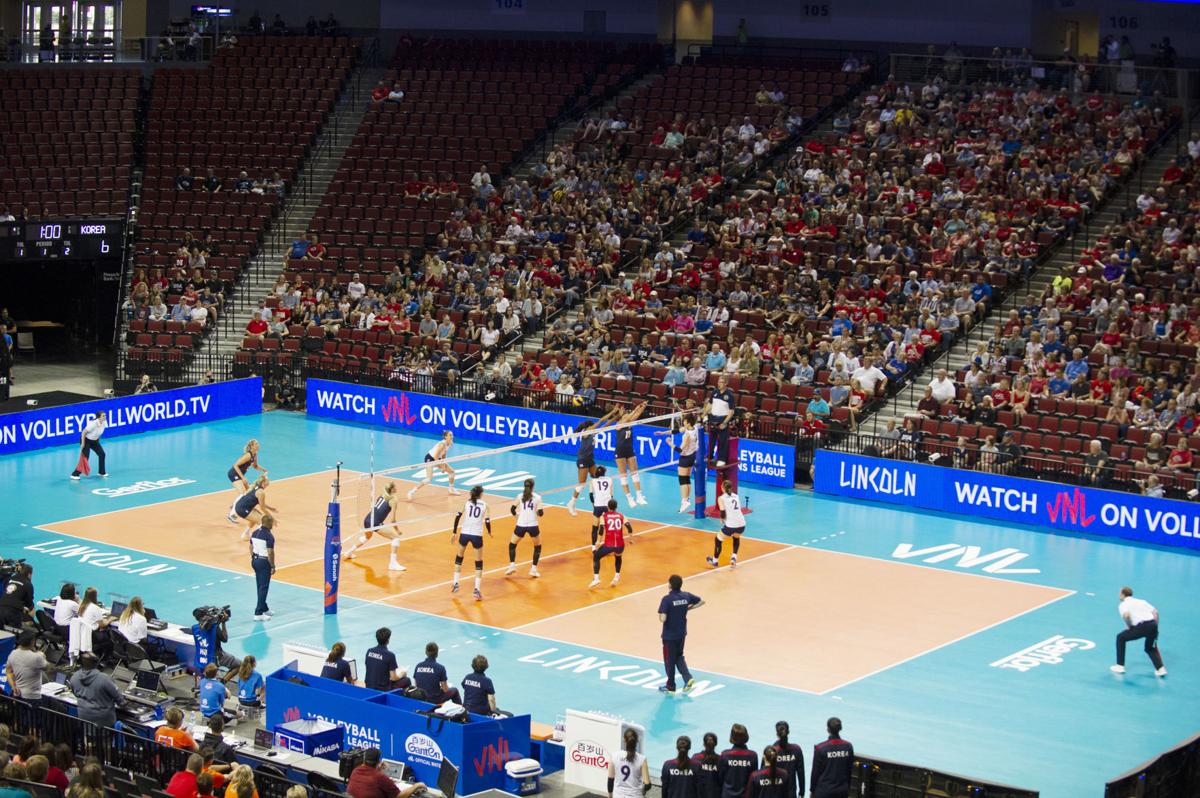 The COVID-19 pandemic is forcing college athletic programs to think outside the box. Coach John Cook and the Huskers are doing just that.
One big idea: Moving some home volleyball matches to Pinnacle Bank Arena.
Cook, Friday on his podcast "Conversation with the Cooks," said he has taken part in meetings in which the discussions have centered on moving matches to PBA to maximize the number of fans allowed to attend.
Cook said the Huskers can get 2,500 fans into the Devaney Sports Center safely "right now." However, if games are moved to Pinnacle Bank Arena, which has 15,500 seats, the capacity cap would be 8,000.
"We're coordinating with Pinnacle Bank Arena right now on what matches we might move there," Cook said on his podcast.
Pinnacle Bank Arena would not be available to host all home matches, so some would remain at the Devaney Sports Center, Cook added.
The Devaney Sports Center can seat just under 8,000, so a Pinnacle Bank Arena model would more than likely allow all season ticket-holders to see those matches. The NU Athletic Department is discussing ways to rotate season ticket-holders for matches at Devaney.
Cook joked that he "begrudgingly" agreed to the idea. The Devaney Sports Center has given the Husker volleyball program one of the top home-court advantages in the country.
"If we can get 8,000 in there (at PBA), it's not a home match for us, it's like traveling to go play even though we're going a mile a way, but we got to do everything we can to try to make our fans happy," Cook said.
A fall schedule for Big Ten volleyball is likely to be announced soon.
Cook said he has seen it. To cut down on travel costs, and for health safety reasons, Nebraska will play more Big Ten West schools, which includes Iowa, Illinois, Northwestern, Minnesota and Wisconsin.
"What it allows is the Purdues, the Illinois, the Wisconsins, the Northwesterns, the Penn States ... the Michigans, they can now bus to a lot of different places and not have to fly because they're going to play more teams in their region," Cook said.
"It is not even, but it's a one-year deal and it's what we've got to do."
Cook said there will be fewer Wednesday matches and more Friday-Saturday contests, which would allow more schools to bus. NU would still likely use charter flights for most of its road trips.
"Less Wednesday matches, by half, which is a bummer because we get great (TV) ratings on Wednesday nights because there's no football," he said.
With the Big Ten schedule coming into place, the Huskers are currently working to figure out what matches can be played at Devaney and what matches can be moved to PBA.
The Huskers' nonconference schedule also will be regionalized, Cook noted.
Nebraska has never played a match at Pinnacle Bank Arena, which opened in 2013, but Team USA has hosted some tournaments at the venue.
Pinnacle Bank has scheduled shows on Sept. 11 (Joe Rogan) and Nov. 12 (Cher).
The back end of NU's volleyball schedule would also run alongside the beginning of basketball seasons for the Husker men's and women's teams, the primary tenants at PBA.
The NU men have scheduled home games for Nov. 2 (Peru State), Nov. 10 (Cleveland State), Nov. 14 (Purdue Fort Wayne) and Nov. 25 (Lamar).
Be the first to know
Get local news delivered to your inbox!