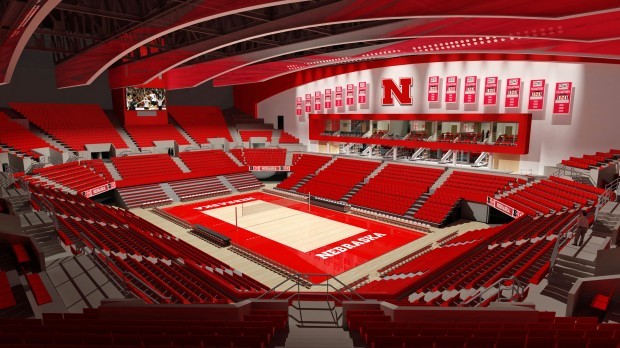 There will be more than 3,500 additional tickets available this season, but Nebraska volleyball tickets will still be hard to come by.
The Huskers move into Devaney Sports Center this fall, where the current projected capacity is about 7,800.
In addition to previous season-ticket holders, there have been about 5,800 new ticket requests. Ticket notifications will be sent out at the end of June. That means the Huskers' 181-match sellout streak should continue.
One of the reasons the Huskers are moving is to allow more fans to attend matches. The listed capacity of the NU Coliseum is 4,030.
Nebraska coach John Cook is only slightly surprised by the overwhelming response.
"I just think people are excited about new arenas and better parking," Cook said. "Nebraska has a buzz right now and a lot of exciting things are happening. We're just taking another big step, and I think people want to be a part of it."
The 650 available student tickets sold out. The plan is for the student sections to be located in two corners near the team benches, in order to have the biggest impact on the match.
"We think our student section has the chance to set the tone for volleyball student sections in the country," Cook said.
The second AVCA Collegiate Sand Volleyball National Championships are this weekend in Gulf Shores, Ala. The event includes both team and pairs competitions.
There are no Nebraska players at nationals, and that may remain the case until sand volleyball becomes an NCAA sponsored sport.
There is a UNL policy that says athletic teams cannot participate in competition during university finals if their sport is not in season, Cook said. Because sand volleyball is an emerging sport, that applies to sand volleyball.
Cook said he did not make a request to NU administration for an exception to the rule, and Nebraska indicated to the AVCA that it would not be attending nationals, if selected.
The Huskers' top team of Kelsey Robinson and Alexa Strange likely would have been selected based on season results, and may have been a top team.
Several other top sand programs did not send players because of conflicts. The teams playing are Pepperdine, Long Beach State, USC, North Florida, Florida State and Louisiana-Monroe.
The matches will be shown on tape delay on CBS Sports Network on May 21 and 28.
Because one of the reasons sand volleyball was added was for player development, Cook said he doesn't have a big problem not being able to send players to nationals, but said Nebraska could re-evaluate being able to participate in the future. He said it's frustrating to the athletes who would like a chance to compete for a national title.
Nebraska ended its sand season in March, but still was ranked No. 7 in the latest AVCA poll.
Cook hopes nearby college programs will add sand volleyball, so Nebraska can host matches.
A long-term goal would be for Nebraska to host a sand tournament the same weekend as the spring football game on a temporary court outdoors in the Haymarket or at Pinnacle Bank Arena.
Strange, who was the Huskers' only setter during the spring exhibition season, announced this week she's leaving Nebraska and plans to transfer to another school and only play sand volleyball.
Cook said he's in the process of recruiting experienced college setters who are looking to transfer and be eligible this season. Freshman setter Kelly Hunter will arrive on campus next month.
Playing sand volleyball may be a better situation for Strange because she's good at multiple skills, but maybe is not an All-America setter. She grew up playing sand volleyball in California.
Strange was planning to train for sand volleyball this summer, and would not be able to train for indoor volleyball with her Husker teammates as often.
Cook said he did not try to talk Strange into staying. He thinks her parents wanted her to stay.
"There are sometimes you talk them into staying and question them, and sometimes you just know it's a done deal," he said. "With her, it was a done deal, based on what she communicated. That just didn't happen overnight. Several months lead up to that.
"We want them to be happy. She can be a really good beach player, so it's probably a really good move for her. It hurts to lose kids because we invest so much in them."
Two-year starting libero Lara Dykstra left NU following last season to focus on sand volleyball and be closer to home.
"Everybody is going to say the beach thing is backfiring on you. No, it's not," Cook said. "What I've been telling everybody is this thing is going to explode, and you're seeing good players go to beach."
* Robinson, the senior transfer from Tennessee, will be training with the national indoor team this month, when the program brings in several top college players for evaluation. Former Husker setter Lauren Cook also has a tryout with the national team.
* Freshman Amber Rolfzen will train and try to earn a spot with the Junior National team in June. Her twin sister, Kadie Rolfzen, also was invited, but will remain in Lincoln to train and rehab a minor injury. Hunter was not invited to join the team.