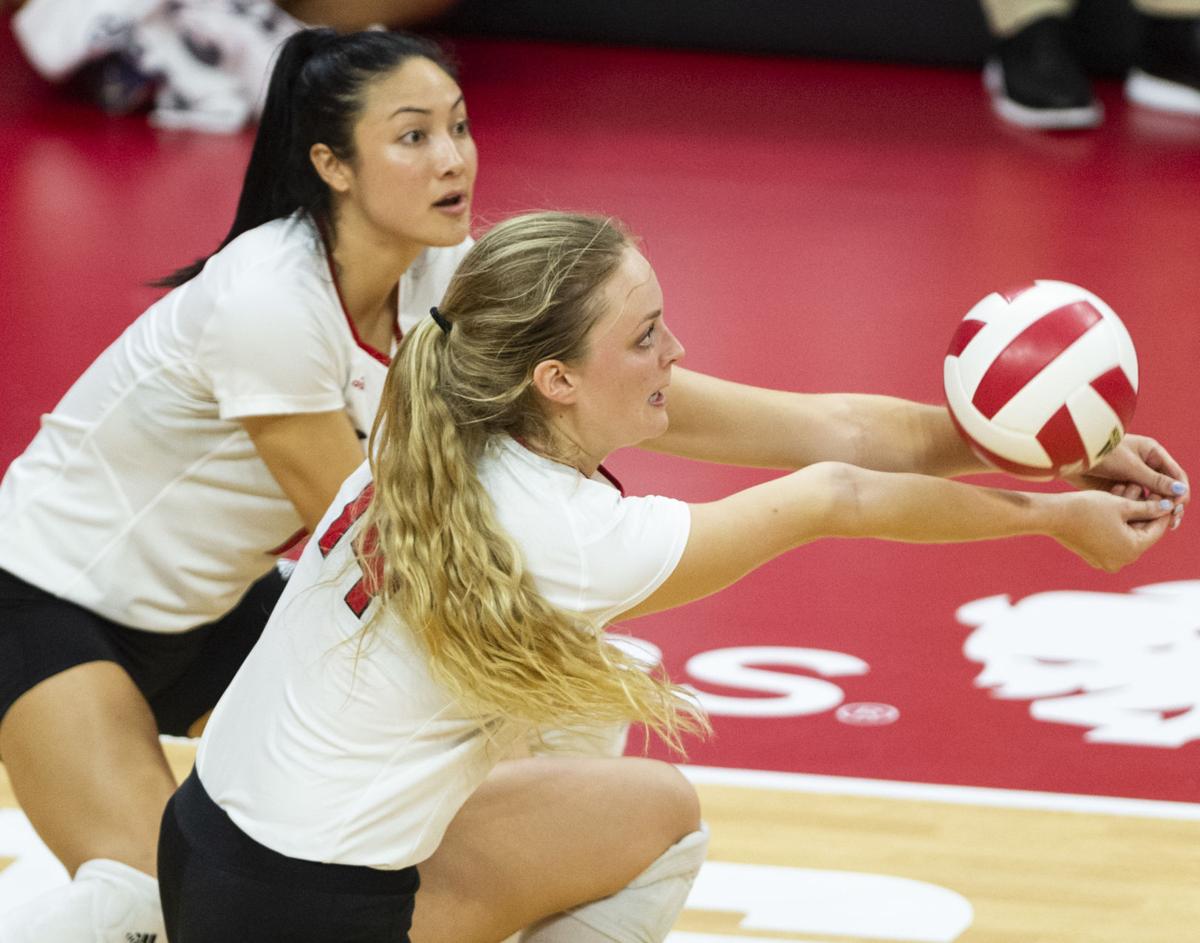 The starting lineup for the Nebraska volleyball team for at least now doesn't include two-time All-American outside hitter Lexi Sun.
During the opening four weeks of the season, coach John Cook changed the starters from match to match trying to find the best lineup and to give several players at the hitter positions the chance to prove themselves.
But now that the Big Ten season has begun, Cook said he's choosing a regular group of starters and letting that group play for a while in hopes that a core group can bond and find a better rhythm on offense than the Huskers have had thus far.
From a group of five hitters, Cook chose three: junior outside hitter Madi Kubik, freshman outside hitter Ally Batenhorst and freshman right-side hitter Lindsay Krause.
That means Sun, a fifth-year senior outside hitter, and freshman right-side hitter Whitney Lauenstein aren't part of the main group right now.
The lineup worked pretty well in its first attempt on Wednesday in Evanston, Illinois, with No. 12 Nebraska beating Northwestern in four sets, 25-21, 25-21, 23-25, 25-16.
Nebraska's three hitters combined for 42 kills — Kubik had 19, Krause 15 and Batenhorst eight.
Kubik had a great start to the match, with five kills on her first eight attempts with no errors. Kubik often faced two blockers, but did a good job of mixing up her attacks to get kills.
And Krause had her best hitting match as Husker, having just two errors over 26 attempts for a .500 hitting percentage.
The others starters were as expected: setter Nicklin Hames, middle blockers Kayla Caffey and Callie Schwarzenbach and libero Lexi Rodriguez. Caffey was great again, with 12 kills on .647 hitting.
Sun still entered the match in the fourth set for Batenhorst in a move made in hopes of improving Nebraska's defense. It worked, with Sun getting three blocks in short work.
"Lexi, in my opinion, when she's dialed in, is the best left-side blocker in the country," said Cook on the Husker Radio Network. "We were getting lit up over there in the red zone so I said, 'Lexi, you got to go in there and shut this down.' And she did. You saw when she did that (Northwestern) kind of fell apart."
Nebraska nearly swept the Wildcats, but a third-set rally came up just short.
Then in the fourth set Northwestern led 7-3. But Nebraska turned the set around when Anni Evans served a 6-0 run for a 13-8 lead. Northwestern had a negative hitting percentage in the fourth set.
Nebraska's .308 hitting percentage was its second-highest of the season. Hames had 45 set assists as Nebraska topped the Wildcats in kills 60-49.
Schwarzenbach had seven blocks, and Keonilei Akana had 13 digs. Northwestern hit .215.
Cook was impressed with how the Husker fought in the fourth set.
"I thought Nicklin really led and was keeping us engaged and fighting," Cook said. "And Madi was doing a little of that. And (Kenzie Knuckles), she does so much for us with her fighting spirit and just competing."
Cook's decision at the hitter positions was difficult because there weren't three obvious choices. Each of the five had more than 100 hitting attempts this season, but none was hitting above .200 (.250 is the goal).
Sun, who earned third-team All-American honors the past two seasons, had been Nebraska's season leader in kills. But she hasn't been as consistent with her hitting this season. Her hitting percentage is .166, after coming into the season with a career average of .250.
During the last two matches Sun started, in losses against Utah and Louisville, she had a hitting percentage of .000 in each match.
* Northwestern (5-7) was one of just two Big Ten teams that had a losing record during the regular season.
* Nebraska's win ended a rare three-match losing streak for the Huskers. That means Nebraska has still never lost four straight matches during Cook's 22 years as head coach.