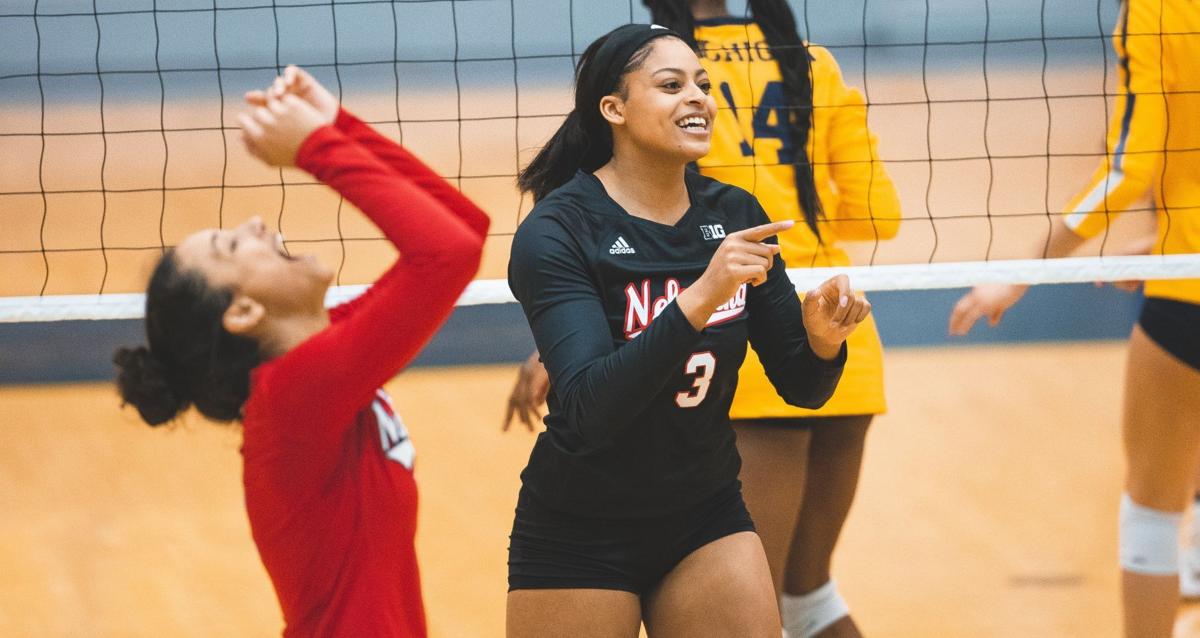 The No. 5 Nebraska volleyball team played one of its best matches of the season while sweeping Michigan 25-19, 25-15, 25-13 on Friday in Ann Arbor, Michigan.
Nebraska got its 10th sweep of the season and improved to 14-2.
Nebraska's .362 hitting percentage was its second-best of the season. And Nebraska's strong serving game and defense held Michigan to a season-worst .074 hitting.
The Huskers had big advantages in blocks (11-5), kills (43-25), assists (37-24) and ace serves (7-3).
"I thought we just had the pedal to the metal the whole night with everything we were doing — serving, passing, attacking, blocking, floor defense," said Nebraska coach John Cook on the Husker Sports Network. "I think they really pressured Michigan the whole night, and they never could get comfortable."
Nebraska got some remarkable hitting matches, with its three top hitters  combining for just one hitting error (hitting out or getting blocked) on 42 attempts.
Middle blocker Kayla Caffey had a season-best 10 kills on 13 error-free attempts for a .769 attack percentage; middle blocker Lauren Stivrins had 10 kills on 14 attempts and hit .714; and right-side hitter Jazz Sweet had nine kills and hit .533.
Caffey had seven kills on her first nine attempts. Stivrins had five kills on her first eight swings.
A few times setter Nicklin Hames and Stivrins ran the slide attack closer to the middle of the court, after the blockers had set up on the pin, which led to some easy kills.
Stivrins also crushed back some bad Michigan passes after tough serves by Kenzie Knuckles.
Cook said the middle blockers' 20 combined kills on 27 attempts without an error was incredibly impressive.
"Nicklin was flowing tonight and feeling it," Cook said. "(Stivrins and Caffey), they don't need a perfect set now and they're really good at managing it because we've worked so hard on it."
Stivrins also had seven blocks, and Caffey and Sweet four blocks apiece.
Madi Kubik had six kills, four blocks and nine digs and served three aces. Kenzie Knuckles had a match-high 16 digs.
In the first set, Nebraska's lead was just 18-17 before the Huskers took control with a 4-0 run, including a block by Stivrins and a kill by Sweet. Hames got the kill on set point with a setter tip.
The second set was tied 8-8, but Nebraska dominated the rest of the way by winning 17 of the final 24 rallies.
Outside hitter Jess Mruzik had 12 kills to lead Michigan (4-7).
With this week's matches complete it's now a waiting game for the Huskers. Nebraska is scheduled to finish the regular season with matches against No. 11 Penn State next Thursday and Friday.
But Penn State's matches against No. 1 Wisconsin this week were canceled due to COVID-19 issues on the Penn State squad.
Cook says Nebraska-Penn State is on for now.
"I think it's going to depend on how their testing goes through the weekend and early into next week," he said. "If they get more positives, then it will be canceled, and if not, maybe they can make it happen. It's not a done deal yet either way, so we just have to be patient and see what next week brings. … It would be fun to play Penn State. They're always a fun match to play, and we get to play in front of fans, so that would be really special for our team."