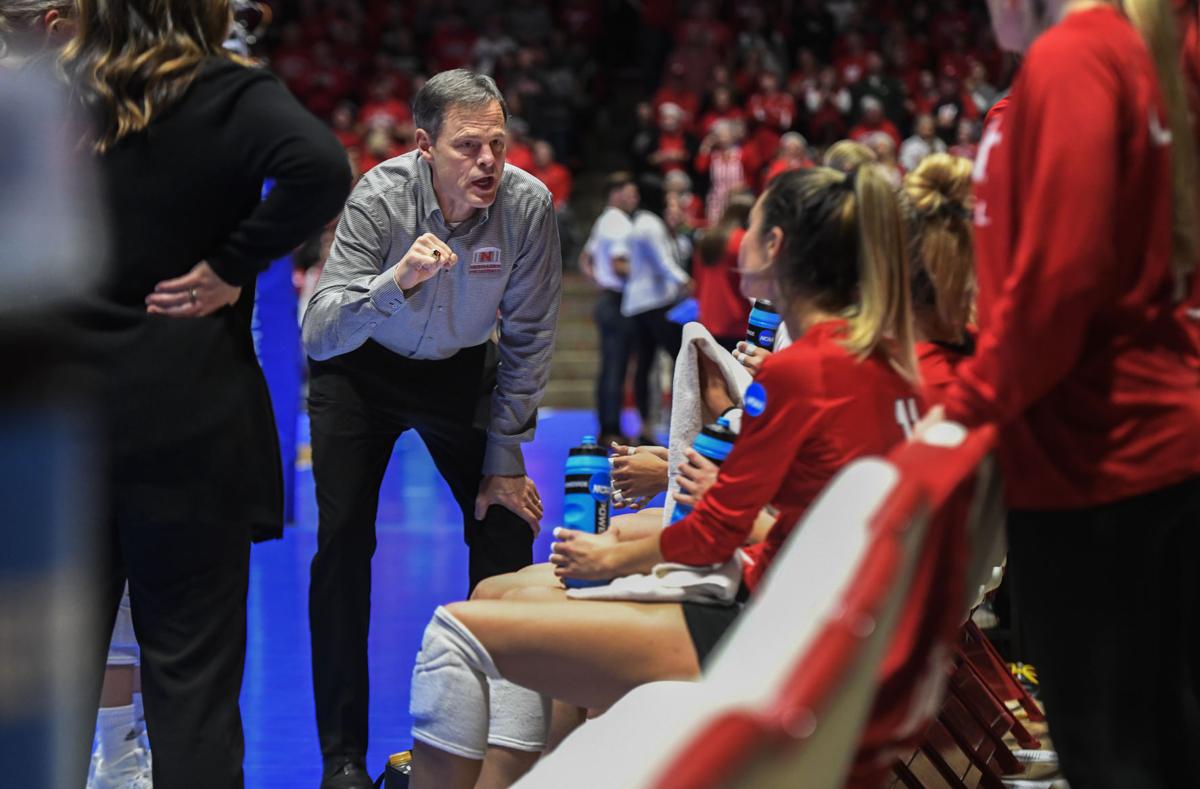 The start date is in place. 
Now, Nebraska volleyball coach John Cook and his staff are tasked with trying to optimize the months of training the Huskers have left before they open a second-semester season Jan. 22.
Oh, and there's the minor detail of what that season will actually look like. And how a modified NCAA Tournament will take shape in April. And what, if any, discrepancies there will be between the three Power Five conferences still aiming to play this fall and the two — including the Big Ten — that are waiting for the spring. 
Cook said Friday during a news conference that the Big Ten coaches are pushing the conference to play a 22-game, conference-only schedule beginning Jan. 22 and spanning the 11 weeks up to the beginning of the NCAA Tournament on April 4. 
"We started working backward and we're using everything the NCAA allows," Cook said of putting together a training regimen. "We're working backward from April 25 (the day of the national championship match) and here's the training that gives us the best chance to start off really, really well on Jan. 22, the first opening weekend. 
"Right now we're anticipating we'll be playing all Big Ten matches, so there is no room for error. We're in a buildup phase, very similar to football; we'll just be a little bit behind them." 
Currently, the team is allowed to work out eight hours per week (six in the weight room and two on the court), and that will bump up to 20 later in October. Cook has long been a proponent of a spring season anyway, and he said having assistants Tyler Hildebrand and Jaylin Reyes — both of whom have extensive experience in the men's game, which plays its the season in the spring — has been helpful in figuring out how to train through this stretch away from competitive matches. 
"Twenty-two matches would be very close to a full season minus a few (nonconference) matches, but we feel like that level of competition will prepare you for the NCAA Tournament," Cook said. 
As for the tournament, which is being modified from 64 teams to 48, Cook said discussions are still ongoing about exactly how the bracket and travel will be structured, but there is likely to be more of a pod setup rather than the typical regional sites. 
He also said Omaha remains interested in hosting the Final Four from April 23-25 and that he's heard the prospect of keeping the event in town is looking good from the NCAA's side, as well. 
Originally, Cook was hoping to turn Omaha into "the amateur sports capital of the world," for several weeks during the late spring and into the summer. 
"Selfishly, I thought what would be really cool would be to have Big Ten baseball in Omaha, then go Final Four volleyball in Omaha, USA Swimming in Omaha and then the (College) World Series," Cook said. 
The current setup, though, is still a good one in the veteran coach's mind. He said his team has taken to the odd offseason well and that, even though currently football is the only program with access to the training table food options, the volleyball players are making the most of what's at their disposal. 
"We're not in season, so we're saving money, but the athletes still have a lot of supplements and a lot of things that are available to them in our weight room," Cook said. "So I think they can get a couple of meals per day in there. And then (performance nutrition coordinator Nuwanee Kirihennedige), the biggest challenge is, 'How many of these guys know how to prepare a meal?' so Nuwanee prepared a cookbook with recipes. … I think our group has gotten really into preparing good meals." 
All in all, having a start date has been a big relief for the Husker players. 
"A player told me this morning that she feels like all stress is gone," Cook said. "These players are very — and this is my fault — we're very routine-oriented in everything that we do. We like to be on a schedule and all that has been taken away for the past couple months, and that created stress. …
"I think there's a huge relief right now. Now we know, here we go." 
Briefly
* Cook said they've looked into playing some matches this fall, but the Big Ten is not allowing that, "which I understand," he said. With some conferences playing this fall and some in the spring, Cook said he thinks there are pluses and minuses both ways in terms of being ready for an April tournament. 
* The NCAA ruled recently that midyear enrollees are not allowed to play in the spring season. That essentially means that the players who join the program from the 2021 class in January will train with the team, but won't play until the fall. 
"That took a lot of tough meetings out of the equation," Cook said. "They'll come here and they'll train, which will be great. … They'll get to go through a season, see what it's like, train, and it will really help prepare them for 2021." 
Like football, the extra eligibility granted to all players could mean a logjam down the road, and Cook said he wouldn't be surprised to see a lot of players in the transfer portal nationally a year from now. 
* Cook doesn't know exactly how or when volleyball will be fully up and running with rapid COVID-19 testing but said he's hoping that plan will come further into focus as the fall goes on and the football program gets into its season and into a testing rhythm. 
Through the years with John Cook