Twenty-three service errors.
No. 9 Stanford had 23 service errors and still walked away with a four-set win over No. 2 Nebraska.
For context, no Nebraska opponent had ever committed that many service errors against NU in the rally-scoring era. The previous worst? 16, a mark reached twice by Nebraska opponents — once by Wisconsin in 2013 and once by Kansas in 2003.
"Totally. I mean, it should haunt us," Cook said.
Compared to Stanford's 23 service errors, Nebraska committed 14 for a difference of nine points. The 37 combined service errors also set a new benchmark for Nebraska in the rally-scoring era.
Nebraska's freshman middle blocker Bekka Allick finished the night with five service errors and was pulled at the service line near the match's end in favor of Maisie Boesiger. Stanford's worst offender at the service line was All-American Kendall Kipp, who had a career-high seven service errors.
Another big thing for Cook is how Nebraska had three more attack errors than Stanford.
Nebraska (7-1) finished the night with 24 attack errors with 50 kills, while Stanford had 21 errors with 55 kills.
"When you look at that, when they miss that many serves, we don't get a chance to kill balls," Cook said.
Cook continued to break down the math.
"But you add nine to 50, we actually had more kills than they did, so we should win the match," Cook said. "But we made errors at critical times."
For example: It's 25-25 in Set 1 after Nebraska gets a point off a Stanford service error. To follow it up, Allick's follow-up serve is an error, which puts Stanford at set point. Stanford takes the set after NU middle blocker Kaitlyn Hord commits an attack error. Final score of the set, 27-25.
"When you hit a ball out at 24-24, they don't have to do anything," Cook said. "Kipp doesn't have to make a great play. They don't have to make a great dig. We just give it to them, and that's what we did tonight.
"Our stud players have got to learn how to be better in those situations."
Winning close matches, that's been one of the talking points from Cook and Co.
There's a poster that hangs inside the volleyball facility that reads "Two Points Better," and it lists all of Nebraska's sets where NU lost by two points.
Last season, Nebraska had 15 of them, including two in the national championship match against Wisconsin — a 31-29 loss in set two and a 25-23 loss in set three.
Before Tuesday, Nebraska has had one of those sets this season: Set No. 3 against No. 17 Creighton when NU dropped 27-25. After Tuesday, Nebraska has two more: Set 1 against Stanford, 27-25, and set 4 against Stanford, 27-25.
"Stanford made some plays. Kipp's an All-American. She's got the kills," Cook said. "A couple games, we hit out and they didn't have to do anything. So that's disappointing."
For Nebraska, this will be a learning moment.
There are silver linings abound.
The team is young. Of the 10 who played in all four sets, three are sophomores (Lexi Rodriguez, Whitney Lauenstein, Lindsay Krause) and two are freshmen (Maggie Mendelson, Allick).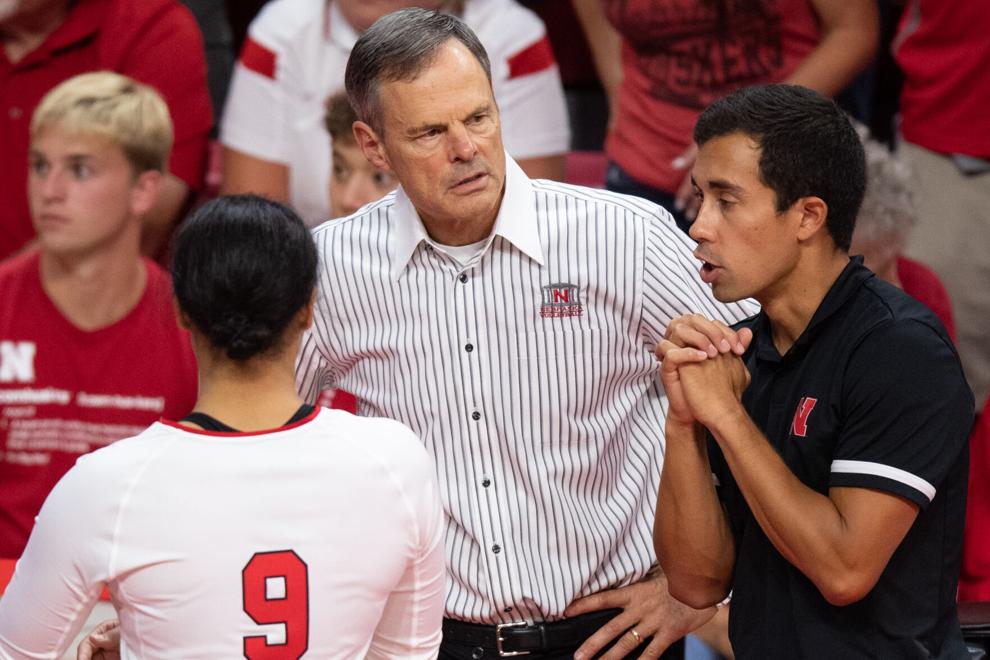 Dropping non-conference matches in close fashion doesn't typically spell disaster for the rest of the season. Just take 2021 (Utah, Stanford, Louisville), 2017 (Oregon, Northern Iowa) and 2015 (Texas) for example. It's rather just a bump in the road.
It was the Huskers' first loss of the season, and it was against a team Nebraska could very well see again come NCAA tournament time.
"There was some really great volleyball at times and then some ugly volleyball at times," Cook said. "... I thought we competed really hard. We just didn't execute it in-game and play our best when it mattered most."
Nebraska will get its chance to bounce back this weekend as the Huskers travel to face No. 13 Kentucky (5-2) for NU's final non-conference match of the season.