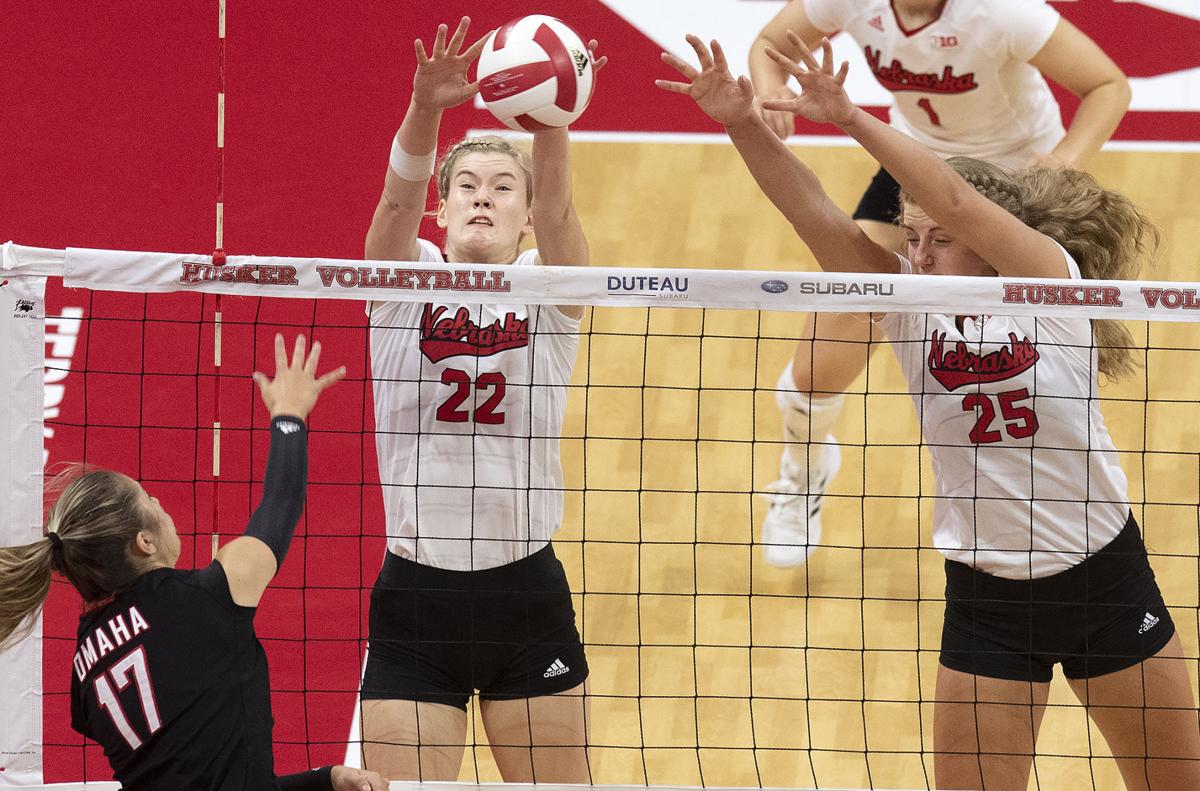 After four weeks of shuffling the starting lineup, Nebraska volleyball coach John Cook says he plans to pick a group of starters and let them go "for a while" when the Big Ten season begins Wednesday.
Cook on Monday said he's already made the decision, but he's not going public with his choices. Nebraska's first league opponent is Northwestern.
That means Cook is paring down a group of five hitters who have played a significant amount to three.
The decisions will come at right-side hitter, where freshmen Whitney Lauenstein and Lindsay Krause have each played.
And at outside hitter, where Lexi Sun, Madi Kubik and Ally Batenhorst have played the most. Krause also played some at outside hitter.
Nebraska has lost three straight matches, each against ranked teams in Utah, Stanford and Louisville. Against Louisville, Nebraska was swept for the first time in its last 18 home matches.
In the new rankings released Monday, Nebraska dropped six spots to No. 12. Nebraska isn't ranked in the top 10 for the first time since early in the 2017 national championship season, when Nebraska was 14th at one point.
Cook used the nonconference schedule to try to determine the best lineup. The process has been harder than expected because none of the hitters — the two returning starters or three freshmen — have consistently been great hitting.
"We'll be making a decision which way we're going, and we're going to go with it for a while," Cook said. "I don't want anybody worried about looking over their shoulder, or (thinking), 'I'm I playing or starting this match?'"
Cook says even if a player has a really low hitting percentage in the first set against Northwestern, they'll still be out there for the second set. That would be different than last week, when Sun and Kubik started against Louisville but were replaced by Batenhorst and Krause for the second set.
"We've got to learn to work through that and develop a core group. That's our next step. They got to bond," Cook said.
Cook says the starters need to know they'll be working together to determine how successful Nebraska will be.
"There is a saying, 'Men battle to bond, and women bond to battle,'" Cook said. "And I think by mixing things up like that we don't get that core group that they're used to having. But I can also look them in the eye and say, 'Listen, I've given everybody a chance.' You've all had a great chance. You look at their stats, everybody has had the same number of swings, the same number of (sets) played. So I've given everybody a chance. That was part of the risk, and now we have to dial it up."
Cook said the struggles at the hitter positions is a mystery to him. His plan is to just keep training them and "find three that want to do it."
Sun and Kubik are each hitting below their career averages. Cook says both setter Nicklin Hames and the hitters need to execute better.
"We're trying to speed up the offense a little bit, and there are growing pains with that," he said. "That's part of it. They've got to learn how to manage that and do it better, and Nicklin has got to learn how to set it better. It's a process, and we knew doing that might slow us down a little bit."
Dani's homecoming: Nebraska's match against Louisville was a homecoming for Louisville head coach Dani Busboom Kelly, a Nebraska native and former Husker player (2003 to '06) and assistant coach (2012 to '16).
Busboom Kelly received a loud ovation when she was introduced at the match. She appreciated the response.
"I just have a lot of appreciation that Nebraska is so in tune to what their alumni are doing," Busboom Kelly said. "I still get tweets all of the time from fans, and a bunch of them said hello. It's just really cool that they keep up with their alumni and they're proud. It's not just (Cook) being proud of somebody who worked for him, it's the whole state and all of the fans. It's a great feeling."
Video review changes: When the Big Ten matches begin this week they'll be some changes to the video challenge review system.
Each team will begin the match with two challenges. If a video review results in a reversal of the original outcome, that challenge is retained by the challenging team. If after review the original outcome stands or is confirmed, the team's number of challenges is reduced by one. If a fifth set is played each team will be awarded an additional challenge.
This experimental rule is only effective for the conference season, and won't be used during the NCAA Tournament.
Worth quoting: After Nebraska got swept by Louisville, Cook said: "Some of these things a coach can't fix. They got to figure it out."