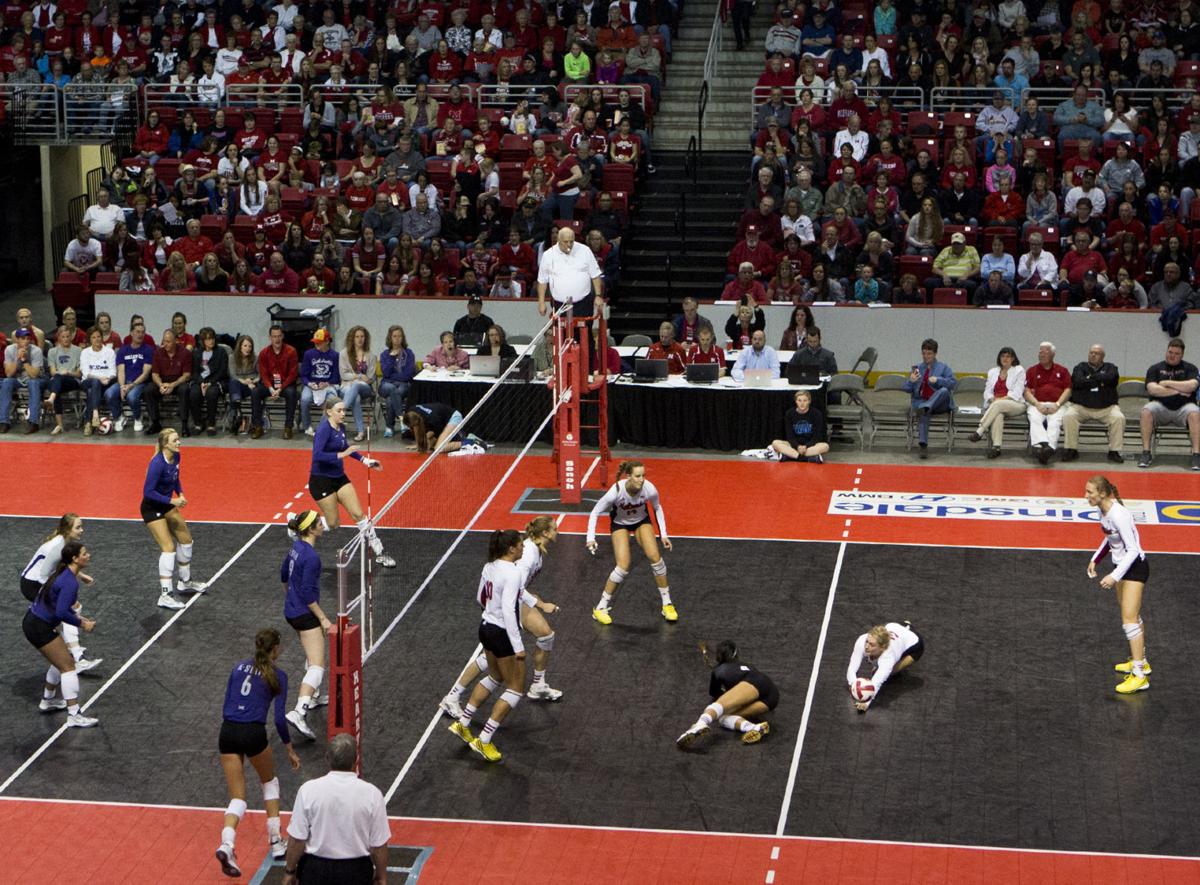 The Nebraska volleyball team plays one spring match each year somewhere outside of Lincoln to share the volleyball program with the rest of the state.
This year, they're going to Grand Island to play a match on April 25, the program announced Monday morning. The Huskers will play the match against Northern Colorado at 6 p.m. at the Heartland Events Center.
Tickets will go on sale through Ticketmaster and at the Heartland Events Center box office at 10 a.m. on March 11. All tickets will be reserved at $10 with limited courtside seats available at $25. There will be a limit of eight tickets per person, and there will be a handling fee on all tickets purchased. No tickets will be sold through the Nebraska Athletic Ticket Office.
In recent years the volleyball team has played spring matches in McCook, Kearney, Ogallala, Wayne and Norfolk, but Grand Island has been a regular stop because of its larger venue. Nebraska volleyball's official Twitter account released hints to the location with a series of treasure-themed tweets during the past week.
Nebraska last played in Grand Island in 2015, when the Huskers defeated Kansas State in front of a sold-out crowd of 6,006 at the Heartland Events Center. Nebraska also played in Grand Island in 2011, beating Wichita State with 5,522 in attendance.
Nebraska is coming off a 28-5 season and an NCAA regional final appearance in 2019. The Huskers had no seniors on their roster last season for the first time in school history, and 12 players return from that squad this spring including All-Americans Lauren Stivrins and Lexi Sun.
Northern Colorado went 26-8 last year and 17-1 in the Big Sky Conference. The Bears won the Big Sky Tournament and advanced to the NCAA Tournament, where they lost in the first round against Hawaii.
Briefly
Nebraska volleyball senior Lauren Stivrins was named one of 30 semifinalists for the Amateur Athletic Union's James E. Sullivan award Monday.
The Sullivan award, which has been presented annually since 1930, honors the "most outstanding amateur athlete in the United States," according to a news release.
Strivins, a two-time AVCA All-American led Nebraska to an NCAA Championship in 2017, a second-place finish in 2018 and a regional final appearance last season. She's been selected to the All-Big Ten first team twice, as well, and ranks second in program history in the rally-scoring era with a .369 hitting percentage.
Be the first to know
Get local news delivered to your inbox!