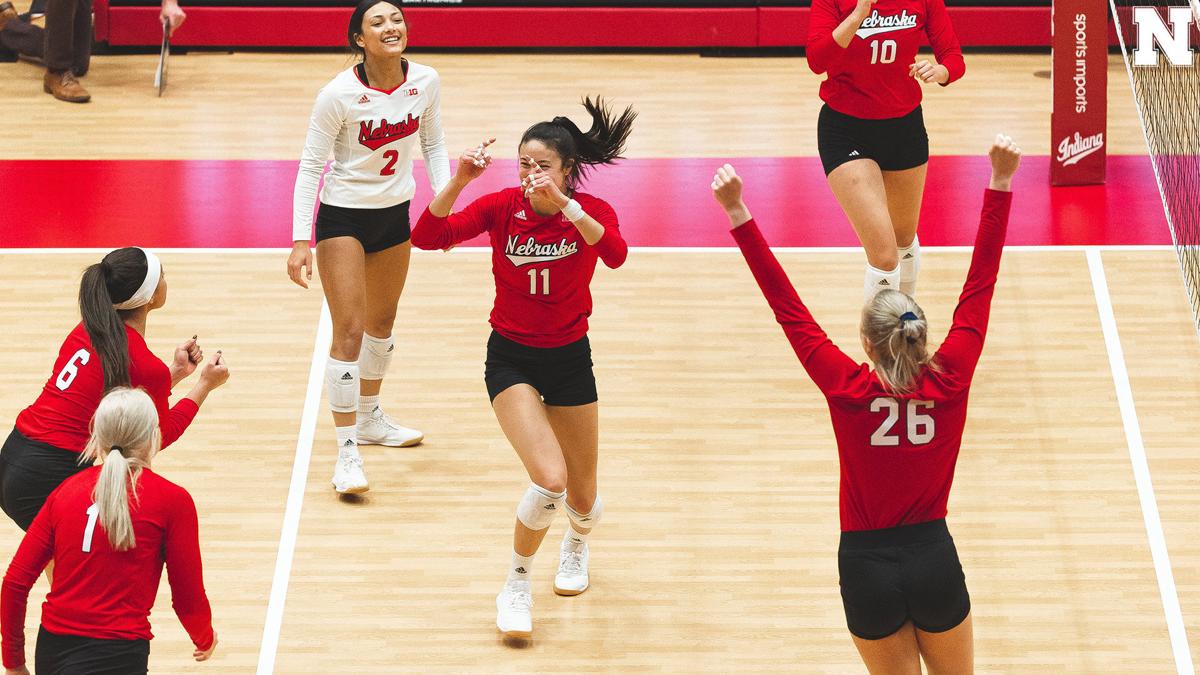 Senior outside hitter Lexi Sun had a strong start to the college volleyball season to lead No. 5 Nebraska to a 25-22, 25-20, 25-17 win against Indiana on Friday in Bloomington, Indiana.
Sun had a match-high 11 kills with a .429 hitting percentage. She had just two hitting errors on 21 attempts. Sun also had a career-high four ace serves.
It was the first match of the season for both teams and Nebraska's first match in more than 13 months because the season was postponed due to COVID-19.
Nebraska settled in and operated at a higher level with each set. After having just a .139 hitting percentage in the first set, Nebraska hit .429 in the second and .480 in the third.
"We did some really, really good things, and we were just a little inconsistent with some errors," said Nebraska coach John Cook on the Husker Sports Network.
Nebraska got good production from every spot with all five players having at least six kills and hitting .250 or better. Lauren Stivrins had nine kills and hit .429. Madi Kubik added eight kills, and Kayla Caffey and Riley Zuhn six apiece.
Nebraska is one of the most experienced teams in the country with every starter returning from last season. Nebraska's biggest position battle leading up to the first match was at the second middle blocker spot. Cook chose Caffey, the transfer from Missouri and former top-80 recruit, over returning starter Callie Schwarzenbach and freshman Kalynn Meyer. Caffey had Nebraska's first kill of the match.
In the second set, when Nebraska's improvements included having more success with its middle attack, Caffey had four kills on six attempts in the set.
Standing at 6-foot, Caffey is smaller than many players at that position in the Big Ten, but she's an explosive attacker who has great vision for where to hit.
"She's a dynamic attacker and can hit some sharp angles," Cook said.
Zuhn started at right-side hitter for the Huskers, the position held by Jazz Sweet the past three seasons. Cook said Zuhn earned the chance to play with how she practiced the past two months. It was also good to get Zuhn the first extended playing experience of her college career because Nebraska doesn't have much depth at the outside hitter or right-side position as it embarks on a season when COVID-19 could affect the lineup.
Zuhn is also a good blocker and was a reason why Indiana's top returning player, Breana Edwards, had just two kills on 21 attempts with a negative hitting percentage. Zuhn had a match-high four blocks.
Nebraska limited the Hoosiers to 27 kills on a .140 hitting percentage. Nebraska's floor defense was led by freshman defensive specialist Keonilei Akana and setter Nicklin Hames with nine digs apiece.
In the first set, Sun had a great start to the match with five kills on just seven attempts and no hitting errors. Sun really saved the Huskers in the first set as one of just two players for Nebraska with a positive hitting percentage.
Sun also had a great start to the second set by scoring four straight points on a kill and three consecutive ace serves for a 4-1 lead. Later in the match, she had an impressive kill on a quick back-row attack.
Nebraska and Indiana will play again at 5 p.m. on Saturday.
Briefly
* The first week of the Big Ten season had one postponement for COVID-19 reasons, with the Penn State-Michigan series being postponed.
* The scene in Bloomington included Nebraska associate head coach Tyler Hildebrand, who is now roaming the sideline as Nebraska's defensive coordinator. The players not in the match still stand as a group at the end of the bench but wear masks. Nebraska's three high school seniors who joined the team in January but aren't eligible to play were on the bench not in uniform.