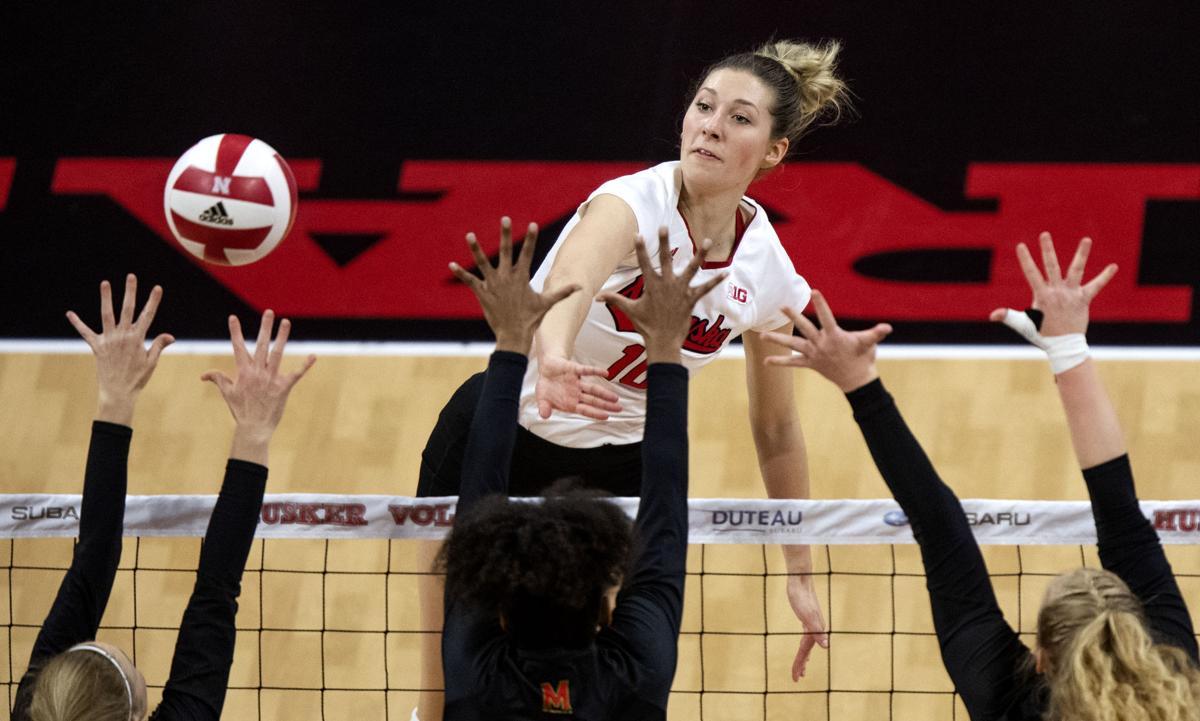 No matter what happens in the NCAA volleyball tournament over the next three weeks, many teams will find it to be better than last season's tournament.
That's when the field was limited to 48 teams, and the entire tournament was played in the NCAA's "bubble" in Omaha over 10 days in April. For the first few matches, the crowds were limited mostly to families of the players.
"That was awful," said Nebraska coach John Cook, who admitted that the players handled the bubble a lot better than he did. "This feels like a tournament. It's been a good season, and it feels like it is back to normal."
Nebraska will get to host at least the first two rounds of the tournament. The Huskers will play first-time NCAA qualifier Campbell in the first round on Friday.
With a win, Nebraska will play the Kansas State-Florida State winner in the second round on Saturday.
Then, if Nebraska wins both matches, it'll likely be headed to Austin, Texas, for the regional week. And Texas also gets large crowds for NCAA Tournament matches.
Nebraska setter Nicklin Hames is thankful that last season's NCAA format is a thing of the past.
"That was definitely a different experience," Hames said. "And I feel like last year a lot of teams got robbed on the whole experience of it. So I'm excited that it's finally back to normal, and we can actually have fans. It's not going to feel like a high school game."
In Lincoln, the Huskers will play in front of crowds of 7,000-plus.
"That's why we work so hard to try and be able to host first and second round. That's a big deal," Cook said.
Ten Nebraska players will take in their first NCAA Tournament matches at the Devaney Sports Center this week.
"For a lot of them, it's their first time experiencing a tournament, so to have it here with our home crowd is going to be such an advantage for us," Husker senior Lauren Stivrins said.
Quick look ahead: Just moments after Sunday's NCAA Tournament selection show is the time for a quick look ahead at the path to winning a championship.
After that, players and coaches narrow their focus to the next opponent.
The top seed in Nebraska's region is Texas. The Longhorns and Huskers have a lot of history, including last season when Texas beat Nebraska 3-1 in the Elite Eight.
Texas returned most of its lineup from that team, just like the Huskers.
Nebraska and Texas would each have to win three matches to get to that matchup.
"I think we've grown up a lot in the past year," Stivrins said. "I know the last time we played (Texas) was definitely not our best outing, and everyone can say that with full confidence. So we're definitely excited with another matchup with them, and hopefully get some redemption."
One of Cook's NCAA Tournament horror stories is in 2011 when Nebraska was looking forward to a trip to Hawaii for the regional, only to get upset by unranked Kansas State in the second round.
"K-State came in here and rocked us. We were (the No. 2 seed)," Cook said. "So we'll have some reminders about how you can't take anything for granted in the first and second round."
More parity in the Big Ten: Wisconsin won the Big Ten this season with a 17-3 league record. That's the most losses for the Big Ten champion since 2011, aside from last season's COVID season when not every team played a full schedule.
Most years, the Big Ten champion only has one or two league losses.
Super-seniors around the conference may have led to there being more good teams, but Cook expects more teams to be able to get wins against the league leaders.
"It's the (transfer) portal, it's the super-seniors," Cook said. "It's just the way college volleyball is going. There is a lot of good teams, and there is a lot of good players. So it's going to continue to be this way, I think."
Nebraska finished second in the Big Ten at 16-4.
In the rankings: Nebraska is ranked No. 10 in the final regular-season AVCA poll.
The Huskers (21-7) moved up one spot after ending the regular season with a win against then-No. 6 Purdue. The Boilermakers dropped to No. 8 in Monday's new poll.
Nebraska is the only ranked team in Lincoln for the first and second rounds.
Another award for Rodriguez: Nebraska libero Lexi Rodriguez was named the Big Ten freshman of the week on Monday. She had 28 digs when Nebraska beat No. 6 Purdue during the final match of the Big Ten season.
Rodriguez's freshman of the Week award is the fourth of her career and the most of any Husker freshman in a single season. She has collected six total weekly awards from the conference this season, having also been the defensive player of the week twice.