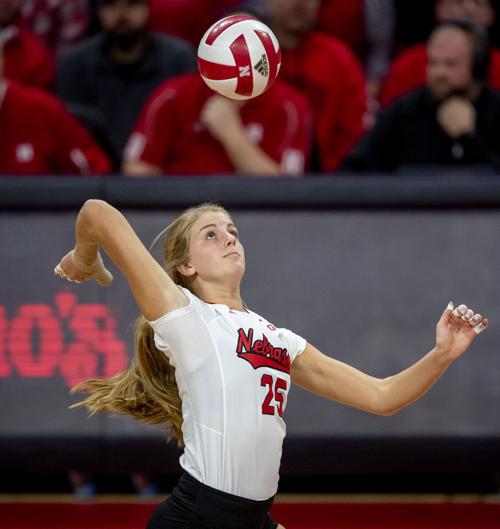 There are other college volleyball coaches than Nebraska's John Cook that many people would recognize.
Minnesota coach Hugh McCutcheon was previously the U.S. Olympic team coach. Jerritt Elliott is the chill coach at Texas who hangs out at the end of the bench during matches.
But Cook is really recognizable. That's because a lot of the matches are on TV, and he's often on the local news.
And because Cook is willing to share insight into how the program operates — and often uses an analogy relating to the state's No. 1 sport, football — he's helped create an educated group of fans.
That's a good thing, but it can also lead to some interesting conversations when fans see Cook. One of those conversations during the offseason was about Callie Schwarzenbach, a middle blocker for the Huskers.
"I was at the eye doctor getting my eyes checked and the guy next to me, his name is Schwarzenbach, and he's like, "Man, (Callie) is a great blocker. But you got to get her more aggressive hitting,'" Cook said.
"I said, 'Yeah, we'll be working on that.'"
Now in her second season with the Huskers, Schwarzenbach and the Nebraska coaches are still working on her hitting, but all of the players are.
Fans see a lot of potential for Schwarzenbach because at 6-foot-5 she can smash kills from a high point of attack.
You have free articles remaining.
Schwarzenbach has a lot of value for the No. 6 Huskers, who host Iowa on Saturday.
"She started as a freshman middle on a team that was three points away from winning the national championship, so I got to give her a lot of credit for doing that," Cook said. "She replaced an All-American (Briana Holman). I think she handled it pretty well. She almost led the Big Ten in blocking."
This season, Schwarzenbach ranks sixth in the Big Ten in blocking, and leads the Huskers with 96 blocks. Her overall rating as a blocker is better than last season, Cook said, and she's a key part of why Nebraska ranks No. 5 in the country in defense.
Schwarzenbach is actually averaging more kills per set this season with 1.27, but her hitting percentage has dropped from .291 to .267. She's had nine matches where she hit below .150, a big no-no for her position, but she's had some of her best matches in the past month.
Everybody knows that if Schwarzenbach can get a few more kills it could help Nebraska go from a good team to great.
"If she can get two or three kills a set it is a back-breaker for the other team because they're working so hard to stop everybody else, and then all of a sudden." Cook said. "I know how it feels where you say, 'OK, we're going to let that player go, and then all of a sudden they get some kills, and you're like, 'Darn.'"
Schwarzenbach is putting in extra work before practice to improve, and also trying to be louder during the matches so setter Nicklin Hames knows Schwarzenbach is ready to get the ball.
"Sometimes I don't really call for the ball very loud, so just being loud and letting Nicklin know that I'm there helps," Schwarzenbach said.
When you watch practice, you see how much her teammates are trying to push Schwarzenbach to be aggressive. They try to pump her up by bumping into her, or slapping hands.
"My teammates have always been confident in me, it's just me realizing it and trusting that they know that I can do my job," Schwarzenbach said. "They're always super-encouraging, especially (Lauren Stivrins). We really hype each other up."
Schwarzenbach can blend in on the team, but she plays with some big personalities. Cook isn't worried that she doesn't show as much emotion. And he says in a private setting she's a great conversationalist.
"She's talking in that locker room," Cook said.