Nebraska is at the head of a task force for emerging infectious diseases convened by the Big Ten Conference.
But it's a professor from the University of Nebraska Medical Center who was tapped to lead the group of representatives from the 14 members schools.
Dr. Chris Kratochvil, UNMC's associate vice chancellor for clinical research and the executive director of the Global Center for Health Security, will lead the group, the Big Ten said in a news release.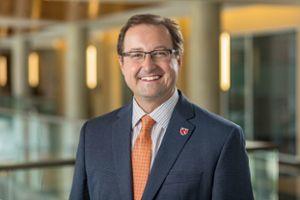 The idea to put Kratochvil, who helped lead UNMC's response to the 2014-15 Ebola outbreak in West Africa, came from UNL Chancellor Ronnie Green
"He is the ideal person to provide counsel to the Big Ten on this issue of global urgency," Green said in a statement. "His appointment recognizes the med center's national leadership on the COVID-19 response going back to the novel coronavirus' emergency.
The task force, initially convened in March, will be charged with consulting with Big Ten administrators, athletic directors, coaches and student-athletes on all COVID-19-related matters, the conference said.
Kratochvil has been leading the weekly conference calls that have focused on best practices during the coronavirus pandemic. The task force provided input on canceling the remainder of the 2020 winter and spring sports seasons, and will offer guidance on how contests could return later this year.
"The group serves as a resource to the entire conference, addressing current infectious disease concerns, while preparing the Big Ten for the safe resumption of athletic activities in the future," Kratochvil said.
UNMC was included because it "played a key role in the treatment of the Ebola virus in 2014, is home to the National Quarantine Center, the nation's only federal quarantine unit, and is also the location of the National Biocontainment Training Center."
Kevin Warren, president of the Big Ten, said the group's conversations are centered on the "health, safety and welfare of students and the public."
"We are truly blessed to have a collection of world-class research institutions with the resources and talented medical experts on campus that allowed us to quickly assemble this task force to address a global pandemic," he said.