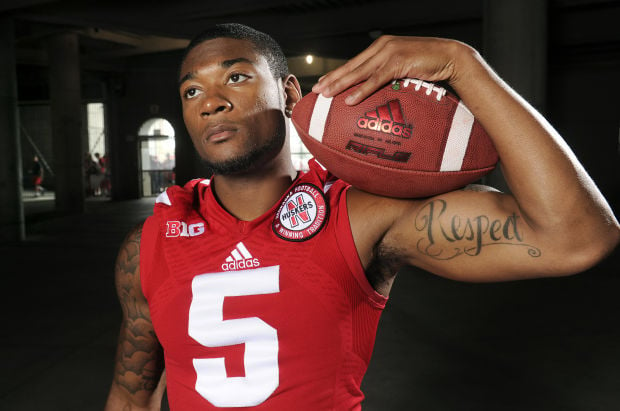 Welcome to our weekly chat with Husker senior captain Josh Mitchell, who is from California but isn't running from the cold this week. We'll get to that soon, but first, how's Mr. Mitchell's fantasy team doing?
"I don't play fantasy. I can't do it. I can't do it."
(Roommate Ameer Abdullah was tweeting about how his fantasy team did this week.)
"We used to play. I played two years ago with them, but I get too frustrated. You can't control anything. Guys get hurt. I remember I was 6-0 and then I lost every game after that. I can't do that. I had to quit."
(What about this cold? You get some 30-degree weather on Saturday. Fun, huh?)
"Luckily for me, this is my fifth year in it, so I'm kind of used to it. It sucks, but you just got to deal with it."
(What do you remember about Camp Randall Stadium?)
"It was loud, and the atmosphere was intense. It's pretty similar to playing here, so that's good. You want to play in a loud, tough environment."
(How about their "Jump Around" tradition? Take it or leave it?)
"That's pretty cool. I'm not going to lie to you. I like that."
(Does it make you want to jump?)
"Why not jump around with them? Might as well have some fun out there. You only get so many games. You only get to play in so many environments like that, so you might as well enjoy it."
(If you were in charge of a pre-fourth quarter tradition for Nebraska, what would it be?)
"I'd have to think about that, to be honest with you. To come up with a whole tradition? When they do the wave, and they do the fast wave, and then the slow wave in reverse, that's kind of cool."
(Melvin Gordon compares to whom?)
"It's hard to really compare him with somebody, because he's his own talent. It's the reason why he's one of the top backs in the nation and he's doing the things he does. I would put him in his own category with the way he runs and just the way he competes."
"You just got to get hats to the football. He's one of those guys you can't really one-on-one tackle. So you just got to make sure guys rally."
(Hold onto that 2012 title game in your mind or throw it away?)
"You put it in the back of your memory, but these are two completely different teams. Really, the only person on that team still on that team  is Melvin. And there's not too many people on this team that were there from that game. So you kind of just have to let it go."
(How would you compare this Husker defense to the 2012 unit that played Wisconsin?)
"I think we've gotten a lot faster on defense. And just overall, we have a lot of young talent. In 2012, we had a lot of seniors on that team, a lot of older guys. And now we have a lot of young guys that can rotate in and out. So when guys get tired, you can get fresh bodies in there."
(You were checking out the competition Saturday night, tweeting about the Ohio State-Michigan State game. Thoughts?)
"Ohio State, they were impressive. Those receivers were running some really good routes. And J.T. Barrett, he was slinging the rock. Anytime you see that, you love to see a quarterback out there just chucking the ball."
(You're 8-1. A whole lot is out there for this team entering this weekend. What's a captain's message?)
"Just take it one week at a time, just embrace it. I've been here before when we went to the Big Ten (Championship Game), and I've been here when we haven't made it. So all you can do is go out there and embrace the grind, just go out and compete."