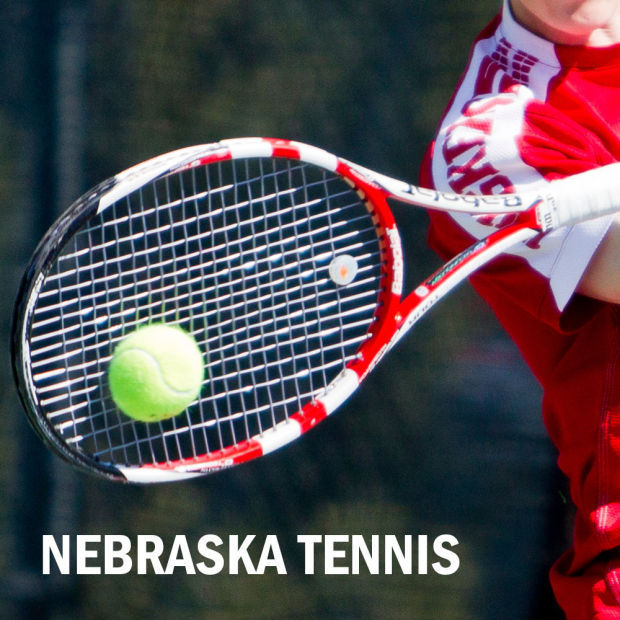 For Nebraska's Tom Blackwell, Senior Day against Illinois Sunday was just a culmination of what's been the best week of his Husker men's tennis career.
Blackwell made the most of his final home match with a 6-2, 6-2 victory at No. 3 singles over Tim Kopinski, the No. 45-ranked player in the nation. It was No. 62 NU's only victory in No. 11 Illinois' 6-1 dual triumph indoors at the Nebraska Tennis Center.
It capped a 4-0 week for the Ponte Vedra, Fla., native, which started with a three-set win at Iowa that clinched a 4-3 NU match victory Wednesday. Blackwell also won a three-setter against Northwestern at No. 3 Friday afternoon before winning at No. 1 singles later that evening against Nebraska-Omaha.
"It's been a huge week for me, the way you want to go out as a senior," said Blackwell, who is now 15-7 this spring, including a 5-4 mark at No. 3 singles in Big Ten play. "I was really pumped up today with my parents in town to watch, and that adrenaline helped me play one of the best matches in my life."
Blackwell's late season run is helping the senior achieve the two goals he set for himself this spring — compile a better record and play higher in the lineup than last season. He was 14-9 last season at No. 4.
"As a coach, you love to see kids improve like Tom has the past four years," NU coach Kerry McDermott said. "Tom's always been a great competitor who gets a lot of balls back and fights to the end. But he's added some offense to his game that's made him a better player."
NU (12-12 overall, 3-6 in the Big Ten) was close at both No. 1 and 5 singles, but could not pull off the victories. The Fighting Illini's Jared Hiltzik, No. 8 nationally, outlasted the Huskers' Dusty Boyer 7-6, 6-3 at No. 1, while Illinois' Brian Page downed Vasileios Stavropoulos by the same score at No. 5.
"Even after we lost the doubles point (to start the dual), I felt like we had a chance to win four (singles) matches," McDermott said. "But Illinois is a very solid team and they don't give you anything. We had some lapses in a couple matches, and you can't do that against a team like that."
NU women fall at Illinois
The Husker women's tennis team suffered its 10th straight loss in a 4-2 setback at No. 42 Illinois Sunday. The Huskers (8-14 overall, 0-9 in the Big Ten) picked up singles wins from Izabella Zgierska at No. 2 and Maike Zeppernick at No. 4. The teams started the dual with the six singles matches and did not play the doubles after the dual was clinched.
NU wraps up regular-season play with home matches against Penn State on Friday and Ohio State on Sunday.