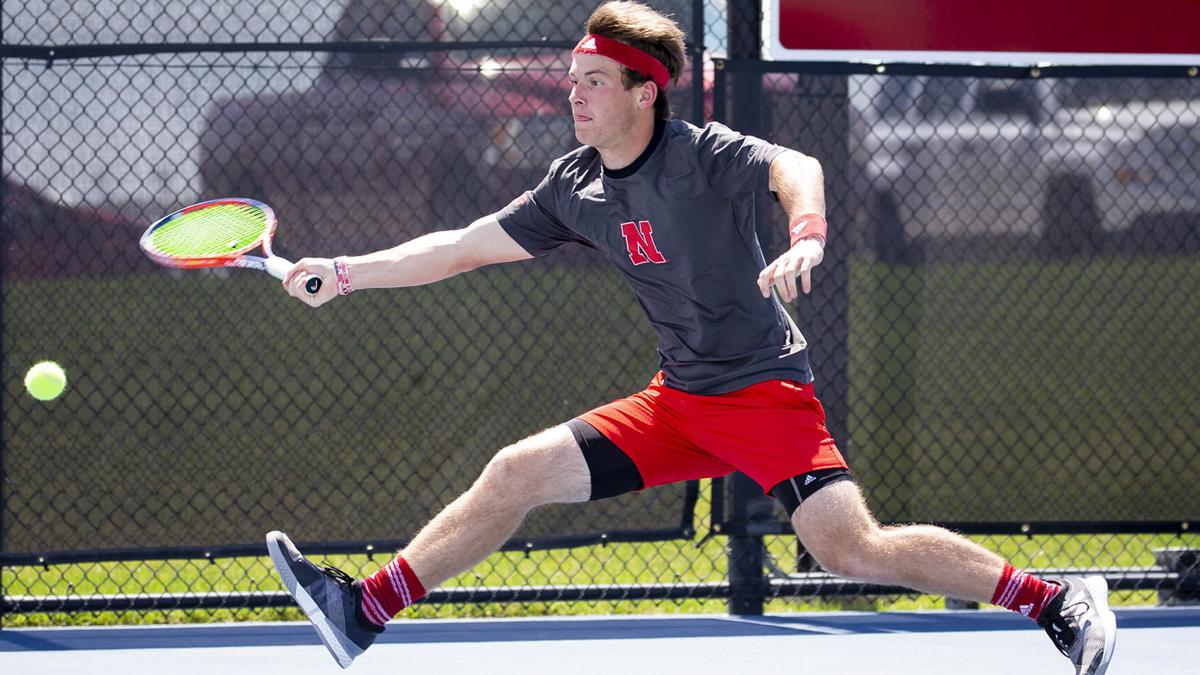 It's been tough the past eight months for Will Gleason.
The third-year sophomore Nebraska men's tennis player has tested positive twice for COVID-19. The first time in September, "I had a fever for two hours or something," Gleason said. "I took a Tylenol, took a nap and then I was fine."
Gleason was asymptomatic as well again in January, but ended up in NU's isolation hotel this time. "It was terrible," he said. "But what can you do? You've got to do your part (helping stop the spread), I guess."
The tennis court hasn't been friendly to the former three-time Lincoln Southwest state champion and the rest of his Husker teammates either this spring. Nebraska's young squad, most of whom were going against Big Ten competition for the first time, struggled to a 1-15 record in a spring season where there were no nonconference matches allowed.
But the postseason offers new hope for teams like the Huskers. And with the Big Ten Tournament on their home courts at Dillon Tennis Center this weekend, NU is looking to make a run that will not only ease the pain of a difficult season, but also provide momentum into next year when the entire team returns.
Nebraska opens tournament play at 10 a.m. Thursday against Penn State, which handed the Huskers a 4-0 road loss on March 28.
"I really like our chances, especially outdoors," said Gleason, who has a 4-11 singles record this spring playing mostly at the No. 2, 3 and 4 spots. "Penn State is a very solid indoor team. They like to play quick, fast points, and indoors at their place was tough.
"The courts are slower here, and outdoors you can get a lot more balls back and work the point a little longer," Gleason added. "We got a good draw. We have to get past Penn State first, but all of our matches were close against Northwestern the first time we played."
Gleason is 4-5 in his last nine singles matches after a slow start to the season because of the COVID-19 quarantine. He feels like he's coming into the conference tournament with momentum, and he's excited to embark on an ambitious summer tournament schedule after the college season concludes.
"The tennis is going pretty well right now," Gleason said. "I'm enjoying the way I'm playing and feel like I'm consistently making improvements with my game."
The Huskers around Gleason in the lineup are going through the same growing pains. Junior Victor Moreno Lozano and sophomore Shunya Maruyama have shared the No. 1 spot this spring, while junior Brandon Perez and sophomore Albert Sprlak Puk have been playing the Nos. 3, 4 and 5 spots along with Gleason.
It's a group that third-year NU coach Sean Maymi calls the foundation of the program he's currently constructing.
"They're working hard, their spirit is good and they're into it," Maymi said. "There's been improvement, we're just not seeing it on the scoreboard yet and that can be frustrating for them at times.
"We're getting that experience that we needed," the coach added. "Sometimes the medicine doesn't taste good going down, but it's needed for their development."
The conference tournament is open to the general public, and Maymi said some of the top college talent in the country will be on the court in Lincoln this weekend.
Last week's Intercollegiate Tennis Association (ITA) rankings had Illinois at No. 16, Ohio State at No. 22 and Michigan at No. 37, but Maymi said that's deceiving because, "our schools are getting knocked down because we're playing a conference-only schedule. Those are some of the top 10 or 12 teams in the country.
"It's the same thing individually," Maymi added. "You're going to see some guys who are going to go on and play professionally."