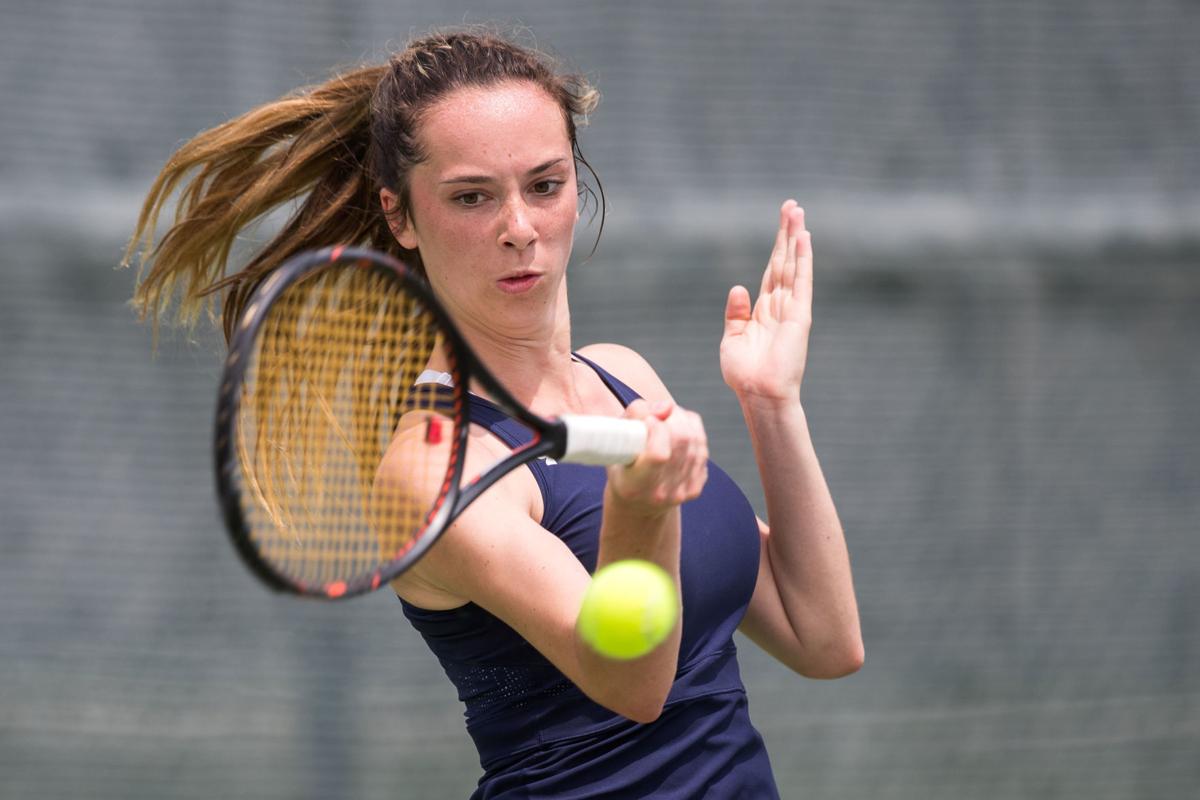 One of the biggest lessons Samantha Mannix has learned during her freshman season on the Iowa women's tennis team is you can't win them all.
She did win all of her matches during her high school career at Elkhorn South, going 114-0 and earning four state championships. Her success rate in USTA junior tennis was pretty high as well; Mannix spent a major portion of that time ranked No. 1 in her age group in the five-state Missouri Valley section.
So there's been some transition moving into the No. 1 and 2 singles spots for the Hawkeyes this spring and facing some of the best college players in the nation every time she steps on the court.
Mannix enters Iowa's 2 p.m. Big Ten Tournament first-round match Thursday against Indiana with an 8-14 record, with four victories each at No. 1 and No. 2. She played No. 3 in the final weekend of the season and was leading Wisconsin's Anna Makarova 7-5, 4-6, 5-4 when the match was pulled off the court because the Badgers had clinched a 4-2 dual victory.
Mannix lost at No. 3 to end the regular season against Minnesota on Sunday.
"Personally, I've never liked losing, and that part of it has been very tough. It's really been an up-and-down season in that aspect," Mannix said in a phone interview this week. "But sometimes you need to lose to learn the areas you need to get better at. Hopefully I can turn it into a positive for me in the end."
You have free articles remaining.
Iowa coach Sasha Schmid says it's been a successful rookie season on and off the court for Mannix, who has helped the Hawkeyes to a 12-11 record.
"It's a huge leap going from the juniors to high-level Big Ten tennis playing toward the top of the lineup, and she's done an amazing job making that transition," Schmid said of Mannix, a sports and recreation management major. "And she's doing amazing in the classroom as well. She had a 4.0 (grade-point average) in the fall and is well on her way to another 4.0 semester this spring. She's a true student-athlete."
At 6 feet tall, Mannix overpowered her junior competition with her serve and forehand. Those weapons are proving effective on the college level, but Schmid has seen progress in other areas of Mannix's game since she came to campus last August.
"She's getting more confidence in her backhand and volleys, and both of those continue to improve," the coach said. "She's made a good transition to college doubles, and she's been able to use her height and reach to her advantage there."
While the Big Ten Tournament will be her first college action on Nebraska's Dillon Tennis Center courts, the facility is not completely new to her. She's played an ITA summer circuit event there the past two years, so she's familiar with the slow playing surface.
Mannix also expects to see plenty of familiar faces in the crowd in her first college match back in Nebraska.
"It's going to be fun having family and friends there and the people from Woods," said Mannix, who did a large portion of her junior training at Woods Tennis Center in Lincoln under Talor Wain. "Usually when we go on the road, hardly anybody is in the stands and I don't know any of them. It will be great to have supporters there."