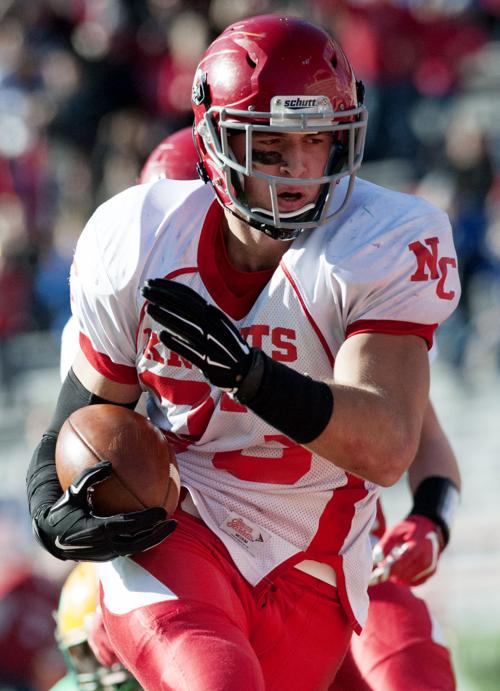 A summer camp apparently can really change everything. Proof comes from that kid in Norfolk.
Husker coaches watched David Engelhaupt closely at a Friday Night Lights Camp back in June. Liked the 6-foot-3, 230-pound prospect as a tight end. Kept that in their minds as National Signing Day kept creeping closer.
"He was part of our conversation for the year," said Husker head coach Mike Riley. "We never stepped forward with it because of our numbers."
But as the clock hand moved past the 11, an opening arrived. Desmond Fitzpatrick, the four-star wide receiver Husker coaches felt would end up in Lincoln, switched to Louisville. The Huskers still had at least one slot to fill.
So they started talking about Engelhaupt more — a defensive and offensive standout for Norfolk Catholic who had been committed to Wyoming since July.
"We had a long talk, we revisited it on video. Here's a local guy that is a really good football player that ran really good in camp," Riley said. "He ran in the 4.5s in the 40 for a big guy. We never forgot that."
A decision was finalized: offer him. A last minute-offer, Riley pointed out, but not a last-minute thought.
"It's another good example of what an opportunity at a camp can do for a young man, because had we not seen him in person like that, we may not have revisited it," the coach said.
When offensive coordinator Danny Langsdorf talked to Engelhaupt about how Nebraska might use him, he asked if the prospect had watched Andy Janovich play much.
Oh yeah. What Nebraska boy wouldn't like to have been Jano last fall?
"He lit up," Langsdorf said. "We kind of see him in the Cethan Carter/Janovich role, kind of an all-around blocker and runner who catches the ball out of the backfield."
Engelhaupt gave Nebraska two in-state signees in the 2016 Husker recruiting class, joining defensive end Ben Stille of Ashland-Greenwood.
That matches the two Nebraska kids who signed with the Huskers last year, when Michael Decker (Omaha North) and DaiShon Neal (Omaha Central) joined the program.
You have free articles remaining.
If you track back the five classes before that, the Huskers had three in-state recruits in 2014, one in 2013, one in 2012, four in 2011 and four in 2010.
Nebraska offered four in-state recruits in this past class, but Noah Fant of Omaha South ultimately picked Iowa and Jared Bubak switched his commitment in July from Nebraska to Arizona State.
Riley said it's always disappointing when in-state guys pick other places.
"I think their reasons were great and they're individual and personal, but like I've told you before, we want to get all these guys in Nebraska, so we will revisit that."
Early identification of in-state talent will be important to that cause, the coach believes. Then comes the phase of building those relationships.
As for the two from this recent class who didn't pick Nebraska, Riley said, "What we can do with it now is try to find out ways to make sure that does not happen again."
It's not just those in-state recruits Riley wants to lock down, but also those top-level players in bordering states.
The coach said his staff found a lot of good football players in that much-talked-about 500-mile radius as the recruiting cycle went along.
"We found more as we went, and we want to do a hair better," Riley said.
Even with that, you could consider 12 of Nebraska's 21 recruits to be from the Midwest region.
Two from Nebraska, two from Colorado, two from Missouri, and one each from South Dakota, Iowa, Minnesota, Illinois, Ohio and Indiana.
Of course, there's always a little extra attention paid around here to those Nebraska kids wearing the N.
Riley likes the possibilities of those two the Huskers did sign. The 6-foot-5, 240-pound Stille is another player who impressed coaches at a summer camp.
Confirmation that coaches wanted him to be a Husker.
"Coupled with the fact that he has really good athletic ability and explosion, I think maybe the best word to use is 'determined," Riley said. "He is a serious guy and I think he's going to do really good things here."