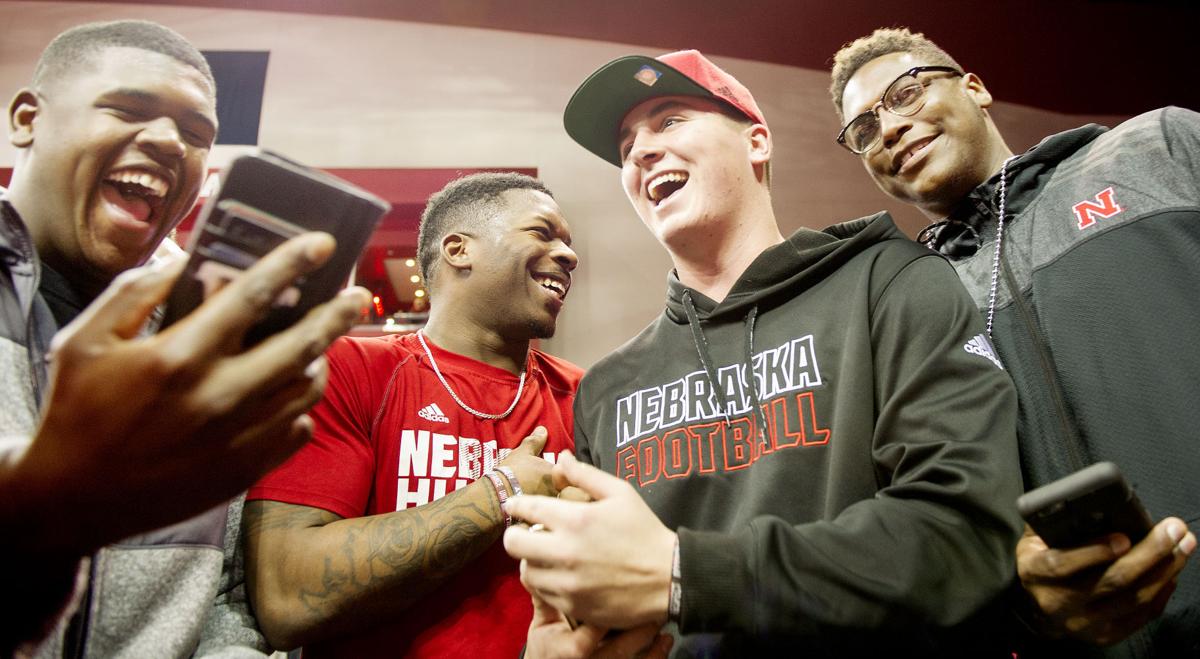 They had just met Mark Philipp a year ago at this time. They knew he was busting with energy. They knew he could practically lift a house himself.
But Husker players were still learning about the new football strength coach. Philipp, it seems, is glad to have that get-to-know-you part behind him.
"I think the expectations that they set for themselves and that we set, the standard is a lot higher this year as opposed to last year, with the whole rebuilding of it last year," Philipp said Thursday evening at the Big Red Bash to celebrate the 2016 Husker recruiting class.
"They kind of know how we do things. It's a lot easier to push them. We're getting after them now."
Husker senior quarterback Tommy Armstrong, in attendance at the recruiting party, can vouch for that.
"Our strength and conditioning coaches are working our tails off," Armstrong said. "We're lifting four times a week, having Wednesdays off."
The team is conducting metabolic circuit training on Tuesdays and Fridays, according to Armstrong.
He expects it will only help the team when it steps on the field when spring ball starts March 5.
"Spring ball is just about getting back into the groove of everything, getting back into that football spirit," Armstrong said. "Now that we're getting the coaches back now that Signing Day is over, I think it's going to help now that they're allowed to be with us and go over certain things each week.
"I'm looking forward to it. We've got a lot of seniors on offense that are looking forward to leading this thing the right way and I think it's going to be a good thing for us."
Philipp said he sees leaders emerging during winter workouts. Some of those leaders are guys who haven't even played that much.
"These guys are awesome," Philipp said. "If we can't get fired up being in there when there are those guys in there? I mean, they bring the energy. I know they say we bring the energy. But those guys, being up early in the morning, they make our jobs easy because these guys want it."
You have free articles remaining.
Philipp said a year on the job in Lincoln has helped him learn the different personalities and what motivates different individuals.
"Because not everyone is the same, you can't push everybody the same. Some people are introverted. Some people are guys that you can motivate by calling them out in a group setting and they respond. … It makes our job easier that we can identify that.
"I think the most important thing with our kids is creating a quality relationship, where it's not something that's a burden to them to get up at 7, or whatever time it is, to do what they've got to do."
Philipp said the bowl win over UCLA added even more motivation. "Especially our senior guys, those guys know how special this team is, and they're pushing guys."
Some of those seniors, like Armstrong and Jordan Westerkamp, were on hand at the Devaney Sports Center for an event open to the public. There were highlights and breakdowns from coaches of recruits who signed with Nebraska on Wednesday.
Mike Riley and coordinators Danny Langsdorf and Mark Banker all took the stage to talk about the class.
It felt different for them from a year ago, the head coach admitted.
"Twelve months ago I sat here and talked about our recruiting class and didn't know our team at all," Riley said. "It's more fun to do it like this."
Also in the house: freshman Patrick O'Brien. He autographed some footballs. Took pictures with fans. At one point, he was even asked to take a picture of his teammates with some fans. He obliged.
Armstrong said it was good for some older players to show up at an event like this and "show the character of our team."
He also wants to help O'Brien in any way he can.
"He's a great kid. Got a lot to learn, but I think he's going to be a great player here," Armstrong said. "It's just a learning process for him, like it is for any freshman coming in. You have to take the time to learn as much as you can, and I think he's willing to do that. He's going to push this team to be a better team in the future."
So will Philipp. Signing Day is past, spring ball is a month away, but there are no silent days in the weight room.