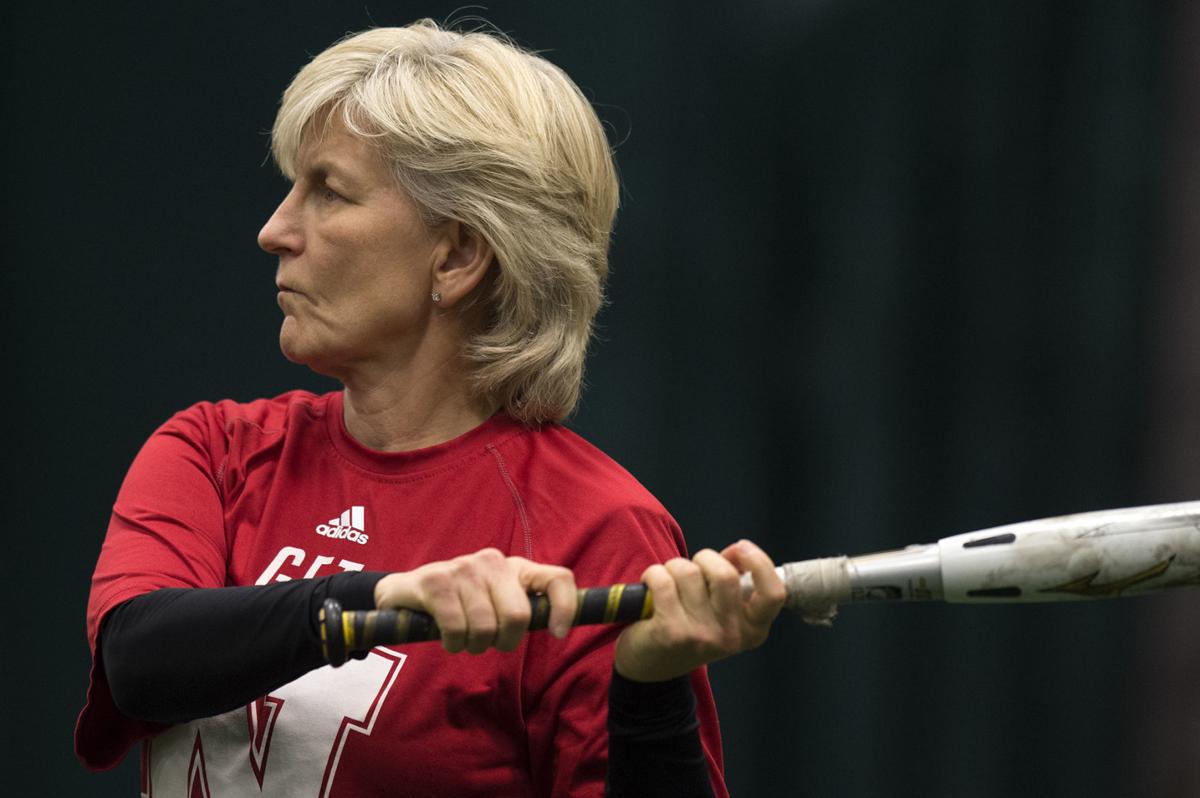 Rhonda Revelle's future with the Nebraska softball program remains uncertain, the Athletic Department is mum on the investigation's status and several former Huskers are growing frustrated.
On July 18, Nebraska athletic director Bill Moos was asked if outgoing players voiced concern about Revelle following the season. "Enough to look into it a little deeper," he told reporters in Chicago.
As of Friday, Revelle's status with the program remained unknown. A university spokesperson said there was no update to give and Revelle did not respond to a text message.
Students start classes at UNL on Aug. 26 and fall softball starts in September. Assistants and staff members, current players and two incoming freshmen are in limbo.
Meanwhile, former players continue to show their support for Revelle.
"The Husker Softball alumni are asking you (Moos) to please make a decision in this unimaginable investigation with Coach Rhonda Revelle," former Husker Sheena Lawrick wrote Tuesday on Facebook. "We have been patient, but will never go away quietly … we will continue to fight for someone we believe in that has a genuine (and) compassionate heart. But we ask that you make the decision NOW and show everyone who you stand with."
On Friday, Lawrick said it was important to show Revelle that support remains strong in the softball community. She said several former players share her sentiment.
"From a player perspective or from an alumni perspective, the longer this goes — you've got kids coming into school, you've got freshmen coming in, you got the team that's already (there), you've got the athletic department — just having it be left up in the air, it's really unfair to everyone," said Lawrick, who played at Nebraska from 2002-05.
Because the investigation has turned over into August, there is unease and Nebraska may face some possible setbacks no matter who is coaching next season.
You have free articles remaining.
NU has two incoming freshmen — Brooke Andrews of Gretna and Keana Pola of Santa Ana, California — set to join the program. Pola lives nearly 1,500 miles from Lincoln.
There could be a ripple effect in future recruiting classes.
"The elite kid, I think Nebraska loses out on at least for the next year or two, no matter what happens," a Division I coach told the Journal Star. "I don't think any elite athlete that has Nebraska on their list goes through with it, no matter how this shakes out, because of how long this is taking."
Prior to the review of Revelle, Nebraska had at least six known recruits in the 2020 class, including Gretna's Billie Andrews and Kaylin Kinney, the Iowa Gatorade player of the year. Another member of the 2020 class, outfielder Caitlynn Neal out of Arizona, was named an underclassman national All-American by Max Preps.
"(NU assistants Lori) Sippel and (Diane) Miller have obviously worked their butts off; I've seen them out (recruiting)," said former Husker and Howard head coach Tori Tyson. "But there's nothing like having a kid that you're really going after and being able to be present. So not having a head coach present in the recruiting, especially with how competitive the Big Ten is, you're losing out on valuable recruiting time."
Head coaches also spend this time of year wrapping up opponent logistics for the next season. That could stall things — for Nebraska and its opponents — when a head coach isn't available to sign off on game contracts.
With Revelle on paid leave, she's also not allowed to communicate with current players.
And then there is this: If Nebraska decides to part ways with Revelle, could Moos find a desirable replacement now? It's August.
Overwhelming support for Revelle from other head coaches and the National Fastpitch Coaches Association — and watching how NU has handled this — could lessen the number of strong coaching prospects from stepping up to the plate, a coach told the Journal Star.
Those close to the program continue to watch from afar, hoping for a resolution.
"Nobody's trying to point fingers or place blame anywhere," Lawrick said. "We just want to know why. I think our biggest thing as alumni is just trying to show (Revelle) as much support as possible, because her character is under attack. Her character is being questioned and that's really hard for us. It's got to be unimaginable for her."