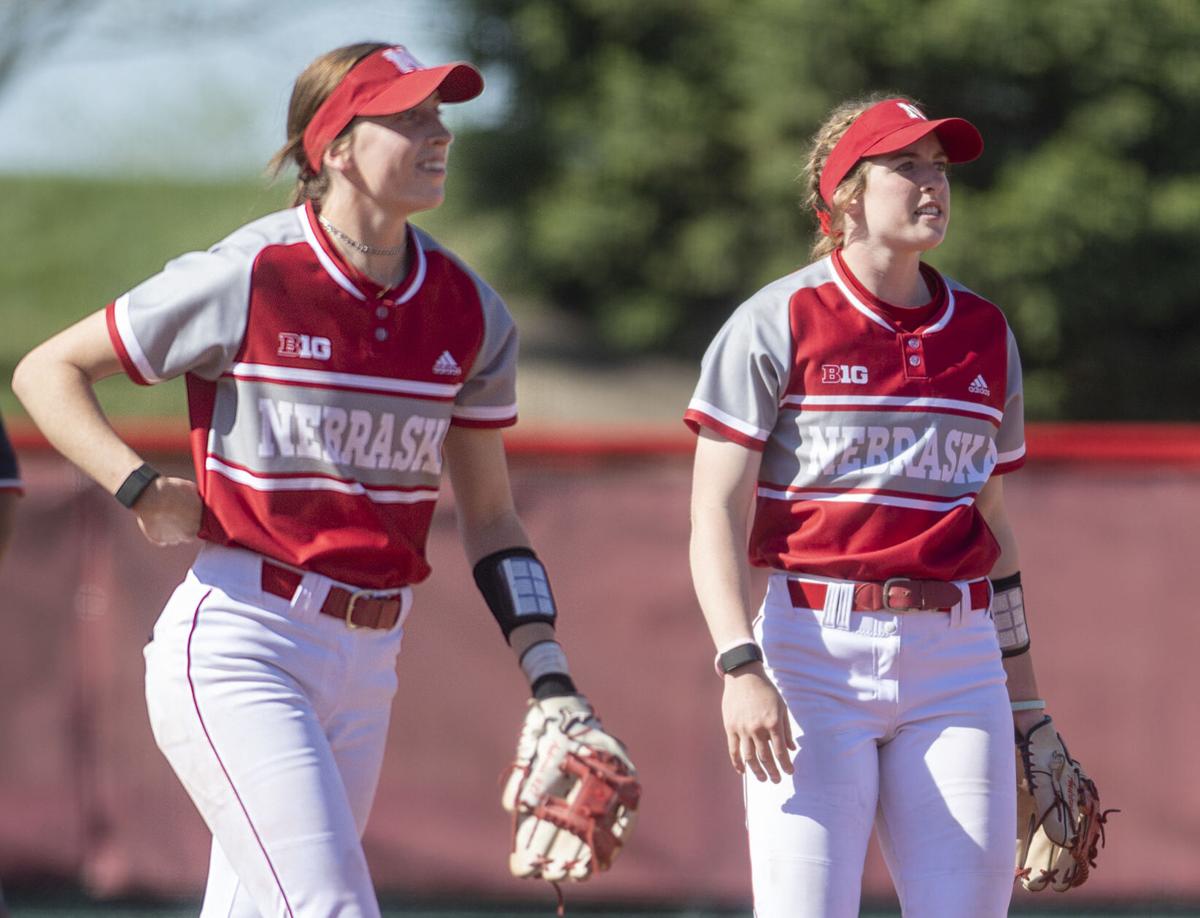 Sisters Brooke and Billie Andrews have played softball together for most of their lives.
They grew up playing next to each other in the infield. They have assisted each other on outs hundreds and hundreds of times. There isn't much they haven't seen or accomplished when it comes to making defensive plays.
And yet, their did-you-see-that?! tag-team effort Sunday at Bowlin Stadium was a first.
The opponent was Maryland and the Husker infield was playing in during the fourth inning. A batter lasered a shot right above Brooke's head at third base. The sophomore jumped up in attempt to catch it, but instead, the ball snapped off the top of her glove and into the air.
Billie, Nebraska's freshman shortstop, saw the ball pop up behind her sister and immediately dove to her right and made the catch for the out.
It was so good, the play made ESPN's "SportsCenter" Top 10 plays that night, checking in at No. 8.
"Every time I watched it, I would just smile and be like, 'Did that really happen?'" Brooke Andrews said.
Mom texted the girls on Sunday night. You're on "SportsCenter."
The sisters received a lot of text messages from family and friends, and new followers on social media.
"I told them (Tuesday), 'You're not even 20 years old yet and you've already had your 15 minutes of fame on "SportsCenter." What's next?'" NU coach Rhonda Revelle joked.
What's next is the exciting part.
Once again, the Andrews sisters are sharing a portion of the infield, this time as Husker teammates. Brooke has stepped in nicely at third base following a season-ending injury to freshman Sydney Gray. Billie has started every game at shortstop this season. She gives the Huskers a defensive presence it has been lacking at short since the Alicia Armstrong days.
"We just kind of know each other's range and what we can get to, and we trust each other enough," said Brooke, who has been NU's starter at third for the past 20 contests, and can play at second or first.
Said Billie, "I love playing with Syd obviously, too, but I think to replace Syd with Brooke, it was comfortable for me because I've been playing with her for so long."
When the Andrews sisters were starring at Gretna High School, Billie played at short and Brooke was at second base. They were always 1-2 in the batting lineup. When you saw one, you saw the other.
That chemistry has spilled over into their Husker careers.
"You could just feel that they know what each other is going to do," Revelle said. "To the point that sometimes you have to kind of get on them to talk because they're talking without talking, but we need to know. It's like, 'I know you guys know what each other is thinking, but let us in.'"
The Huskers have multiple freshmen and sophomores helping build the program. That includes the Andrews duo.
Billie has been named Big Ten freshman of the week four times. She overcame a slow start at the plate and leads all Big Ten freshmen in hits (36), runs scored (28), home runs (seven), RBIs (28) and stolen bases (10).
Work with hitting coach Diane Miller and a better understanding of scouting reports has allowed Andrews to blossom.
"I think at the beginning at the season when I would get out I would get kind of down on myself, but now I kind of bounce back better," Billie said. "I think just knowing that I have been succeeding lately that if I get out it's OK and I have another at-bat to redeem myself."
Brooke, meanwhile, is hitting .234 with six extra-base hits and 13 RBIs. She started 14 games at shortstop as a freshman before the season was cut short due to the pandemic.
"I felt like I was always playing with a lot of pressure and I was just more scared and I wasn't playing the best that I could," she said. "It's a lot different this year. I feel more a lot more comfortable."
After sweeping Maryland, the Huskers (20-16) turn their attention to a four-game set at Iowa (20-16) beginning at 3 p.m. Friday. The Huskers and Hawkeyes are tied for fifth place in the Big Ten standings with eight regular-season games remaining.
For the record, Billie said the two sisters have never practiced Sunday's acrobatic play. But it was cool, the sisters said, that they got to share that moment on national TV.
"It's cool to think that you watch 'SportsCenter' and see the biggest players in the country, the world on there," Billie said.