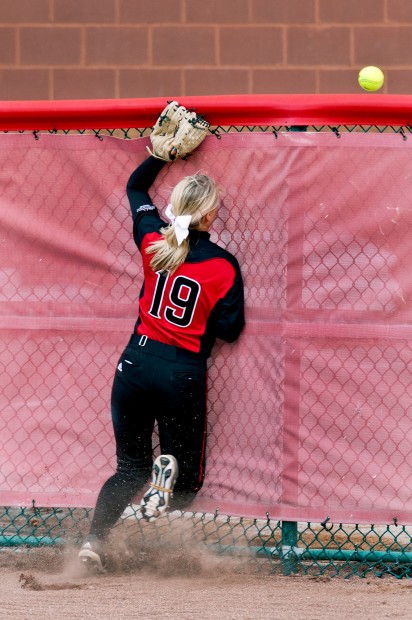 Mattie Fowler described the Nebraska softball team's 3-2 come-from-behind win Tuesday against in-state rival Nebraska-Omaha at Bowlin Stadium as a fun day for Nebraska.
It was especially fun for Fowler.
The sophomore out of Tuscon, Ariz., hit one of the more bizarre Husker home runs in recent memory and also came up with the game-winning hit to propel 20th-ranked Nebraska to 19-5 on the season.
Fowler's homer came on a 3-2 count in the third inning, with the right-hander driving the pitch deep to right field. UNO right fielder Lindsay Redding back peddled toward the fence with her glove outstretched, but the ball tipped off her glove and over the fence for a home run.
"The (home run) got a little help from the right fielder, but things will happen," Fowler said.
Fowler didn't need any help with the game on the line in the bottom of the seventh.
That's when she came up with a walk-off, two-run single that scored Haily Decker and Brooke Thomason.
Fowler has been a clutch hitter for the Huskers during her first two seasons. She had the game-winning hit in five of the Huskers' 14 conference wins last season. She also had the game winners in two of NU's three extra-inning games, as well as the game-winning hit in a 1-0 win in Omaha last year against UNO.
The Huskers held a 1-0 lead following Fowler's homer and starting pitcher Tatum Edwards carried a no-hitter into the sixth inning. But it was then that things turned the Mavericks' way.
UNO got on with an error, and a pair of ground balls left a runner on first. With two outs, Molly Negrete hit a ball up the middle. Tatum Edwards got her glove on the ball, but it deflected into right field for a standup double. The play left runners on second and third for UNO, and back-to-back infield singles gave the Mavericks (22-3) a 2-1 lead.
"I think any program is going to have good and bad days," Revelle said. "UNO has a good program and they've done a great job of transitioning to Division I. We played two one-run games with (pitcher) Dana (Elsasser)."
The Huskers responded with their third walk-off win of the season. Junior Taylor Edwards singled before Brooke Thomason's hit rolled and hit Edwards, who was called out for interference. With one out, Dawna Tyson singled and Thomason advanced to third. Decker came on as a pinch runner for Tyson and moved to second on a groundout, setting up the heroics for Fowler.
"Overall, I think we played pretty well," UNO coach Jeannie Scarpello said. "Obviously, our bats were shut down and our not seeing that kind of pitching and having a week off affected us. It was another tough competition and it's always fun to come (to Bowlin Stadium). We root for Nebraska and I am sure they root for us."
Nebraska will play a doubleheader Wednesday against North Dakota State. The Bison feature several Nebraska natives, including sophomore pitcher Krista Menke of Friend. First pitch is set for 2 p.m.
NEBRASKA 3, NEBRASKA-OMAHA 2
| | | | | | | | | | |
| --- | --- | --- | --- | --- | --- | --- | --- | --- | --- |
| UNO | ab | r | h | bi | Nebraska | ab | r | h | bi |
| Allie Mathewson cf | 2 | 0 | 0 | 0 | Kiki Stokes cf | 2 | 0 | 0 | 0 |
| Lindsay Redding rf | 3 | 0 | 1 | 0 | Gabby Banda 3b | 2 | 0 | 1 | 0 |
| Campbell Ditto c | 4 | 0 | 0 | 0 | Taylor Edwards c | 3 | 0 | 1 | 0 |
| Amber Lutmer 1b | 1 | 1 | 0 | 0 | Brooke Thomason rf | 3 | 1 | 1 | 0 |
| Molly Negrete 3b | 3 | 1 | 1 | 0 | Dawna Tyson dp | 3 | 0 | 2 | 0 |
| Tonya Peterson ss | 2 | 0 | 1 | 1 | Tatum Edwards p | 3 | 0 | 0 | 0 |
| Sydney Hames dp | 3 | 0 | 1 | 1 | Mattie Fowler 1b | 3 | 1 | 2 | 3 |
| Mara Eeman lf | 2 | 0 | 0 | 0 | Alicia Armstrong ss | 2 | 0 | 0 | 0 |
| Tara Trede 2b | 3 | 0 | 0 | 0 | Jordan Bettiol lf | 2 | 0 | 0 | 0 |
|   |   |   |   |   | Hailey Decker 2b | 0 | 1 | 0 | 0 |
| Totals | 23 | 2 | 4 | 2 | Totals | 23 | 3 | 7 | 3 |