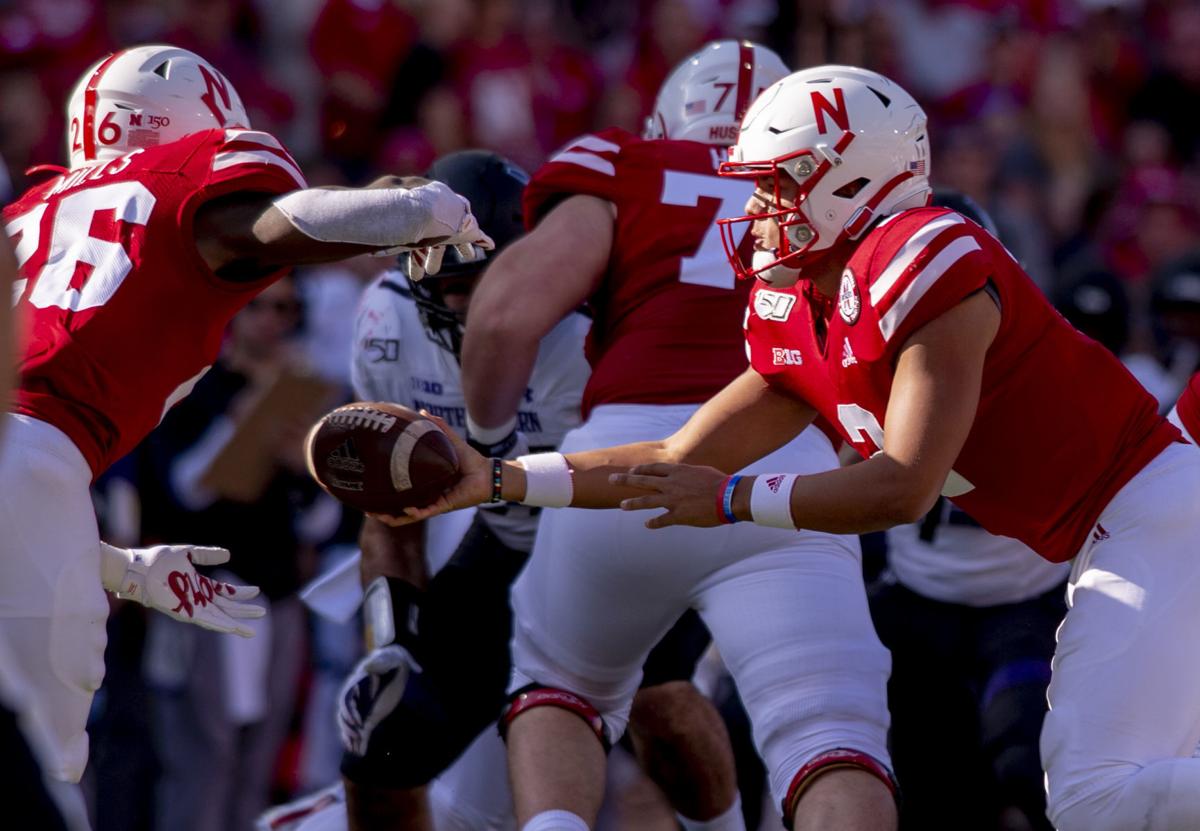 Mario Verduzco often cites "the collective" as he discusses the wonderful sport of football.
We probably should listen to Verduzco's wisdom, particularly in this case.
I know this: Nebraska sophomore quarterback Adrian Martinez's detractors definitely should try to achieve greater understanding of "the collective."
When Verduzco, Nebraska's second-year quarterbacks coach, refers to "the collective," he's essentially reinforcing the notion that his starting quarterback is merely one cog on a team of several. Granted, the quarterback is the most important cog. But when a team's offense clicks at a high level, it typically means several parts are working well.
Although Verduzco tries to hammer home to his quarterbacks the importance of keeping "the collective" in mind, doing so becomes a challenge due to all the outside banter from fans and media, with the noise increasing when an offense and/or the quarterback struggles.
In short, many folks oversimplify the discussion and make it too much about the QB.
"The idea that we as quarterbacks are the be-all and end-all to winning and losing ... it's just not the reality of it," Verduzco said this week.
"You think about our cultural will to find heroes in the greatest team game probably known to man," he added. "How can you do that? It's the greatest team game known to man, but yet we're going to pick out one guy who wins the game. It's just nuts. But I totally get it."
I get it to a point. I also understand why Martinez might be feeling a bit more pressure this season than he did in 2018. When it comes to Nebraska's offense, "the collective" isn't what it used to be. Martinez last season trusted Stanley Morgan and Devine Ozigbo at a high level. Those guys are in the NFL now, and the Huskers (4-5, 2-4 Big Ten) miss them dearly, especially Morgan as a physical downfield receiver. In short, Morgan hasn't been replaced adequately. Not even close.
Ozigbo last season rushed for 1,082 yards while averaging 7.0 yards per carry. In short, he hasn't been replaced adequately, either. Not even close. Dedrick Mills and Wan'Dale Robinson, the Huskers' top two running backs, have combined to average 4.1 yards per carry.
It doesn't help matters that Nebraska's offensive line play has been so-so at best.
You have free articles remaining.
Head football coach Scott Frost talks about the team's preparations for Wisconsin on Nov. 14, 2019.
Granted, Martinez has been so-so much of the season as well. His sophomore slump is real. He appears to be tentative. He's not as decisive. He doesn't seem to be playing with as much joy. It's something of a mystery to even Nebraska head coach Scott Frost, whose track record of grooming quarterbacks (think Marcus Mariota, McKenzie Milton and Vernon Adams) suggests ample wisdom in this particular area.
If Martinez this season feels more pressure to perform well -- and it's adversely affecting his play -- it would be completely understandable because Nebraska doesn't have nearly enough potent weapons to ease pressure on him. The situation would become even more dire Saturday if the multi-talented Robinson is sidelined (his status is a game-time decision). Keep in mind, Wisconsin (7-2, 4-2) has a bear of a defense.
With or without Robinson, if Nebraska is going to pull off an upset, Martinez probably is going to have to have a monster day. By monster day, I mean something resembling what he did last season against the Badgers -- 384 yards passing with two touchdowns and 57 yards rushing. By the way, the Huskers lost that game 41-24.
If Martinez struggles even a little, and Nebraska loses its fourth straight game, many Husker fans will point the finger at the quarterback position, however misguided the act. Maybe some folks eventually will come to their senses and understand the importance of "the collective" in evaluating the QB.
On the other hand, if Martinez plays well and Nebraska prevails, he would significantly alter the narrative regarding not only his season, but his team's as well.
The fact is, Martinez has enough God-given ability to make a major impact on any given Saturday.
But he still needs help from teammates, and he hasn't gotten enough.
As for the criticism of Martinez this year, it comes with the territory, Verduzco said.
"Particularly with the nature of the beast that is known as Nebraska football," he said. "Not that I go out of my way to track (the criticism) down. But I just suspect it's a bit of a roar out there."
Much of it is unfair -- with not nearly enough regard for "the collective."