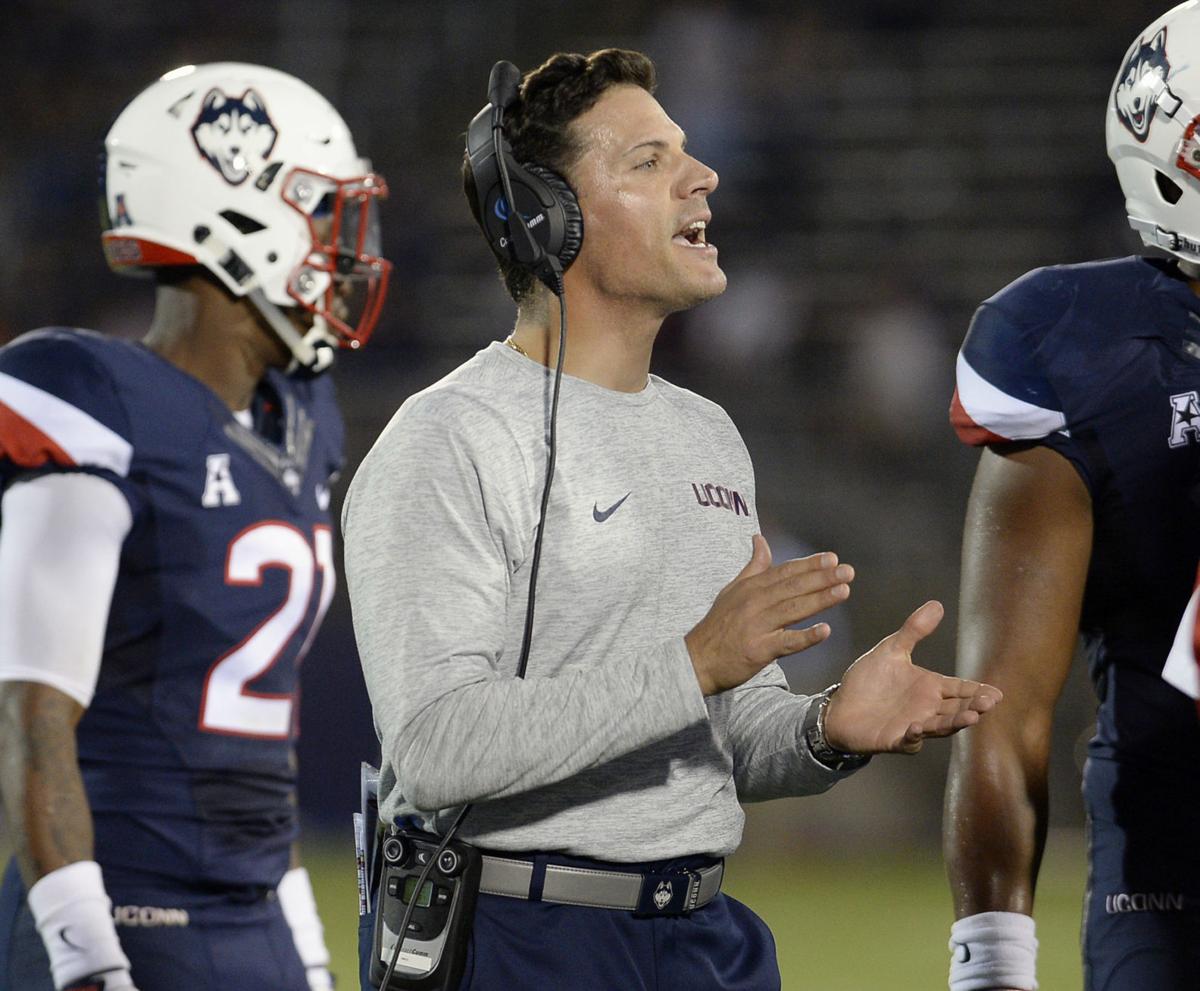 Nebraska football fans thirst for national relevancy. One way to tell is by the prevalence of tweets directed at 18-year-old recruits.
Granted, grown-ups engaging high school players on social media is a bit much. But it's an example of how desperately many Husker fans hunger for the program's return to elite status.
They badly want the college football world to notice their program.
They're starving, it seems.
Bob Diaco could help immediately in terms of attracting notice. He possesses a recognizable name. He's built an undeniably impressive resume, with the sort of accomplishments as a defensive coordinator that should give Nebraska fans genuine hope.
His 3-4 base system helped Notre Dame reach the 2012 national championship game, in which Alabama prevailed 42-14. He received the Frank Broyles Award that season as the nation's top assistant coach, using that momentum to land a head coaching gig at Connecticut, where he went 11-26.
Now, he goes back to leading a defense.
On Saturday, when Nebraska's hiring of the 43-year-old became official, my thoughts turned to former Husker defensive coordinator Charlie McBride, whose 4-3 base system helped produce the three national championships (1994, 1995, 1997) that transfixed our state.
Many Nebraska fans vividly remember the early 1990s, when McBride made the shift from a 3-4 scheme (some called it a 5-2 back then, but McBride said Saturday that it was actually more of a 3-4).
At any rate, Nebraska has been a 4-3 team ever since McBride executed the change. Back then, he simply felt the Huskers' personnel was better suited for a 4-3. Dynamic rush ends Trev Alberts and Donta Jones had plenty to do with it.
At the moment, Nebraska's personnel may be better suited for a 3-4.
Bottom line, the Huskers may be on the verge of a shift of historic significance.
Make no mistake, it would be surprising if Diaco decided to maintain Nebraska's current 4-3 system. In the coaching realm, the 3-4/4-3 discussion essentially amounts to being in one family or the other. Coaches seldom are in both.
In fact, most coaches would tell you that it's difficult to dabble in both worlds. There are too many differing details.
Diaco has been a 3-4 guy and likely will stay a 3-4 guy. It's what he knows best. It's worked for him. Notre Dame was 37-15 in his four seasons there (2010-13), never falling below 27th nationally in scoring defense. The 2012 unit, led by linebacker Manti Te'o, surrendered only 12.8 points per game.
A New Jersey native who starred as a linebacker at Iowa, Diaco appears to be a high-energy sort. He'll need ample energy from the get-go because teaching a new system to a staff of unfamiliar assistants, let alone unfamiliar defenders, will be challenging, to say the least.
He walks into a pressure-filled situation, with Mike Riley sitting at 15-11 through two seasons at the school and many fans looking for significant improvement in 2017, and rightfully so, even with a new quarterback and three new coaches on defense.
If Nebraska indeed shifts to a 3-4 scheme, "(Defenders) are going to have to learn different techniques," McBride said. "Anytime you start moving guys to other positions, they have to learn blocking schemes that go with that position, and that alone is tough duty. Kids have to be adaptable. Some of them will be like freshmen again."
McBride, who retired from coaching after the 1999 season, wonders if Husker athletic department brass will push for patience.
"You know, you might hear, 'We're going to get better in time,'" McBride said. "Or are they looking for a quick fix? I just know you can't be too complicated to start out."
McBride said in a 3-4 system, outside linebackers need to be able to drop into coverage in some instances and rush the passer in others, while being effective against the run.
"You can put pressure on the passer with two outside backers coming, if they're going to really smoke," he said. "But you have to have the flat covered, and you have to have certain pass coverages to fit it."
Meanwhile, "If you have scorpions at those two inside linebacker spots, guys who can really blitz and do stuff, they can cause a whole bunch of problems," he said. "Thing is, the guy who's coming in (Diaco) knows a hell of a lot more than I do about pass coverage and stuff, because we didn't face the complexity (in offenses) that there is now."
I think that was McBride's way of welcoming Diaco to Nebraska.
The new coach will find life as a Husker to be, well, rather intense.
"It's smothering, just constant," former Nebraska defensive coordinator Mark Banker said of the media coverage.
If Diaco's defense is smothering and constant, he'll be one of the most popular guys around.