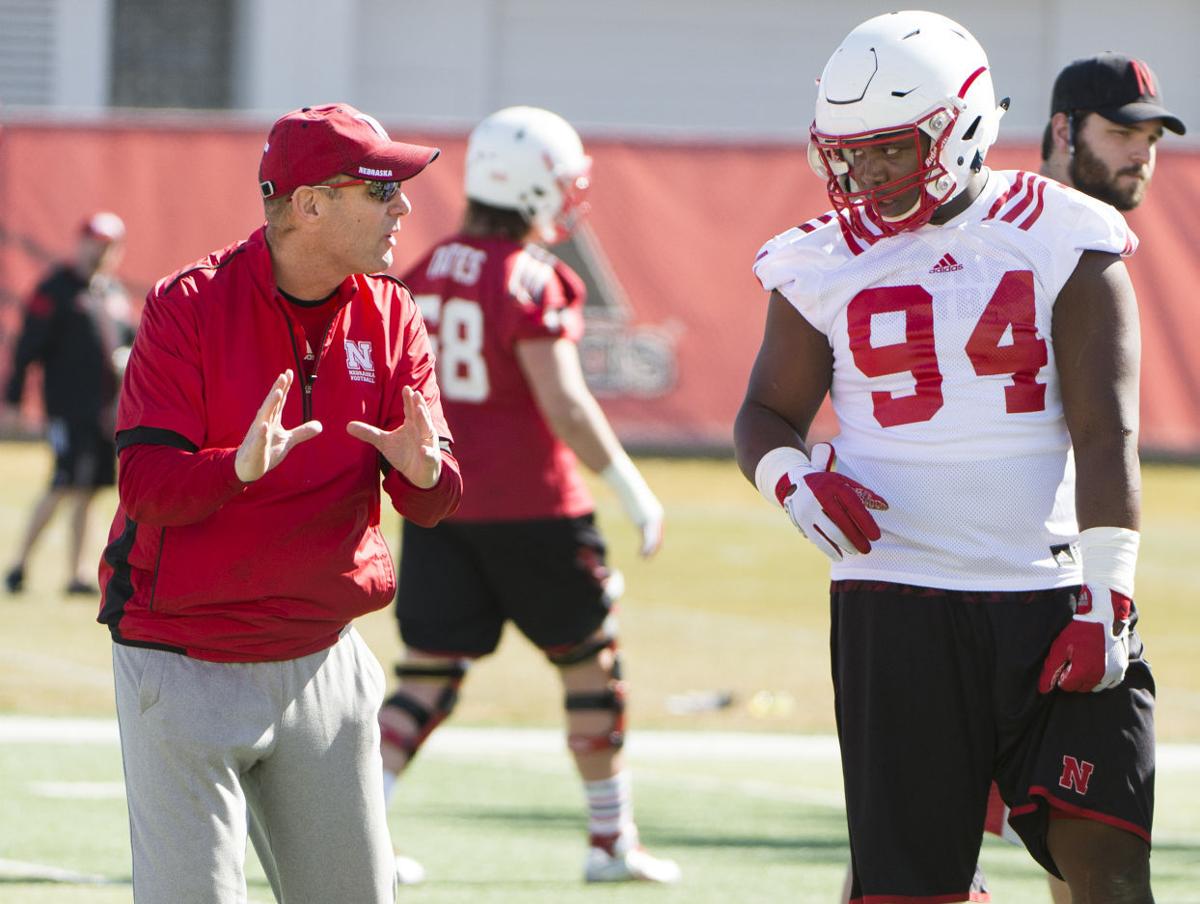 Things I know, and things I think I know:
In mulling Mike Riley lately, I think of Wes Unseld, or perhaps Tim Duncan.
Riley is rebounding quite well.
Think back to the darkness of Oct. 31 in West Lafayette, Indiana, where Nebraska lost 55-45 to Purdue. Talk about misery for Husker football fans. Talk about unease. Riley's first NU squad was 3-6. You wondered if it would win another game.
Life's funny, huh? Nebraska won three of its last four, capped by an impressive show of strength against UCLA. Riley made key offseason staff changes that already look promising. Then, last week, the Huskers secured a verbal commitment from Keyshawn Johnson Jr., whose ebullient nature is a sharp contrast to the grayish doom at Purdue.
Let the California pipeline flow.
Granted, skepticism regarding Riley persists. That's OK. There's nothing wrong with healthy skepticism. It's only natural to have doubts in the wake of a 6-7 season in which Nebraska was a startling 1-5 against Big Ten West Division opponents. The Huskers underachieved to a troubling degree. But even Riley's harshest critics must acknowledge what's been a strong offseason.
Coaches ultimately are judged by W's and L's. That's fair. Thing is, pervasive negative outside energy (read: drama) can diminish a program's chances for success both in the fall and over the long haul. Negativism zaps spirit, elicits doubts and steers away recruits.
Winning is a sure-fire cure, but there are other helpful remedies. Johnson's commitment created a wave of positive energy, not to mention hope. Same goes for the hiring of defensive line coach John Parrella and, to a lesser extent, Billy Devaney as Riley's special assistant.
Don't overlook the promotion of Kenny Wilhite to director of high school relations. As is the case with Parrella, Wilhite is an ex-Husker standout with deep-seated passion for the program. You can hear it in his voice. He understands the lay of the land. A perfect salesman for the program. His hiring is an upgrade.
Meanwhile, Johnson also seems a natural salesman. He's well-spoken, upbeat, confident. He immediately began working on getting players to follow him to Nebraska. His father, former NFL receiver Keyshawn Johnson Sr., also will sell NU. His friendship with Riley dates to their days at USC, where Riley was the offensive coordinator from 1993-96. That's a genuine, no-bull relationship.
Johnson Sr. trusts Riley's program. Same goes for Rick Spielman, general manager of the Minnesota Vikings and father of 2016 Nebraska recruit JD Spielman, who turned down the University of Minnesota. If two successful NFL-types hold Riley and his program in such high regard, shouldn't that mean something even to those most skeptical of Riley? Should skeptics become a bit more patient? A bit more hopeful? It's worth asking.
You have free articles remaining.
Most coaches need time to establish culture and recruit the right athletes to fit their system. Not everyone is Jim Harbaugh. Or Tom Herman. Or Jim McElwain. One year isn't enough to get an accurate gauge on a staff. Three years seems about right. But at places like Nebraska, patience wears thin quickly. Very quickly.
Which is partly why Riley's rebound this offseason has been critical. It reduces negative noise. Maybe produces patience. Is he really in the midst of establishing a solid foundation and championship culture? Time will tell. But momentum is evident, as strange as that may sound in the context of last season, especially the loss at Purdue.
Life is complicated. Good often comes out of bad. Nebraska defensive coordinator Mark Banker recently told me that in the days immediately following the loss in West Lafayette, Husker players and coaches formed a tighter bond.
"It just felt good after that," he said. "That's a sick thing to say, I know. But it just felt good. We all worked together."
What's next? Perhaps it will be a verbal commitment from strong-armed quarterback Tristan Gebbia, Johnson's teammate at Calabasas (California) High School, or even from Darnay Holmes, a cornerback from Calabasas who's regarded as an instant-impact college player. Reading tea leaves, Gebbia seems a strong possibility to choose NU, and don't rule out Holmes.
Want even more positive energy? Watch Riley load up on the run game in the April 16 Red-White Game. Mikale Wilbon reeling off about 150 rushing yards would do the trick.
Of course, winning the Big Ten West also would help.
* I'm told Johnson Jr. isn't thrilled about the narrative that his recruiting ability is the foremost reason he's an important recruit. If true, I like that about him, too.
* I keep saying I like Iowa to win the Big Ten West. Nebraska's overall talent is comparable to Iowa's, but the Hawkeyes' league schedule is much easier.
* On Nebraska's official athletics website, the 2016 football schedule includes National Signing Day. No other Big Ten team does that. 
How's that for a culture change at NU?
* Tony Davis, the former Nebraska fullback great who's now living in Fort Collins, Colorado, says keep an eye on Husker redshirt freshman linebacker Jacob Weinmaster, a walk-on from Loveland, Colorado.
"I watched two seasons of his high school film and never saw him miss a tackle — not one," Davis said. "It was the damnedest thing I've ever seen."
I listen to the wisdom of Davis, who in 1977 was team MVP of the Cincinnati Bengals. Look for Weinmaster to make a few tackles on special teams.
* Idolizing sports figures is a risky proposition, as Mike Krzyzewski reminded us last week. Can't say I was surprised by the show of arrogance.