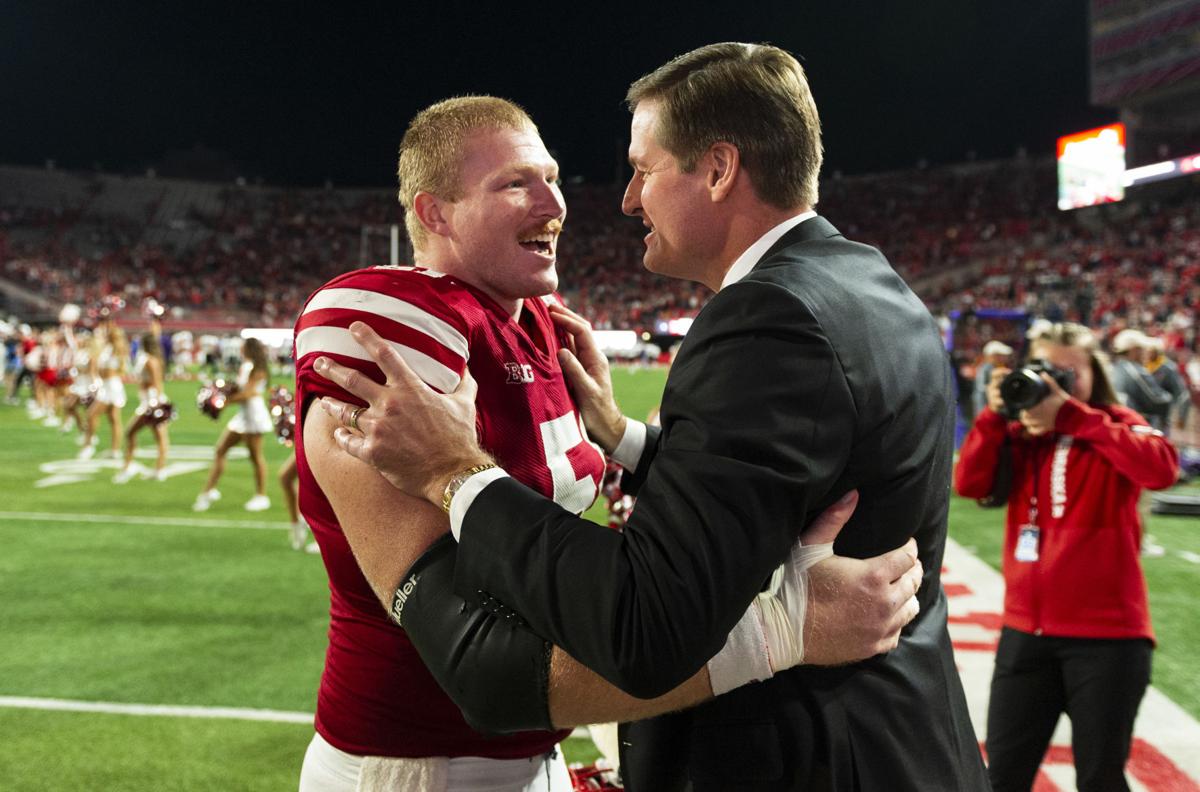 When you're grinding through a Nebraska football season, a plate of warm lasagna can be a wonderful boost. 
That's just one takeaway from Monday's weekly Husker football news luncheon at Memorial Stadium. 
1. Alberts' presence meaningful: As Nebraska coach Scott Frost discussed his interactions with first-year Husker athletic director Trev Alberts, it was difficult to avoid recollections of previous head coach-athletic director relationships at the school. 
Former Nebraska coach Bo Pelini often had trouble getting in touch with former Husker athletic director Shawn Eichorst. I used to be amazed by the situation. Pelini's assistants were troubled by it, obviously. They could read the situation. In 2014, they knew they would have to win 10 or more games to be retained. The fact NU won nine that season still surprises me in the context of the circumstances. It was a tense and awkward fall, to say the least. 
Frost clearly has a much different sort of relationship with his boss. 
"I talk to Trev quite a bit," the fourth-year Husker coach said Monday. "We get together every Sunday and talk about the day before. I'm usually not in the right frame of mind on a Saturday night to do that." 
That obviously makes sense in the wake of ninth-ranked Michigan's 32-29 win against Nebraska in raucous Memorial Stadium. 
The Huskers played well most of the night but fell to 3-4 overall and 1-3 in the Big Ten. 
"He felt like all of us Saturday," Frost said. "I think he felt like, 'Here we go, this is the one, we can get this one, this is a big win — Top 10 team.' Gosh, and the kids did so many things right. It's heartbreaking for them. 
"But he felt the same way the coaching staff did." 
My mind shifts to former Nebraska coach Frank Solich in the fall of 2003 encountering A.D. Steve Pederson by chance in a South Stadium locker room — and no words being spoken between the two. The Solich-Pederson relationship was virtually non-existent. Solich, of course, was fired in late 2003 with a 9-3 record. Marvelous times in the program. Just marvelous.
Alberts' approach seems much healthier for everyone involved. And, no, this isn't me suggesting a boss needs to coddle workers. But the silent treatment seems like an unproductive way to manage. Think about Pelini and Solich's assistants recruiting in the midst of the awkwardness. 
Saturday night, Alberts encouraged Nebraska players in the locker room following the game. 
Sunday, Alberts visited with each of the Husker assistants individually. 
"Told them how proud he was of what the team did on Saturday," Frost said. "It's been nice to have him show us support like that."  
That's the sort of leadership this place needs, and hasn't always gotten.  
2. Heart of the matter: Nebraska junior tight end Austin Allen, a team co-captain, has a way of getting to the heart of most matters.  
Regarding Minnesota's two straight wins against Nebraska in the series, he said, "I think it just comes down to they were the more physical team that day. They're a disciplined football team, too. That's really all football games come down to is who's the more physical team and who's the more disciplined team, and I think on those two particular days, they were the more physical and disciplined team."  
That certainly was the case in 2019 in Minneapolis, when Minnesota rushed for 322 yards, averaging 6.6 per attempt, to key a 34-7 triumph. 
"I think we were 4-2 when we went up there two years ago," said Frost, his memory serving him well. "We played really uninspired football. I had the feeling as a head coach we had some of our kids who really didn't want to be there. It was a little cold, it was spitting rain. We didn't play tough that night." 
Minnesota in 2019 finished 11-2 overall, including a win against Auburn in the Outback Bowl. That was a tough Gopher team. 
The 2021 Gophers (3-2, 1-1 Big Ten) likely won't encounter an uninspired Husker team at 11 a.m. Saturday in Minneapolis.  
Frost's program has come a long way since 2018. 
"I think we're just more of a grown-up team," Frost said. "We have more kids who love each other and love the team and love football." 
3. A sleep matter: Sometimes we can all glean wisdom from these luncheons, even if it comes in the form of a reminder.  
Get some damned sleep, amigos. 
In discussing how to remain fresh and healthy during a long football season, Nebraska defensive lineman Ben Stille said, "Recovery is huge. Definitely something a lot of the young guys don't understand is the importance of sleep in general." 
Stille, a senior from Ashland, said he's in bed by 8 p.m. almost every night. He then rises at 5:30 a.m. for the team's morning practices. 
"It's a routine," he said. "That's your lifestyle. That's what you came here for. You can stay up all night the rest of your life." 
It is kind of fun watching Ozark reruns in the quiet of 2 a.m.
4. Telling quote: I don't know if it was the best quote of the day, but Nebraska football fans no doubt would appreciate something junior nose tackle Damion Daniels told reporters. 
Daniels, by the way, is having an excellent season, with 21 tackles, including two for losses, and two breakups. 
He's exceeded his previous career high of 20 stops, accomplished in eight games during last season's COVID-shortened schedule.  
He was asked how much fun and satisfying the 2021 season has been for him individually.
"You know, we're not where we want to be (as a program), so I'm not satisfied," Daniels said flatly. 
Perfect answer. Telling answer. 
That's what Frost meant by having a more grown-up team.