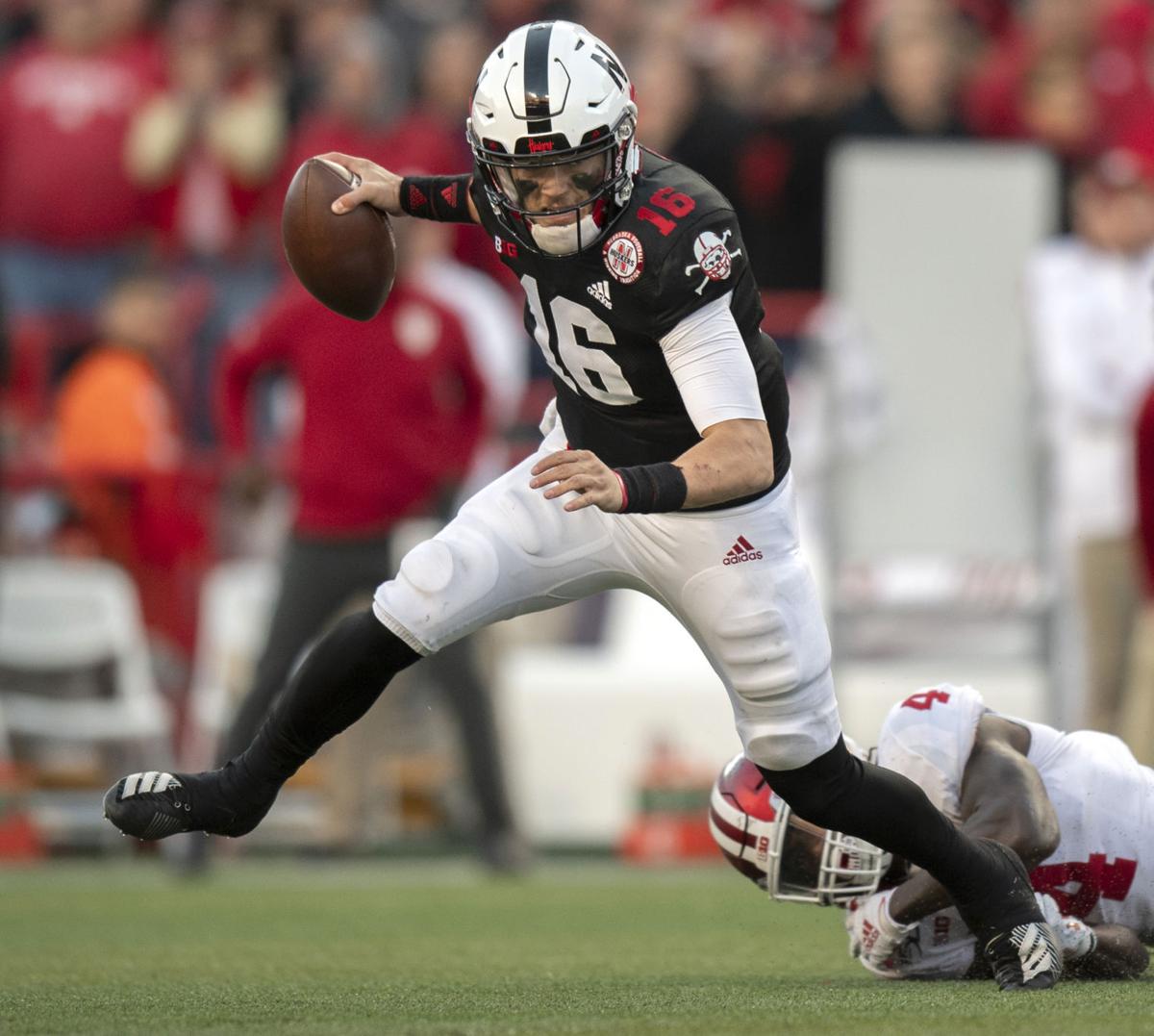 WEST LAFAYETTE, Ind. — Maybe Scott Frost is just trying to keep us entertained.
Not a bad idea, all things considered.
The Nebraska head coach on Thursday skirted the topic of whether Husker sophomore quarterback Adrian Martinez is indeed ready physically to start against Purdue at 11 a.m. Saturday at Ross-Ade Stadium. Martinez said Tuesday he felt "ready to go" after missing the past two games — both losses — with a left knee injury. I'm guessing he'll be full steam ahead against the Boilermakers, and I think he'll put up big numbers.
If Frost wasn't merely being coy, and Martinez in fact isn't quite ready to go, I still think Nebraska (4-4, 2-3 Big Ten) will light up the scoreboard against Purdue's 84th-ranked defense. Lost last week in the typical hysteria that accompanies a Husker loss was that Frost's offensive crew operated at a high level, racking up 514 yards of total offense against Indiana after sputtering through most of the previous three games.
If Martinez doesn't start against Purdue, the nod would go to sophomore Noah Vedral, especially since true freshman Luke McCaffrey was limping this week with an apparent knee injury suffered against the Hoosiers. Other than losing a costly fumble, Vedral was generally superb last week, completing 14 of 16 passes for 201 yards while rushing for two touchdowns.
Vedral is quick, decisive and savvy. If the offense drops off any with him at the controls, it's barely discernible.
I enjoy watching him play. His will to win is apparent. He'll do whatever it takes, as we saw when he chased down the Indiana lineman who recovered Vedral's fumble.
Martinez is cut out of the same cloth. The 17-game starter returning to action would be an excellent story line. I tend to be partial to good story lines.
Whether it's Martinez or Vedral directing the attack, Nebraska likely will need to score early and often in order to escape West Lafayette with a victory because Purdue figures to put up a sizable score. Bottom line, this isn't a great matchup for the Huskers. Granted, the Boilermakers (2-6, 1-4) are a wet noodle when it comes to running the ball. But they average 301.3 passing yards.
The home team's biggest advantage may be third-year Purdue head coach Jeff Brohm. He'll know exactly how to attack Nebraska's weaknesses on defense, especially the unit's second level, an area Indiana exploited to a large degree. Rest assured, Brohm will make good use of an emerging star in Boilermaker freshman wide receiver David Bell, a sleek 6-foot-2, 210-pound pass-catching machine.
Bell is exactly the type of field-stretching receiver — tall, fast, ultra-athletic — that Nebraska lacks. It seems everybody the Huskers play has at least one such receiver and sometimes a couple of them. A native of Indianapolis, Bell leads his team in receptions (44), receiving yards (653) and touchdowns. He had 13 catches for 197 yards and a touchdown against Iowa two weeks ago. So, yeah, he's capable of taking over this game.
Purdue's Brycen Hopkins, a 6-5, 245-pound senior tight end, also will challenge Nebraska's defense to a high degree. He has 34 catches for 441 yards and three touchdowns.
Frost on Thursday revealed that Nebraska's secondary has dealt with a couple of injury situations. I'm told the head coach was brusque in his post-practice sessions. Perhaps he was irritated in the wake of just finding out about junior safety Marquel Dismuke's procedural bench warrant — issued after he missed a court date.
Dismuke, an eight-game starter this season, appeared in court Thursday to clear the warrant. It was a small matter. On the other hand, Dismuke's failure to deal with a license suspension is a perfect example of what Frost has been preaching to his team — that is, the devil is in the details. If you're not mindful of the small matters, they can grow into bigger ones.
At any rate, it was good to see that Dismuke retained his sense of humor.
"Slow news day I see," he tweeted Friday in reference to the news accounts of his situation.
If Nebraska loses to Purdue, it'll be major news in our state, accompanied by the typical hysteria. Wonderful.
If Frost's crew prevails, the win will be minimized by many folks. It's only Purdue, they'll say.
Minimize a win and maximize a loss with harsh and hysterical tones. Who can express their displeasure the loudest?
This is really appealing.
My God, what's happened to my sense of humor?
My guess is Nebraska fans' patience (and sense of humor) will be tested once again in oh-so gorgeous West Lafayette, this time in the form of a 37-31 win by Purdue.
The forecast for Nebraska's bye week calls for dark clouds around Stadium Drive.
We'll still try to keep you entertained.