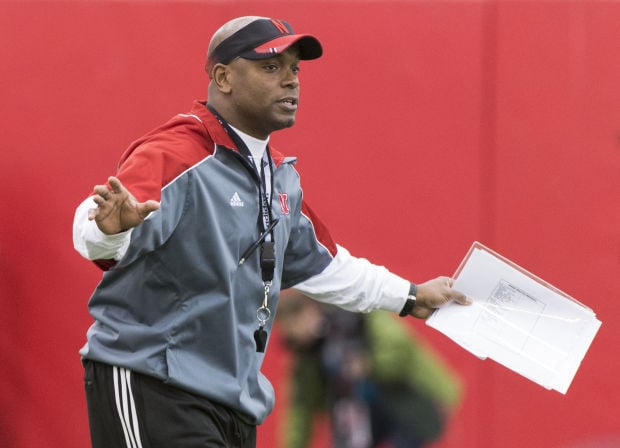 Charlton Warren bolts for North Carolina, and Nebraska football fans naturally wonder why.
They wonder, for one, how he could leave behind all those recently signed recruits. 
There's nothing you can say that would make everything OK for everyone involved.
It's an imperfect world. Go with it. Learn from it.
The 38-year-old Warren, who just completed his first season as Nebraska secondary coach, has accepted the same position at North Carolina, where I'm told he'll get a nice raise and a three-year contract as opposed to the two-year deal he had at NU.
Warren's departure created a minor ruckus Friday, in large part because he was instrumental in the recruitment of seven of the 20 signees in Nebraska's 2015 recruiting class, which was finalized Feb. 4. He's regarded as one of the Big Ten's top 10 recruiters and a rising star as a coach.
His decision comes amid a wave of negative publicity for assistant coaches who left for other jobs after Signing Day. Ohio State running backs coach Stan Drayton left for the NFL Chicago Bears the day after Detroit prep running back Mike Weber signed his letter of intent. Du'Vonta Lampkin of Texas tweeted he felt he was "lied to" after Longhorns defensive line coach Chris Rumph left for Florida.
It happens. It's been happening for ages. Bottom line, high school athletes and their parents/guardians must learn from these situations — not that there are always clear-cut answers, however.
It's not as easy as saying recruits should commit to institutions more so than committing to coaches. Much of recruiting is about forming relationships. What's more, recruits consider a variety of other factors: academics, program values, tradition, facilities, chances of reaching the NFL and playing time, among others.
You have free articles remaining.
But make no mistake, assistant coaches are critical in the equation. A player's position coach is with him daily. Ohio State coach Urban Meyer sent his assistants to a training camp last year to improve their leadership ability. "Power of the Unit" became the mantra, and that began with the power of the position groups.
Think about Nebraska's geographical situation. Players often come to Lincoln from faraway regions, sometimes from difficult backgrounds, and parents/guardians entrust coaches with their children.
Many coaches during the recruitment of players emphasize their trustworthiness. But if a better deal at another school comes along, it's difficult to blame a coach for pouncing on it, particularly in a profession with extremely limited job security. There's a distinct "get-what-you-can-get" feeling. It seems cold sometimes. So does life. Deal with it.
A coach leaving doesn't nullify a signed letter of intent. However, a player can request a release from the school. If granted, it would allow that player to find another program without having to sit out a season.
One thing programs can do to help matters is involve more people (read: noncoaches) during on-campus recruiting visits. Give players an opportunity to form relationships with not only coaches but various support personnel — tutors, dietitians, trainers or even high-ranking officials. Even during a tightly controlled recruiting process, coaches can create a feeling of an extended family.
As for Warren, he led a secondary that played a leading role last season in allowing opponents to complete only 48.5 percent of their passes, the second-best mark in the nation. The Huskers held foes below 50 percent passing in nine of 13 games and allowed an average of only 6.1 yards per attempt, 13th-best in the country.
He was set to make $250,000 this year — tied with new linebackers coach Trent Bray for lowest salary on the staff. At North Carolina, he'll earn at least $300,000 off the bat and also be much closer to his native Georgia.
Nebraska coach Mike Riley told ESPN on Friday he tried to adjust Warren's contract, but proximity to family pulled Warren to UNC. "I get it. It's OK," Riley said.
It has to be OK. But there's a generation of Nebraska fans who remember when stability on the coaching staff — starting with the head coach — was an invaluable program staple and recruiting asset. NU is about to hire its fifth secondary coach in six years. That's an issue.
Although Warren's decision makes sense, that doesn't necessarily diminish its effect on the players he recruited and coached at Nebraska. Hopefully, they learned lessons from the situation — life lessons that will benefit them for years to come.