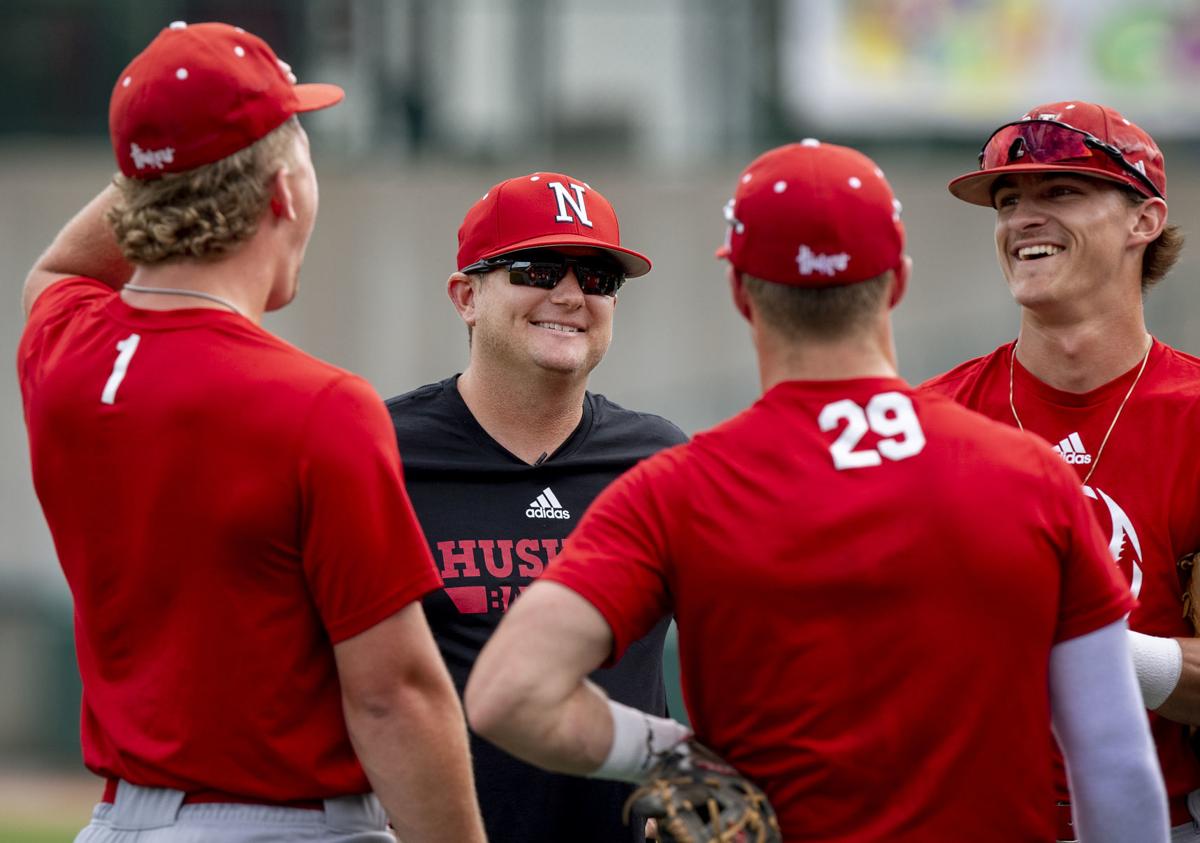 Aaron Palensky sounds thoroughly disinterested in a "wait until next year" theme for Nebraska baseball this season. 
He was thinking big Wednesday. Michigan big. 
"I remember sitting in my host family's basement watching the College World Series and watching Michigan," Palensky said of a Wolverine squad that made it to the best-of-three championship finals last June in Omaha. "It definitely left a bad taste in my mouth, especially because we beat Michigan more times than they beat us last year."
Nebraska ended the 2019 regular season by winning two of three games against Michigan in Lincoln before the teams split a pair of games in the Big Ten Tournament. 
"Truthfully, when we beat them in the Big Ten Tournament, I thought we ended their season," Palensky said. "Then seeing they were one of the last teams to get in (the NCAA Tournament, with an at-large bid), I didn't really think much of it. Honestly, I didn't think they'd make it out of the regional. But then just seeing what a team can do when it gets hot at the right time and knowing if we can do that — peak at the right time — we can do what Michigan did and even more."
He means this year. Yes, in Will Bolt's first season as Nebraska's head coach. Spend some time around Husker coaches and players, and you get the distinct feeling that nobody anticipates a situation similar to NU men's basketball or football. It doesn't have to be like that at all.
Thing is, Bolt isn't turning over a roster the way Fred Hoiberg had to do upon taking over the Nebraska basketball program last April. What's more, Darin Erstad didn't leave the baseball program in a state of disrepair, as Mike Riley did to the Husker football program before being jettisoned in 2017.
In the case of Nebraska football, the theme now might as well be "wait until 2021 or maybe 2022." 
As for Bolt's program, "I think we can be very dangerous this season," Palensky said of a Nebraska offense that returns eight of its top nine hitters from a 2019 team that finished 32-24 overall and 15-9 in the Big Ten, and reached an NCAA regional for the third time in four years. "This offseason, we've had multiple guys become way more powerful, way more consistent. They've put a lot of work in, and I'm really excited to see what they can do."
Palensky, the team's top returning hitter, hungers for Nebraska to play host to an NCAA regional, something the Huskers haven't done since 2008. They last played host to a Super Regional in 2005, when slugger Alex Gordon was a Husker third baseman and fiery right-hander Joba Chamberlain was on the hill. Bolt was a volunteer assistant that season.
"I'm praying to God every day that we can bring the Cornhuskers back to Omaha (for the CWS)," said Palensky, a junior outfielder who batted .320 last season with team-leading totals of seven home runs and 11 doubles.
It's good to hear that sort of attitude at Haymarket Park. As Palensky spoke, snowflakes fell gently around him. Welcome to Nebraska baseball in the spring. Erstad never made excuses — be it for weather or anything else. Bolt won't make excuses, either. In fact, one might say Bolt and Erstad are cut out of the same cloth. They're no-nonsense former Huskers and expect the game to be played the right way. They expect players to respect the game.
"Those type of things have been ingrained in our players already," Bolt said Wednesday.
Bolt, a member of Dave Van Horn's first recruiting class at Nebraska in 1998, emphasizes base running. I like that. It sounds like Van Horn-style baseball. Anything that sounds like Van Horn-style baseball is a welcome development. Van Horn's teams put pressure on opponents with aggression. I have a feeling Bolt's teams will do the same — right away, as in this season. 
"We practice base running at the front end of almost every practice," Bolt said. "That's going to be a big part of our game." 
Bottom line, this isn't a drastic coaching change, one that's a shock to the players' systems, which is another reason Nebraska baseball really shouldn't have a "wait until next year" theme attached to it. In that regard, NU is picked fourth in the Big Ten preseason coaches' poll behind Michigan, Ohio State and Minnesota.
The Huskers' biggest question marks have to do with pitching. They're replacing all three of 2019's weekend starters. But the three replacements — Gareth Stroh, Colby Gomes and Cade Povich — are each intriguing in his own way.
Bolt sounds confident. Always does. You heard a message of urgency Wednesday when he was asked how quickly he wants to sort out his entire pitching staff — starters and bullpen. His response — "Hopefully in one weekend" — was golden. 
"I mean, that's kind of where we're at," he said. "We don't have the luxury of kind of finding our way through it." 
Nobody's expecting miracles here, but an NCAA Tournament berth seems a reasonable expectation. That would be a good start. 
Be the first to know
Get local news delivered to your inbox!