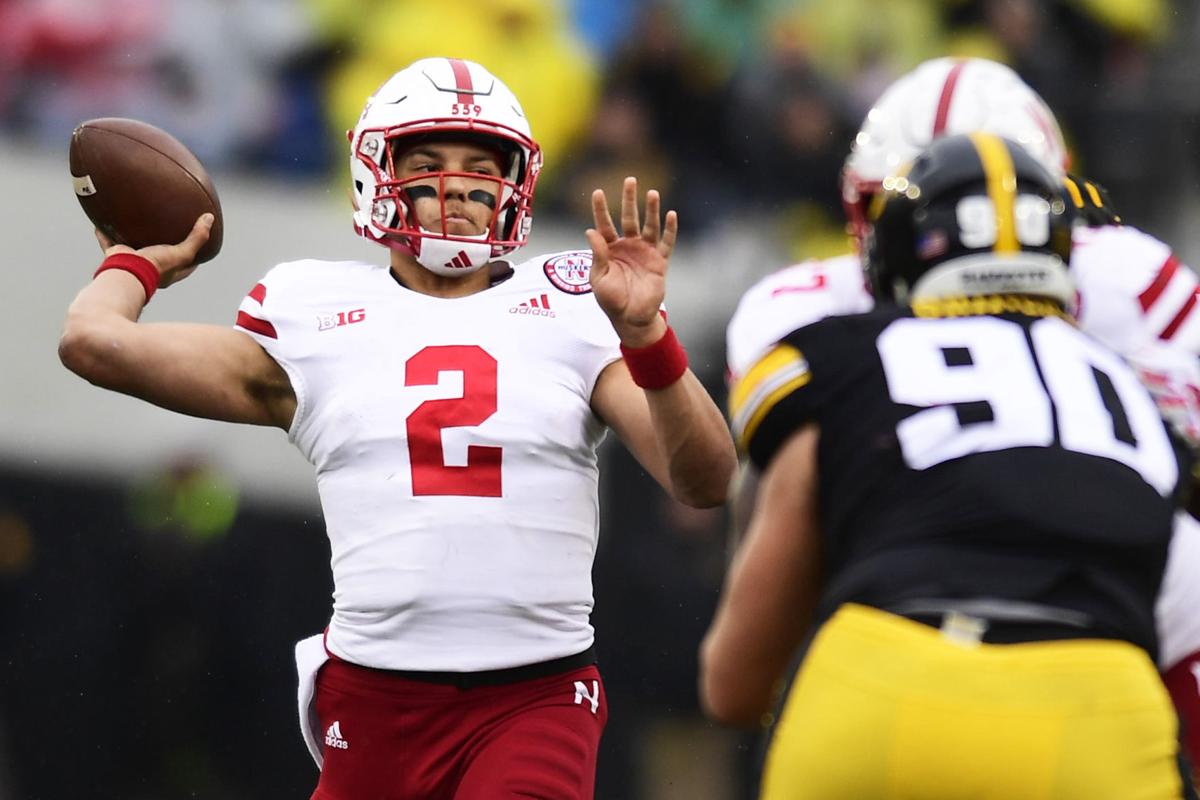 When Nebraska quarterbacks coach Mario Verduzco recruits in Arizona -- his designated territory -- he sets up camp at a hotel near the airport in Phoenix and fans out from there.
"I like to stay in one place and go out as far as I need to go and drive back at night," he says.
Earlier this week, the 63-year-old coach was back at the hotel after a day of recruiting. He happily took a break from the madness to discuss how his quarterbacks performed this spring, including the April 13 Red-White Spring Game.
"My guys know the protections," Verduzco says. "And they know who they need to throw the ball to based on X, Y and Z. But can they recognize it in a split second and do it?"
That part improved significantly, he says.
Verduzco has a very clinical approach to coaching, as Nebraska fans are beginning to understand. Fans also enjoy listening to his colorful commentary about his guys.
"I've got a room that I perceive to be a room of Scott Frosts, albeit with a bunch of different personalities inherently," says Verduzco, referring to Nebraska's head coach. "They're guys who want to be great and are going to work at being great regardless whether they're first, second, third, fourth or fifth team or whatever."
Verduzco asks that his QBs leave their moods at home. "Don't come into the damned meeting room or field with a freakin' mood. Let's come in fired up, excited, ready to go," he says.
"I just drive him nuts about his feet," says Verduzco, referring to Martinez's footwork as a passer. "He thinks I'm, like, totally out of my mind."
Martinez's throwing stroke is excellent. But his footwork needs further programming so it, too, becomes a natural part of his collective makeup.
"That new program is important because it provides the foundation for all the goofy crap that you might have to do from snap to snap," Verduzco says. "You know as well as I do that sometimes all hell is breaking loose and you can't put your feet the right way. So we have to accommodate for that and know what those things feel like.
"We'll get it all straightened out, I know we will, it just takes a little bit of time. And it's going to make him more effective and efficient with everything he wants to do, particularly as he's looking forward into the future."
Few elements of Nebraska football set off Husker fans' imaginations like the act of envisioning Martinez in the future. But backup play is important, too. Verduzco says he has a moral obligation to ensure the top backup is ready to perform at a high level. In fact, the coach says, he's morally obligated to get all his guys ready to lead the team to wins.
You have free articles remaining.
In that regard, sophomore Noah Vedral looked smooth in the spring game, going 13-for-19 passing for 144 yards. Verduzco liked Vedral's poise, command of the offense and accuracy. He didn't do anything that popped off the screen, but the totality of the performance left a positive impression.
On the other hand, the Bishop Neumann graduate experienced an uneven 2018 as he dealt with the unsettling process of becoming eligible, which wasn't finalized until just before the sixth game. Long story short, his smoothness returned this spring and he's the clear-cut No. 2, according to Frost.
"Noah in my brain got back to that smoothness that he left with after our first year at UCF," said Verduzco, referring to Vedral's freshman season with Central Florida in 2017.
Meanwhile, McCaffrey looked raw at times in the spring game. But tell me he didn't look exciting. His speed is enticing. Keep in mind, his initial spring was much different from Martinez's because Martinez worked with the first string while McCaffrey worked with lower-unit players.
In other words, Verduzco doesn't fret about the rookie's 3-for-13 passing performance.
"I can't help but be excited as hell about him," the coach says. "He's an explosive young cat, and he's only going to get faster and quicker and stronger spending time with (strength and conditioning coach Zach) Duval. I can't imagine what he's going to look like after next summer. Good grief."
Verduzco adds that McCaffrey started out spring ball with sizzle, then experienced a dip midway through the 15-practice season.
"He'd look at me like, 'What's happening?' and I'd say, 'Hey, Lukas, don't worry about anything, man. Just continue to play and do your thing and everything will be fine,'" the coach says.
Andrew Bunch, the junior walk-on, did his thing in the spring game. His numbers were forgettable (9-for-21 for 80 yards), but his throwing motion has become more crisp and efficient.
"He has good vision; he just needs to expand it a bit," Verduzco says.
I often tend to gloss over redshirt freshman walk-on Matt Masker, a 6-2, 220-pounder. I regret that because he's a vital part of Verduzco's room.
"He's your typical Nebraska guy, just like Noah -- a tough ass," the coach says. "He's not going to piss and moan about anything. He's just going to do the work. You tell him what to do and how it needs to be done and he's like, 'Let's go get it done.'
"He's a big, strong kid who can really throw it."
Passing numbers in a spring game generally aren't a concern of Verduzco's.
"What concerns me is when their freakin' eyeballs are in the wrong place and their feet are all screwed up, and they look like they have no idea what the hell they're doing."
You won't see that often, not with Verduzco in charge.