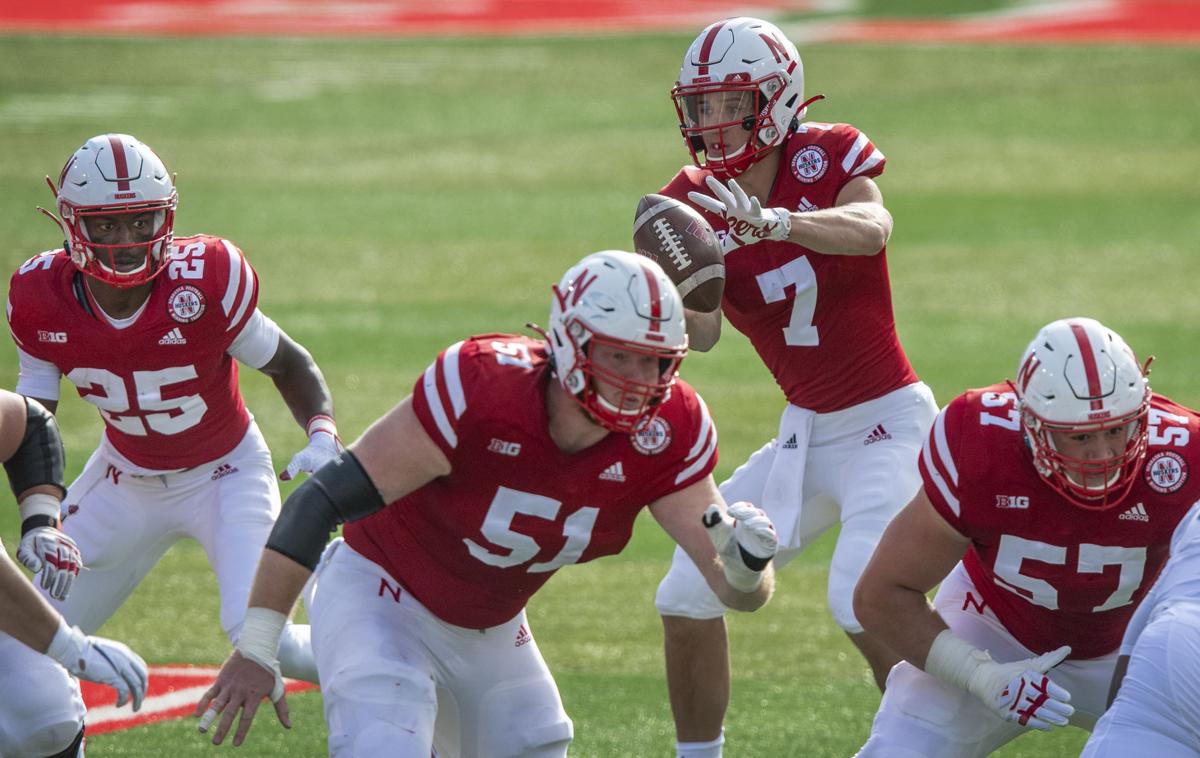 Hey, it's his prerogative, I guess.  
Bottom line, I'm sort of glad he chose that route because it sparks up an interesting discussion about the Nebraska football program's future. 
It directs that conversation toward the trenches, where it belongs. 
Nebraska (2-5) is in the waning stages of an enormously disappointing season, and Husker fans are bewildered by third-year Husker head coach Scott Frost's 11-20 record at the school. Nobody expected such a massive amount of struggle during Frost's tenure, and I mean nobody. 
So, as the end of the 2020 season nears, you wonder just how Frost will go about pulling the program from its tailspin. 
I know where the turnaround has to start. It's really pretty simple. 
"You look at your O-line and you look at your D-line," says former Nebraska defensive line coach Rick Kaczenski, a regular on "Early Break" (93.7 FM). "That's where the leadership comes from. That's who controls the team. The best teams lead with the O-line and D-line." 
Nebraska will take on Rutgers (3-5) with a true freshman, Turner Corcoran, starting at left tackle in place of Jaimes. A pair of redshirt freshmen, Bryce Benhart at right tackle and Ethan Piper at left guard, have been in the lineup pretty much all season. Ditto for sophomore center Cameron Jurgens. 
So, Jaimes' decision has the effect of adding oomph to the conversation about Nebraska's youthful look in the trenches, a discussion that extends to a pair of especially promising defensive linemen — sophomore Casey Rogers (23 tackles this season) and redshirt freshman Ty Robinson (17 tackles). You might even throw sophomore outside linebacker Garrett Nelson (25 tackles) into the equation because he often plays with his hand in the dirt. 
If Nebraska is in fact close to breaking through as a program, as Frost and several players suggest, it is the big dudes who ultimately will lead the ship out of the darkness. 
It has to be that way. Especially in a conference as big and physical as the Big Ten. 
"It's the guys who show up every day not looking for pats on their back," says Kaczenski, who was a three-year starting center at Notre Dame during the 1990s. 
In fact, Kaczenski started 35 straight games and was awarded "Iron Man" by then-Irish head coach Lou Holtz in 1996 for never missing a workout, practice or game in the four years Holtz was in charge. Kaczenski played in four bowl games: Orange, Cotton, Fiesta and Independence. He speaks of line play with passion in his voice. It's beautiful to hear. 
"Linemen do the work," he says. "They're not about getting their names in the paper."
There's something else we should emphasize. 
"Let's be honest, they're the biggest dudes on the team, and when people act up, they're the guys that set the tone," Kaczenski said.
Something tells me former Nebraska All-America defensive lineman Jason Peter would agree.
Same goes for Ndamukong Suh, Rich Glover, Zach Wiegert, Dominic Raiola, Dave Rimington and all the other forces of nature who played in the trenches for Nebraska.
"It's not a defensive back who's going to jack a guy up against a locker for not doing what he's supposed to do on and off the field," Kaczenski said. "That comes from the O-line and comes from the D-line. 
"You set the tempo with that physicality, that toughness, that respect. That's where it all starts. I mean, tell me a good team that had a bad O-line and a bad D-line. It just doesn't work like that. You can't cover up those positions. That's why it's so important that you have guys play together year after year and get that continuity." 
Which brings us back to the Rutgers game, with Corcoran joining Jurgens, Piper and Benhart in the Nebraska offensive line's youth movement. If you're a Husker fan, you hope for a "W" because, let's face it, the program needs any form of positive energy it can muster. But know this: A "W" won't come easily. Rutgers poses a challenge for the O-line. 
"They're physical," NU offensive coordinator Matt Lubick says. "They've created a lot of negative plays, which will be a big challenge for us. We have to keep it simple for our guys. Let them play and do the stuff we do well."
One way Nebraska fans can perhaps feel better about the present is watching the young linemen in the program as they grow into the Big Ten.  
Watching Robinson and Rogers definitely should help ease their pain.
We'll see what Corcoran has to offer. As you watch him, as you watch the trenches, you'll be watching a critical part of the program's future. 
Nebraska's turnaround has to start up front, on both sides of the ball. 
The Huskers need to be able to lean on the big boys up front to lead the charge, Raiola says. 
"You should never have to let it get to a running back having to make eight people miss just to get 15 yards," he says. "You never should let it get to a point where a quarterback has to take over a game. 
"You talk about taking the bull by the horns, that's the trenches." 
That's the truth. Especially in this league.
Especially in the cold of New Jersey.